Twitter Is Fighting About How Often You Should Wash Your Jeans And It's Feisty
So it turns out not everyone is on the same page when it comes to how often we 'should' wash our jeans…and the question is dividing Twitter.
Who knew that people had such vastly different ideas on the appropriate wear to wash ratio for jeans? There seems to be a split straight down the middle of humanity that divides the regular denim washers and those with a more lax approach to denim care.
The question has snowballed into a pretty damn divisive Twitter argument and I'm just gonna say, the clean-freak jeans washers are not playing nice in this anthropological discussion. There's a lot of words like "gross", "disgusting" and "crazy" being thrown around. It's like infrequently washing pants is a some kind of a crime. Let's all be nice about each other's laundry practices…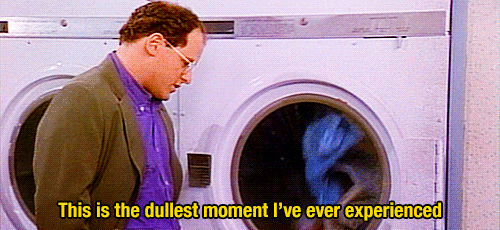 Here is a roundup of people's ideas on how often we "should" wash our jeans that can hopefully help you understand humanity just that little bit better.
So glad Twitter has tackled this big question.
Some ppl don't wash their jeans bc it is bad for the denim, some ppl don't wash their jeans bc they're lazy, I like to pretend I'm the first

— John Maurer???? (@JohnPMaurer) January 5, 2018
Pray for us all
I just pulled a pair of jeans from my pile of dirty laundry and concluded that they had been sitting there unworn long enough that I could consider them clean. Pray for me.

— Bethany Siau (@BethanySiau) January 10, 2018
This just seems a bit extreme tbh
Waaaait, some people don't wash their jeans after every use??? Are they weird or is that normal? I wear mine once then wash them???

— cookie ???? (@butfirsttea) January 15, 2018
ew i'm sorry what people dont wash their jeans?????? like ever???? or like hardly ever? i wash mine after like 1/2 wears???????? not once or twice a year, R u crazy???????

— m (@maibreakspear) January 15, 2018
Why not stay dirty, save the earth…
Maybe if you are some kind of weirdo that washes your jeans pic.twitter.com/JAbHfzJNse

— Bryan (@MurderBryan) January 5, 2018
Go green, dont wash your jeans.

— ShawnSnow (@king_taylo) January 15, 2018
We've got contradictory information hitting us from every angle
Too confused to do laundry.
The washing machine tears up jeans. I believe it was the owner of Levi Strauss said that you should only wash them a couple times a year.

— Michael Blakey Jr. (@MichaelBlakeyJr) January 3, 2018
I wash my Levis like twice a week…. never has issues with fading or wear and tear. After a couple years, yeah obviously. But at that point it's time for new jeans.

— Keegan Duke (@MKayshwan) January 4, 2018
Alright Brianna, chill the fuck out.
I️ just read a twitter moment about how most people don't wash their jeans…. DISGUSTING.

— bri (@briiianna02) January 15, 2018
More people wash their jeans because of stretch than hygiene I reckon
I never know if I've actually lost weight or if my pants just fit looser becuase I've worn them for two weeks straight without a wash.

— judy moody (@Anna_b165998) December 13, 2017
Not here to be judged thanks doggo
my dog keeps sniffing my jeans as if to say "do you realize these were in the dirty laundry?"

— nervous nellie (@olivegardenslut) January 14, 2018
Peer pressure at its worst
LOL I never did until I moved in with my boyfriend. He was always washing his that I got self conscious & tried to play it off like yea duh obv throw my pants in

— sarah (@sarahfoster13) January 9, 2018
Old mate Ben is onto something
I never wash my jeans, I just wear them until they're tattered & ruined & full of holes. Then I sell them to hipsters for £250 a pair

— ben, a fleck (@wtfbentley) January 15, 2018
At the end of the day, denim wash care is just stressful
Owning jeans is all fun and games until it's time to do laundry ….

— Agent 47 (@ayebare47) January 9, 2018