Kylie Jenner Tried To Hide Her Pregnancy In Fam Photoshoot & Fans Are Calling BS
The latest instalment in the 'is-Kylie-Jenner-pregnant-or-what-mate' saga comes in the form of a family photoshoot, where Kylie can be clearly seen awkwardly hiding her belly behind blankets. It's just too much for the internet to handle at this point.
It's been nearly four months since the first rumours that Kylie Jenner is pregnant hit the ground running and some people are taking these latest pics as further confirmation that Kylie is obviously hiding a pregnant bump from the public eye.
Here's the promo pic for Calvin Klein that Kim shared, featuring Kim, Khloé, Kourtney and Kendall all showing off their Calvins and a whole lot of skin.
While Kylie is chilling at the back under a thick blanket and her sister's (strategically placed?) arm. Because what we need is MORE fuel on the fire of the Kylie pregnancy rumours/truth???
U cold Kylie?? Or hiding something?
Nothing better than working with my family! Honored to be shot alongside my sisters for the new CALVIN KLEIN UNDERWEAR & CALVIN KLEIN JEANS global campaign. Thank you @calvinklein – Our Family. #MYCALVINS. #ad pic.twitter.com/HLMAhytgox

— Kim Kardashian West (@KimKardashian) January 22, 2018
And here they are again, with Kylie cosied up under…more props.
Are they just playing with us or is this the real deal???
Now THIS is an awkwardly placed blanket.
Kylie we literally can't see any Calvin Klein on you in this pic, what is the point…
Of course as soon as the campaign was released the internet had a LOT of thoughts about these fam pics and what this means for Kylie and the potential that she may in fact be growing human life inside her.
Following the new pics, Twitter can't help but call BS and take the absolute piss:
It's just too easy.
Kylie Jenner is in that #MYCALVINS ad like pic.twitter.com/wOUq6u0Nms

— Heidi (@HeidiRochelle) January 22, 2018
Work that blanket, Kylie https://t.co/Bw5VnnZHYU

— TracieEganMorrissey (@TracieMorrissey) January 22, 2018
Some find covered up Kylie to be more relatable than anything.
Kylie hiding her pregnancy with a blanket is me wearing a t-shirt in the swimming pool in middle school pic.twitter.com/JB9PhHtGte

— Ira Madison III (@ira) January 22, 2018
Team 'Kylie-is-pregnant' is feeling pretty damn self-assured right about now.
Kylie is 110% pregnant she's lying under the blanket in that Calvin Klein ad, if she wasn't pregnant she'd be sprawled out front n centre

— Hannah Downey (@hannahdowney__) January 22, 2018
Wouldn't even know that Kylie's wearing Calvin's because ya'll got her wrapped up in that blanket like a god damn burrito so we won't know she's pregnant ???? https://t.co/sqnPNKj4sN

— karma nichole (@the_gay_cousin) January 22, 2018
cuz she's PREGNANT. PREGANTE. GREGNANT. PRAGNENT. PARGANT PEGNATE.

— erica (@equigss) January 22, 2018
Team 'this-is-an-elaborate-PR-stunt-Kylie-ain't-pregnant' is also pretty damn vocal.
Marketing team: "they all think Kylie's pregnant so let's put a blanket over her stomach, they'll all go crazy" https://t.co/1mwiMRkrXy

— ˗ˏˋ イム尺フ ˊˎ˗ (@tarrrj) January 22, 2018
y'all gon be SHOOK when kylie drops her blanket revealing a flat stomach and no kid… kris jenner got this all planned out they gon fool us again while we all speculating n shit… deadass made her daughter hibernate n hide under a blanket just to the play the part… fuck me up

— tate knapp (@tateknapp) January 22, 2018
I think everyone agrees that the Kardashians do love to stir shit.
This is @KimKardashian right now: pic.twitter.com/mR0Z6tA5k3

— Hozai (@_hozai) January 22, 2018
But there's a fair bit of dispute between theories.
This timeline and whole thing is fucking confusing, I'm exhausted.
I DONT UNDERSTAND HOW PEOPLE CANT SEE THAT KHLOE IS LITERALLY NOT PREGNANT IN THIS SO IT DOESNT MATTER IF KYLIES HIDING THIS IS OLD LMFAOSJDJFJ

— c (@soitschlo) January 22, 2018
People just think this looks stupid for an UNDERWEAR shoot.
Kylie wasn't in the Xmas card and she may aswell not be in the Calvin Klein shoot. You're meant to model the underwear not a blanket.

— Lauren (@laurenbethany_) January 22, 2018
Actually people just think it looks stupid in general.
Kylie Jenner: I'll be in it, but I need to cover my belly
Photographer: Here's a well subtle blanket#CalvinKlein pic.twitter.com/TGZjUN3qYO

— Alice May Dear (@According2Al) January 22, 2018
I'm crying at how the others are flaunting it and Kylie is wrapped up like she's going 4 a nap pic.twitter.com/pMUUjPJjTI

— lydia ✨ (@lydtweed) January 22, 2018
At this point we may never know, but you bet your ass we will keep god damn speculating.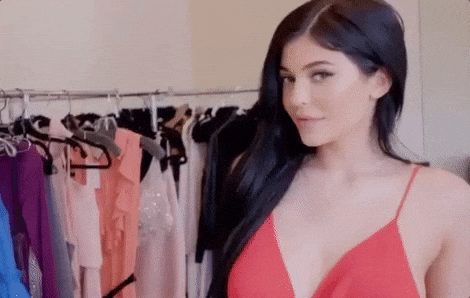 Get Punkee's Bachelorette Recap Alerts!