A Former 'MAFS' Star Has Slammed The Show, Saying "Somebody Is Going To Die"
A former Married At First Sight star has spoken out about the dangers of reality TV, calling out the show for a lack of duty of care for the contestants.
CW: This article talks about suicide.
Clare Verrall appeared on Season 2 of MAFS and is set to spill all in an upcoming interview with Channel 7 program Sunday Night.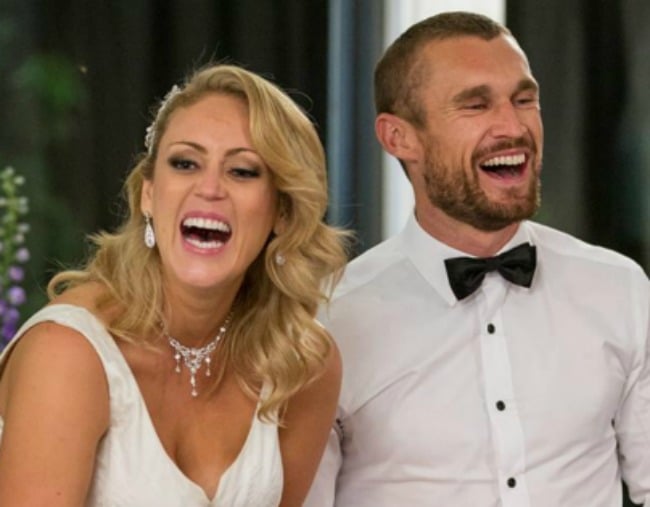 Verrall was suffering from post-traumatic stress disorder after an attack in 2015 and said that after appearing on the show in 2016 she suffered from panic attacks, anxiety and tried to end her life twice.
Verrall shared Sunday Night's promo to her Instagram page and said she was "anxious" for the interview to screen.
"My beef is with Channel 9 as the situation they put us in was very damaging," Verrall said on Instagram. "I want to get the message out that as these shows become more and more SUPERSIZED, the absolute lack of duty of care for the cast all in the name of ratings is horrific."
Verrall then touched on former TV stars overseas who have died by suicide after appearing certain reality shows.
"There have been a number of reality TV cast members who have taken their own lives overseas recently due to the fallout of these shows. I also know some Australians who have made attempts on their own lives in the aftermath of a show they were on, including myself."
"What will it take for Australia to wake up to what we are watching and therefore supporting?" Verrall questioned. "Does someone have to die first?"
Verrall's post was met with support from former stars of The Bachelor franchise, including David Witko who wore the villain tag during Sam Frost's season of The Bachelorette, and Steph Dixon who appeared on Richie Strahan's season of The Bachelor.
Verrall also stated she didn't meet the MAFS experts until the show started filming, therefore she had already been matched before even being introduced to the experts.
Verrall isn't the first Aussie reality TV contestant to speak out recently against the lack of duty of care on programs like Married At First Sight and The Bachelor.
After the death of Love Island UK star Mike Thalassitis, Todd King from The Bachelorette, Tully Smyth of Big Brother fame and Sarah Roza from MAFS all spoke out about the hidden truths of appearing on reality TV.
"The networks and producers, the show psychologists and PR teams, need to do more in terms of supporting these people," Smyth said, citing that more support is desperately needed for contestants after the shows go to air.
View this post on Instagram
Roza was quick to agree, saying: "There are no check-ins, no reimbursement, no care factor. I've literally spent a very considerable amount of money getting help for myself post-MAFS… But I did it because I had to. I needed it."
Verrall's interview is set to air on Sunday Night, at 8:30pm on Channel 7.
–
If you need support, both Lifeline on 13 11 14 and the Kids Helpline on 1800 55 1800 offer 24-hour assistance. For further information about youth mental health, both headspace and Reach Out can provide guidance. You can also talk to a medical professional or someone you trust.