Stu Laundy Gave Us An Apology And Explanation For His Break Up With Sophie Monk
Since the heartbreaking (but not-so-surprising) announcement of the break-up of Sophie Monk and Stu Laundy, our short-lived bachelorette baes, we've been wondering where it all went wrong?
Last we heard from Stu, he had heard the news of the break-up via Instagram. Well now he's has had a bit of a soul-baring chat with Confidential that sheds some light on the whole situation.
First, he hit us with a 'soz not soz' and some harsh real-talk about our beloved reality tv match-making shows.
"Soph's and my story is our story. I'm sorry to Australia but the reality is most of these stories will finish with the couple not together," he told the publication on Sunday.
Tbh we get it, this ain't our first time at the rodeo and we've seen enough post-Bachy break-ups to know what kind of world we are living in. But really, when you have a chance with Sophie Monk, you'd think you would have a red hot go at making it stick. I mean…it's Sophie DAMN Monk.
Apparently Stu now believes he and Sophie were just destined to be "really good mates" and hinted that his heart may not have been all in it as he's still harbouring feels for his ex-wife.
"Sadly for me I may have had the love of my life in my ex-wife and wasted it but I'll keep searching," he said.
Stu also admitted that the the "pressure" was a part of their relationship's eventual failure and that the set up of the show wasn't his fave situation.
'I agree with [The Bachelor's] Tim Robards and his opinion that they're like arranged marriages,' he said.
Apparently there will be no big spill-all magazine features detailing the play-by-play of his and Sophie's demise, but hey, at least he apologised to Australia for the heartbreak. Apology accepted mate, good luck to ya.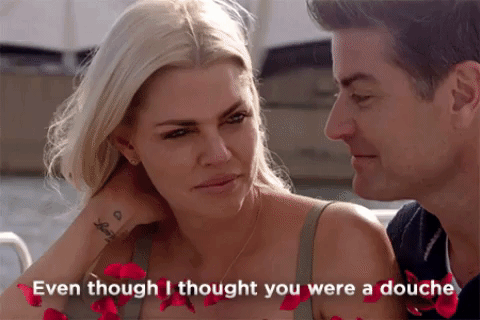 Get Punkee's Bachelorette Recap Alerts!