Troy Is Legit The Weirdest Unit MAFS Has Ever Seen & Viewers Can't Handle The Strange
Can we just take a minute to talk about Married at First Sight groom Troy? I mean, serious question: is this guy actually from planet earth…?
Between the aggressive teeth brushing like a furious albeit hygienic robot, to the exaggerated goofy laugh he often collapses into, it seems like he's an alien that has taken a short course in human behaviour but hasn't quite nailed it yet.
He should be studied.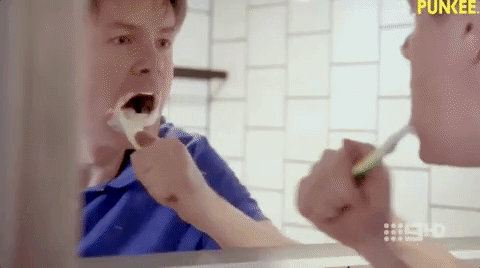 Here's Troy just taking a selfie without his wife on their honeymoon:
This was only the beginning of the strangeness in this episode.
When the newlyweds were ready to go to breakfast, he decided he MUST return to the room to do push-ups, because A) to become hungry B) to "eat better" C) to look his best. It's all good though because, as he explained,"you can't just go out with someone (in this case himself) because they've got a nice heart," err, whatever that means.
He made poor Ashley wait while he went back to the room to pump his guns like a pre-pubescent teen.
'MAN MUST PUSH UP. MAN MUST BE STRONG MAN FOR WIFE.'
Sorry but wtf is happening?!?
IS THIS GUY A HUMAN OR AN ALIEN DISGUISED INSIDE A FLESH PUPPET?!
Later, Troy took his wife to a crocodile park because it had 'DANGER FACTOR'. When Ashley correctly identified that a giant crocodile was scary, Troy replied, "It's alright baby. I gotchu". This was about the time the entire nation cringed and spewed in their mouths simultaneously. Stop.
'What…"
"…have…"
'…I done!'
It didn't get much better. Later he accessorised by casually hanging a baby crocodile around his neck. It was some psychopathic shit. He then taunted the poor lil guy as it hung around Ashley. At this point, I would have set a tiny crocodile army on him to seek blood.
Can this guy get any worse? Yup.
At the end of the ep, he dribbled out some rubbish to Ashley about wanting to look deep into her eyes. He even said that he looks in his wife's eyes so she doesn't get distracted, as it "calms her down".
She's not a fucking trained guinea pig?! Also – you guys just met. You know nothing about her dude. In fact, he barely spoke to her at the wedding.
Tbh, at this point we're kinda hoping this show is partly scripted 'cos surely this dude isn't for real.
Here's what viewers are saying about loose unit Troy on Twitter:
I don't think Troy is actually human #MAFS

— kahlarsee af ???? (@kahlarsee) February 6, 2018
"Wow, I cant believe Troy is 35 and single!"

Said no-one ever. #MAFS

— Alex Lucifero (@Alexander92DC) February 6, 2018
Troy is a dead set lunatic #MAFS #MarriedAtFirstSight #9Married pic.twitter.com/E2j17JiDcJ

— Steph B (@TheSBatman) February 6, 2018
Surely Troy is an actor. There is no other explanation for his behaviour #MAFS

— Sami Lukis (@samilukis) February 6, 2018
Theory: Troy is a paid actor. He was invited to be on #mafs as a sort of elaborate troll as a statement on millennial narcissism and the contrived nature of reality TV, to take it to even more OTT levels. We're through the looking glass here, people… pic.twitter.com/bo3A1hOi0g

— Bianca Bae (✿◠‿◠) ???? (@BiancaNeveXO) February 6, 2018
Troy has to be an experiment within the experiment hasn't he? #MAFS

— Dave (@sportluvr64) February 6, 2018
Someone needs to check Troy's hard drive #MAFS

— Andrew (@worldofarod) February 6, 2018
Troy is such a man child. His behaviour is fine for an 8yr old boy. But as an adult, it's just self absorbed narcissism. God I hope he's an actor. #mafs #mafsau #marriedAu

— Andrew T ???? (@Axiomega) February 6, 2018
Ashley be like… #MAFS pic.twitter.com/NCoBHHQpi6

— kane jason (@barista_kane) February 6, 2018
Get Punkee's Bachelorette Recap Alerts!