Cadbury Has Released The Creme Egg Chocolate Block Of Your Dreams But I Have One Quick Question
If you're a fan of Cadbury creme eggs then we have some stellar news for you: it now exists in block form.
Yep, the gooey goodness is hitting shelves in your local supermarkets as a special edition block, and while Easter may still be over a month away, it doesn't mean you can't start indulging early.
So while this news is all well and good for creme egg fans (I'm not judging you, it's fine), I do have one burning questions that I need Cadbury to address.
WHEN ARE YOU BRINGING BACK MARBLE CHOCOLATE, CADBURY?!
Don't get me wrong, who doesn't love an exciting new chocolate block to indulge in when you're sitting at home on a Friday night choosing between true-crime docos and freaking out after downloading Hinge. But sometimes we don't need new. Sometimes we need a good, old favourite. Maybe a favourite that hasn't hit our shelves in, say, years.
The real MVP.
I'm not saying I WON'T eat the creme egg block (in fact, I have an inkling it'll taste way better in block form than egg form), I'm just saying… well… I'm just saying it's time to reconsider your choices, Cadbury.
At the very least, the Breakaway block?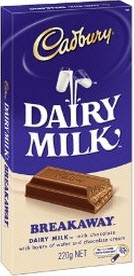 Cadbury, please feel free to call me.