Ed Sheeran Sent Pizza To Fans Camped Out For His Adelaide Gig BC He's Just Lovely
Ed Sheeran has gone and proven once again that he's a beautiful human with a big heart, who happens to totally understands that pizza is just about the best gift you can give anyone. He just gets it.
There's pretty much always a group of hardcore fans camping outside of the venue before a big concert, and these Teddy fans were loyally doing just that.
But not all artists are as pure as Sheeran, who sent the crowd of fans camped out in Adelaide a whole bunch of pizzas to show his love and appreciation.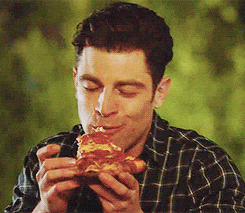 Damn Ed, that is a gentlemanly move and we 100 percent are on board with giving out free pizza. Well played. The fans were absolutely stoked.
we are so grateful for this pizza @edsheeran is a saint #adelaidelovesedsheeran pic.twitter.com/Xq7nQv7rPP

— Jazz (@lifeofjz) March 6, 2018
ED SHEERAN BOUGHT US PIZZA FOR CAMPIN OUT AT HIS CONCERT @edsheeran BABE #ADELAIDE pic.twitter.com/ooq6VJ3te7

— Tessa Jelly (@TessieJelly) March 6, 2018
@edsheeran @StuartCamp @frontiertouring
Ed, thank you so much for the pizza!!! We are beyond chuffed, thank you. Not a piece will go to waste. ???????????? pic.twitter.com/Piuzodd6PL

— xoxo, J????lene (@EdsRealMVP) March 6, 2018
Marcellina Pizza was also pretty stoked to have been the chosen pizza provider for Sheeran's official make-the-fans-happy mission. What an honour.
Ed Sheeran only gives his waiting fans Adelaide's BEST pizza!! Marcellina does the trick again!! #EdSheeran… https://t.co/tEzQvYfudP

— Marcellina Pizza (@MarcellinaPizza) March 7, 2018
You can catch a lil' video of the pizza party posted by 7 News, and pray that someday you may be so lucky as to receive such a wonderful gift from Ed Sheeran too.
FED BY EDMusic superstar Ed Sheeran has sent pizzas to die hard fans camped out at Adelaide Oval ahead of his show.

Posted by 7 News Perth on Tuesday, 6 March 2018
Header via @lifeofjz
Get Punkee's Bachelor Recap Alerts!