Break Out The Bad Bitch Energy Because Australian Hot Girl Summer Has Arrived
Christmas… who? New Year's… whoooo? Hanukkah…WHO? Back off b*tches, there's a new holiday in town! Aussie Hot Girl Summer is HERE and holy fkn shit, it's gonna be HUGE.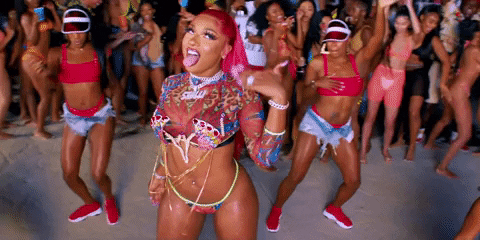 Hot Girl Summer has nothing to do with the temperature – it's a movement. The term seems to have originated with hip-hop artist Megan Thee Stallion earlier this year. First, she talked about "hot girl shit" on 'Cash Shit', on her mixtape, Fever, in May, before dropping a single, 'Hot Girl Summer', in August.
The phrase pretty much refers to men and women being unapologetically themselves, hyping up their friends, and just having a bomb-ass summer! Having a 'hot girl' outfit is one thing, but having a 'hot girl' attitude is a must! You've gotta feel your best, look your best, and pretty much just be the baddest b*tch you can be.
This Hot Girl Summer is going to be wild. I've personally been shredding for months, buying every swimsuit I can find, and swiping my life away on Tinder.
Here's everything you need to make this Hot Girl Summer the best ever:
---
1. B*tchin' outfits and a b*tchin' attitude to match
When Lexi convinces me too skip school tomorrow to go shopping for some hot girl summer outfits 😂

— M🦋 (@mariahashleyy) September 12, 2019
Whether you're wearing Gucci, Louis, or Best&Less (me), your outfit is only as hot as your attitude. If you're wearing $8.99 jeans from Kmart, then you better FLAUNT them. Even if you're looking like trash (which you aren't), having a HGS attitude is a MUST.
2. Break out the 'gram and upload every bomb-ass selfie you have
If you've got a pic that you thought was a bit risqué, Hot Girl Summer is the perfect time to post that 'ish. We're talking bikini pics, flexing gym selfies, and squatting poses. Don't worry about what other people think because Hot Girl Summer is all about doing whatever the fk you want to do.
3. Don't forget to hype up your friends
me replying to all the locals who comment "yaas queen" and "slayyy" under all my selfies pic.twitter.com/f33AT6hnWV

— jayson (@b3igeboy) August 22, 2017
If you're not posting a 'YASSSS' or 'FK IT UP SIS' on your mate's Instagram pics, then you're not doing Hot Girl Summer right. Now's the time to force your friends to live their best life, and let them know that nobody is judging anything they do.
4. Try new experiences…
My hot girl summer is going to consist of sleeping in the sun on the beach in solitude, reading new books, and making the biggest boss business moves into 2020

— BRI LUNA (@YungKundalini) July 6, 2019
Hot Girl Summer is only so much fun from your bedroom. Get your ass away from the screens and get ready for the vitamin D! Go hiking, swimming or even just go to your local park at golden hour to take Instagram photos. Just get your ass OUT.
5. …And remember HGS is a good excuse to live your best life
I really enjoyed my Hot Girl Summer. Hoe is life. Namaste.

— Lady Trieu (@VitaVamp) November 6, 2019
Hot Girl Summer about doing whatever the fk you want to do, and forgetting about your responsibilities… well, within reason. Live your life and have fun this summer!