We Tested The Most Popular Fake Tans To Find Out Which One Rules Them All
Fake tan is great for those that are wanting to look like a Kardashian without the consequence of, you know, getting skin cancer. But that doesn't mean I want to end up reppin' Oompa Loompa realness.
Being half-Irish and half-English makes me 100% pale AF, so I've trialled fake tans all my life. Usually you get what you pay for, meaning: St Tropez will transform you into a bronze goddess and Le Tan is going to make you as orange as a Jersey Shore cast member.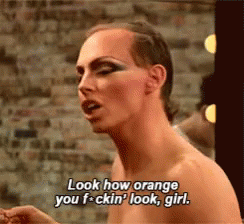 I've had a lot of bad experiences with fake tan. Most notably, getting a spray tan right before heading to schoolies and getting orange all over my clothes, just to have my expensive tan completely erased after a trip to the beach on day one.
So I thought it was time to put the most popular tan brands to the ultimate test and, let me tell you, my sheets have never been so unclean. I stuck with fast-action formulas in a mousse, because I'm a lazy bitch. I also applied all tans with a tanning mitt.
These are the fake tan brands I tested:
And here are my findings!
Bondi Sands
RRP $24.99 (225ml)
I really loved the formula for this tan. The mousse was really fluffy and fun. The colour developed into a really nice brown, maybe a bit too dark for me but that's not the tans fault, it's my genetics. Also the bottle was by far the largest compared to the other tans I tried, so it was very good for the price.
Saying that, the formula was not super even. After a shower the colour became much lighter and wasn't blended as well as I would have liked. Another factor was that it didn't smell great on my skin the next day, with a faint smell of sweaty tan. I didn't feel clean and wanted to shower immediately.
---
Loving Tan
RRP $39.95 (120ml)
I went on a real journey with this tan. The cult beauty buy was by far the nicest to apply and had a really nice smell. In the morning I loved that it wasn't too dark unlike J Bronze and Bondi Sands, but after having a shower (like 16 hours after application) it went all streaky and looked awful.
However, I'm not done yet. After another shower it evened out a lot and throughout the week turned into a nice subtle glow that was natural and really nice. But for 40 dollarydoos, you'd expect a bigger bottle than the tiny 120ml, so all in all, not great value.
---
J Bronze
RRP $29.95 (150ml)
I was not the biggest fan of this tan and it was by far the most orange. After a night's sleep, when I woke up I noticed it was pretty uneven and streaky. This was likely due to the fact that when I applied it, the colour was so light that it was hard to keep track of where I'd covered, yet it developed super dark.
On a more positive note, it smelt great, kinda like a pina colada, and was one of the longer lasting formulas. In fact I had to scrub for days to get it off.
---
St Tropez
RRP $59.95 (200ml)
I was really happy with this one, and you'd hope so for 60 damn dollars. It smelled great and the coverage was super even. The colour wasn't as dark as the others but I didn't mind as it looked more natural. Luckily after a shower the colour didn't fade.
While it was by far the most expensive tan, the bottle is pretty big so you would get quite a bit of use out of it compared to some of the smaller bottles.
---
Le Tan
RRP $14.99 (110ml)
I really had to eat my words with this one. Oh boy, their new formula is GREAT. It was such a nice brown and as it has a green undertones there's no orange in sight.
The coverage was surprisingly even and it wasn't too sticky to sleep in. The next day I couldn't even smell it on me and my legs didn't feel sticky. The colour also didn't change after a shower. The only negative is the colour does fade fairly quickly but for $15 a bottle, you can afford to do it regularly so I'm sold.
---
Which one is the winner?
The clear winner was Le Tan. Their new formula is so damn good and it's by far the best value. But also it really depends what you want out of your fake tan. For a subtle glow, I'd choose either Loving Tan or St Tropez. If you're looking for a dramatic change, then Bondi Sands might be the one for you but J Bronze really didn't win me over at all tbh.
Okay, now I'm going to go exfoliate my entire body until New Year's Eve.