BREAKING: Last Night's Bachelor Rose Ceremony Drama Was Faked
There was some weird demonic stuff happening on last night's episode of The Bachelor Australia. But – bombshell – we reckon it was faked.
With Sian overcome by a voodoo curse earlier in the episode, everything got a little bit spooky. In the end Matty became paralysed, put down his rose and we were left on a cliffhanger… 'to be continued'. But was Matty J as shook as we were led on to believe? We don't reckon.
In case you missed it and don't know what the hell we're chirpin' on about – check out Punkee's recap below:

While, no doubt, there was plenty of drama and there's likely some kind of twist ahead of us tonight – we reckon the actual footage was staged.
Yep, prepare yourself for some groundbreaking, Walkley Award winning shit.
We're going to call a conspiracy. A closer inspection of paralysed Matty putting the rose back onto the table has been reversed. The movement of the roses is completely unnatural and defies simple physics. Illuminati confirmed.
With hours and hours of highly resourced, super expensive computing power, we've followed a hunch and we reckon we've got this one right. The editing wizards at Ten have reversed the footage of Matty J picking up a rose #thetruthisoutthere
And because seeing is believing…
Here's The Original Footage:
Here's a looped GIF of Matty J putting the rose back on the table, while unable to make a decision.
Here's how it appeared on last night's episode: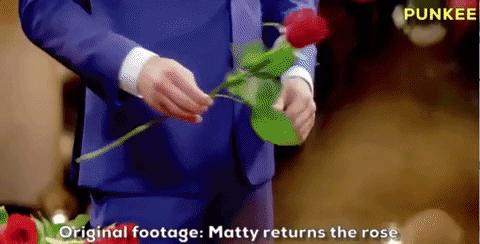 BUT WERE YOU PAYING ATTENTION SHEEPLE?
Wake up damn it. You've been fooled. Fooled by the faux-drama we know you secretly yearn for.
What will happen tonight? Who knows – but the show's editors should note that Punkee is paying very special attention (also, we know about your Wilhelm scream sampling).