Everyone's Speculating Over Kylie Jenner's Baby's Name And The Tweets Are Hilarious
The 'Kylie Jenner pregnancy saga' has fans pretty damn exhausted.
We finally got the Kylie Jenner baby announcement that we've been waiting for for months, along with a nearly 12 minute long video chronicling Kylie's entire journey (which is SO damn beautiful). All this said, what we still do not have is a name.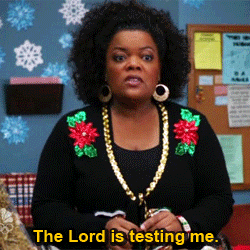 We are, of course, all very grateful for the generous look into Kylie's journey through the adorable vid but god damn we neED TO kNoW A NAmE!???!?!!??
The internet is going considerably wild in the wake of the baby announcement.
People are demanding answers
Kylie Jenner had her baby

The world:
what's the baby's name, how big is the baby, how big is Kylie, what does Kylie look like, when can we see a photo, Did Kylie make the baby an Instagram yet? What is the baby's name? Are you going to come out with baby clothing line!? Name?!? pic.twitter.com/ifDnJLvJrv

— Joshua Anthony (@Joshneyy) February 5, 2018
You can taste the desperation
The halftime show better be the name of Kylie's baby announcement

— Common Girl (@SoReIatable) February 5, 2018
People are tired. And they are frustrated.
You're telling me I just watched a video for 11 minutes and 32 seconds and you don't tell me the name of the baby? Kylie Jenner you have put me through so much.

— Madison Savage (@_madisonjoy) February 4, 2018
How can they be so cruel??
Honestly so rude of Kylie to not release her baby's name, weight, time of birth and social security number

— Abbey (@abbey_mcknight) February 4, 2018
WE'VE GOTTA KNOW.
If you won't tell us, we will work our magic…
#actualfootage of me hunting for clues to find out what #Kylie will name her baby pic.twitter.com/vSD10mp3pG

— Jon Vaughn (@TheJonVaughn) February 4, 2018
Let the theories begin
kylie jenner's baby's name possibilities:
glitter
lip kit
travis thot
eyebrow
ferrari
cappuccino
candy k
lashes

— glow hoe (@kelistaaa) February 4, 2018
Butterfly-related speculations are gaining traction
The video showed Kylie with a butterfly necklace, the baby's room is decorated with butterflies, Travis and Kylie have matching butterfly tattoos…just sayin'.
bet y'all kylie's baby name is butterfly or some type of butterfly

— samia ????????‍♀️ (@samiasauce) February 4, 2018
Aaaaand someone is playing with us??
Someone has but Kylie Jenner's baby's 'name' on Travis Scott's Wiki page, I think someone is getting in trouble ???????? pic.twitter.com/bUZPWrbpI8

— charley (@charIrichardson) February 4, 2018
Twitter has suggestions too
Since Kim named her baby Chicago, I vote that Kylie name her girl "APA" or "MLA" to keep the citation trend alive

— Haley???? (@s0haley) February 5, 2018
And they're good ones
Guy during the Super Bowl: Who are you rooting for?
Me: I'm rooting for Kylie to name her baby Kitt Lip Jenner

— Betches (@betchesluvthis) February 4, 2018
Let's hope it's something at least semi name-like
Praying for Kitt Lip Jenner tho
Kylie is gonna wait until her baby's first bday to release her name and post something like, "Happy 1st birthday Las Vegas!!"

— Elizabeth (@eshelley143) February 4, 2018
Hit us up ASAP Kylie…plz…we are ready when you are.
Get Punkee's Bachelorette Recap Alerts!