DUMB SURVIVOR RECAP: Ep 6, Yogi Bear Henry & Hugs On A Log
Once again, Survivor superfans: this recap might not be for you. This recap is incredibly dumb.
We rejoin the loser tribe after they've returned from 'Fire Chat'. It's night-time and the cameras have turned all night vision-like, which makes it look like we're about to witness a poltergeist on Ghost Hunters.
It's terrifying.
'GAHHHHH!'
All of a sudden, Tara points at a ghastly vision of the undead.
'WHAT DA FUQ IS THAT?!?'
Oh that's right, it's the ghost of friendships past (see what I did, there); it's her ex-bestie Pete. Pete's been recruited to Shifty AK's team. Oh well. Sunrise, sunset.
Pretty Mc Tall Boy congratulates the gang on their lying skillz and for blindsiding him and Tara. I don't know if he's kidding. This game is weird.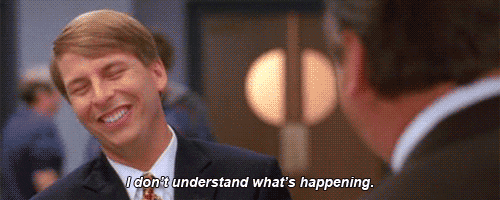 Cut to the other tribe – and they are having the time of their lives doing handstands in the sea. Model Camper Sarah says that's part of the Assarga routine.
I assume they have to all do water aerobics as some kind of hazing process. The ones that don't come up again from the ocean floor are kicked out of the tribe, and also… dead.
While Sarah is loving life, Yogi Bear Henry is not. He's worried about campmate Sam being generally better at everything than him. He wants her gone.
He says he came to Survivor to "make big moves". Instead, here he sits being a total sassy pants, hating the fact his tribe has food/ shelter/ a generally cosy lyfe.
'Tribe life is soo dull, what can I do to liven things up…'

Wait, nek minute Henry's nemesis Sam gets caught in a rip. Coincidence?
Did Henry use his brainly yogi powers to kill Sam off? It looks likely.

Cookie Monster thinks it's all pretty entertaining.
Is she ded, tho?!
Unlucky for Henry, Sam lives.
Even though Tara's in a totally different tribe, she seems really upset about it.
*Faint sobs, sob, sobs…* Who is Sam, tho?
After Sam is almost murdered by a pseudo-yoga instructor, it seems like the perf time for Hostie Mc Biceps to meet the teams by the ocean, for a challenge competing for BBQ meats.
Tbh, the prize just looks like a reg Sunday at Bunnings, but this guy is wrapped.
'Ermagherdddd saw-sage!!'
The challenge itself has the teams lined up on pink logs hovering above the sea.
The tribes are then forced to aggressively cuddle each other's front bums.
It gets weirdly intimate.
When they're not doing that, they're mostly just competitively hugging each other.
It's a chance for contestants to let out their feelings, and the emotional baggage that has been weighing them down. It gets intense.
'I'm standing on a wooden log of emotionssss'

'I just want you to hold me tight, jungle daddy!'
'I HAVE TRUST ISSUES'
'My mother never loved me'
* Hums 'Don't Cry for Me Argentina' *
Samatooer actually win something. Huzzah! They bring their BBQ food back to camp. Tessa proudly announces, "we've got round one of…cooked food".  It's the most depressing sentence ever. I guess their expectations are pretty low at this point.
Back again for ANOTHER CHALLENGE?! This time it's a game for immunity. But what they have to do is insanely complex and boring. There's jumping, climbing, sliding and puzzle-solving.
Oh boy, I don't even know where to start. Instead: here's a blurry image of Luke standing in the sea, holding a large stick.
One thing that happened in the challenge is Henry clearly fucking it up for his team, which made Summatoweler win. For once! Purely because the better team threw the entire thing.
After Henry's early attempts to get rid of Sam, he decides that if murder doesn't work, he may need to get her voted out. Especially as she's worked out he's lying about his identity as a yogi.
Does Henry even know who he is, tho? He says that the Henry at home is caring but the one here isn't, so that's why he's a yoga teacher here. Ummm. So who is he, actually?!
He leads a round of yoga-ing and says 'namaste' a few times. He must be a yoga teacher. It totally checks out…
His nemesis Sam ain't buying it.
*Judging you…*
Sargent Scary isn't either and gives his team death-stares hoping to influence their vote, or at least exorcise their minds of impure thoughts.
Finally we're at 'Fire Chat' but we already know the result.
Loud music plays, actually drowning out what people say. Jacqui tells a strange Monopoly metaphor and almost everyone writes down Sam's name, shocking no one expect Sargent Scary.
Buh-bye Sam. At least you didn't die…