People Think Kylie's Baby Announce Was Timed To Shade Justin Timberlake
The best take on Kylie Jenner's epic baby announcement and 12-minute long pregnancy-journey video is that she timed it to intentionally overshadow Justin Timberlake's Super Bowl half-time show. Lol bury him Kylie.
Kylie's announcement is, of course, soaking up a lot of Justin Timberlake's spotlight today, and a whole lot of people are HERE for it.
Kylie Jenner
????????
|????????
/ _
━━━━━┓ \\
┓┓┓┓┓┃Justin Timberlake
┓┓┓┓┓┃ ヽ????ノ
┓┓┓┓┓┃   /
┓┓┓┓┓┃ ノ)
┓┓┓┓┓┃
┓┓┓┓┓┃

— Frank Costa (@feistyfrank) February 4, 2018
In case you're not up to speed, not everyone is stoked that JT is performing the half-time show. The grudge dates back to 2004, when Janet Jackson brought out Justin Timberlake as a guest at her half-time show and in a stunt known as 'nipplegate', JT pulled off part of JJ's costume, broadcasting her nip (cover) on live TV.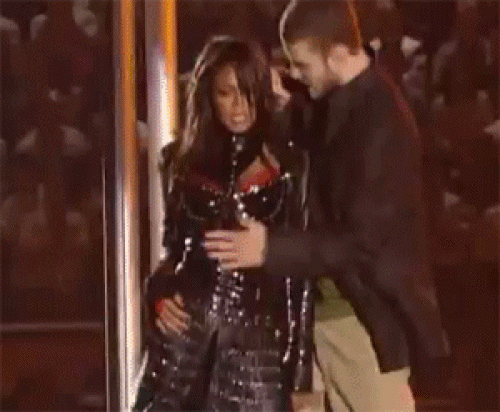 Basically, Janet Jackson paid big time for the incident, and JT, did not. While Janet Jackson was condemned for indecency and her career suffered, JT came out unscathed and here we are about to watch him play a half-time show of his own. So weird!!! Almost like society is f***ed up and sexist!!!
And so, on Twitter, you'll find #JanetJacksonAppreciationDay trending and a bunch of sassy as hell tweets throwing shade at JT.
only thing that can redeem Justin Timberlake is if he spends the whole halftime show singing the hook to Outkast's "Ms. Jackson"

— Myles E. Johnson (@hausmuva) February 4, 2018
In case anything goes wrong in Justin Timberlake's Super Bowl performance, a more talented woman is standing by to take the blame and suffer the consequences.

— Frank Conniff (@FrankConniff) February 4, 2018
Enter Kylie.
People on the Justin-Timberlake-grudge train are praising Kylie Jenner for stealing his spotlight today with her announcement and Oscar-worthy pregnancy vid. Some people even reckon that the Kardashian/Jenner's timed the whole thing in solidarity with Janet Jackson, and they are loving it.
Kylie Jenner announced that she had her baby today so that she could give Janet Jackson justice by taking all the attention off of Justin Timberlake's halftime show

— brandon???? (@lanadelthicc) February 4, 2018
Whether intentionally timed or not, Kylie Jenner wins all the awards today and the tweets are hilarious.
justin timberlake: ah, super bowl sunday. what better way to make a grand entrance after being out of the public eye for so long and make everyone talk about me!!!

kylie jenner: hold my baby

— Alp Ozcelik (@alplicable) February 4, 2018
Round of applause to genius and mastermind Kris Jenner
Kris Jenner made Kylie announce her pregnancy on the day of Super Bowl and got all the attention. The devil works hard but Kris Jenner works harder. pic.twitter.com/lmE7QTUxMW

— Shady Music Facts (@TheShadyFacts) February 4, 2018
We hope JT enjoys Kylie's shadow
Kylie Jenner stealing Justin Timberlake's Superbowl moment ♥️ pic.twitter.com/HEHl2ut0NL

— James Harness (@JamesHarness) February 4, 2018
Get it Kylie
Justin Timberlake: its the biggest night of my career! im performing at the super bowl to-

Kylie Jenner:

— Lady Gaga (@AlanThePrince) February 4, 2018
The mother, the legend
kylie jenner really said fuck justin timberlake and the super bowl when she dropped the news, we love a legendary mother

— Ariana Grande (@arianagrandes) February 4, 2018
Sorry not sorry
Kylie Jenner knowing her pregnancy announcement would block Justin Timberlake's #SuperBowl hype performance pic.twitter.com/9LNgLY5ZzJ

— Katy Perry (@kxtysboy_) February 4, 2018
Better luck next time JT
Justin Timberlake currently in his superbowl dressing room seeing all the attention he was supposed to get go to Kylie Jenner and her daughter pic.twitter.com/bGdI5Rdtds

— Ramon (@iIluminari) February 4, 2018