25 Hannah Montana Outfits That Were So Extra It Hurts To Look
Hannah Montana's style was iconically cray.
Every time Miley Stewart (AKA Cyrus) transformed into her pop singer superstar alter ego, she always managed to rock an outfit somehow even more extra than the last. It was a lot to take in.
Basically, the Hannah Montana style guide involves a whole lot of sequins, patterns, statement belts, rhinestones and just about anything else that screams 'POP PRINCESS' to anyone within a 10km radius.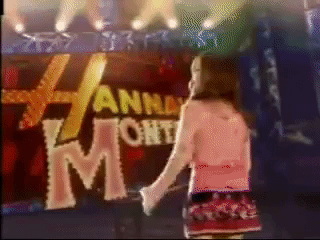 She was a very colourful caricature of what a teen pop star queen might look like, so there was no such thing as 'too much' when it came to the HM dress code.
Her style evolved over the years but never gave up on its essential purpose: to make Hannah the most extra person in the room. And she nailed it, every time.
We've rounded up 25 Hannah Montana outfits that were so extremely extra that it hurts to look. But it's hard to look away.
1. The iconic skinny blue scarf that launched a fictional career.
2. Hannah Montana was partial to cropped layering of any kind (for some reason).
And sequins. And beading.
3. Wow does that belt even have a purpose?
4. Look past that sequined top + rhinestone hoodie combo and take a look at them jeans.
5. This looks like something you could buy in Supré circa 2006.
6. What a belt!
Let's get a closer look at that rhinestone guitar. Yeehaw.
7. So much going on here.
But most importantly another sparkly skinny scarf making an appearance amongst this intense colour coordination.
8. The tie!!!!
9. OK, actually this look over here is low-key pretty damn cute.
10. Awww yeah that sequin vest. Get it girl.
11. When you've gotta dress fancy but cbf to take off your comfy clothes.
12. And so began the era of the fingerless glove.
Y tho?
13. The gal loved to layer.
14. Is an outfit without a belt really even an outfit?
15. No pattern is too aesthetically displeasing for our girl Hannah Montana to get around.
16. To be fair, clashing was HM's 'thing'.
So from that perspective, she's nailing this look… I guess.
17. RIP Hannah Montana and her Dr. Martens phase.
18. This dress is just objectively ugly. Soz m8.
19. Confused by this skirt tbh.
20. Quite sure she was taking the piss with these pants.
Surely.
21. In case it wasn't clear, Hannah Montana would like to remind you that she is a STAR.
22. Those boots are too much.
Hahahahaha. Sorry.
23. When highlighters are ultimate outfit inspo.
24. One last frou frou skirt ok.
25. And let's wrap this up with Hannah channelling Rainbow Fish.
Because HM can wear whatever the fuck she wants, hey.