'Sex And The City' Fans Are Baffled By Carrie In The 'And Just Like That' Finale
Whether you liked it, loathed it, or hate-watched it, the Sex and the City reboot And Just Like That has come to its 10-episode conclusion.
The finale has left some fans satisfied but others frustrated. First up, it should be said that this post contains many And Just Like That finale spoilers, so if you haven't watched it and plan to, exit this browser window right TF now.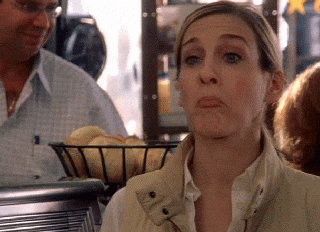 The season wraps up with Charlotte finally accepting that her child Rock wants to live their own authentic life. Miranda decides to choose love over her career, giving up an important internship to follow Che to Los Angeles as they're recording a TV pilot. The decision leads to her almost coming to blows with Carrie, which contrasts nicely with how the original series ended — with Miranda trying to convince Carrie not to uproot her life and follow Aleksandr Petrovsky to Paris.
Carrie and Miranda make amends and the season concludes with Carrie sprinkling Mr. Big's ashes over the bridge in Paris where they kissed on the Season 6 finale. And in perhaps the most exciting turn of events in the finale, Carrie and Samantha's friendship could be back on track, as a reunion in Paris was arranged via text message. When Carrie returns to New York, she is offered her own relationship advice podcast aptly titled (you guessed it) Sex and the City, and she starts a romance with her handsome producer, as they share a steamy kiss in the elevator.
There are parts of the reunion that totally worked while other developments have confused fans of the original series. Miranda moving to LA for one thing does contradict everything we knew about the character — she hated LA — but maybe that's the point as Miranda's story arc was all about pushing herself into previously unexplored areas. Charlotte did not get much of an ending tbh, while some fans thought it was confusing that Carrie decided Big's resting place should be in Paris and not New York. After all, Carrie famously told Big in the series "You can't leave New York, you're the Chrysler Building!"
Carrie and this outfit are "THE MOMENT"

She is in Paris on the bridge "Big" proposed, to scatter his ashes#AndJustLikeThat Please RT pic.twitter.com/E92tWLli0n

— RealityStella (@realitystella) February 3, 2022
Carrie made some rather odd decisions in the final episode but one thing she said has truly left fans furious. In the opening scene, Carrie is recording her podcast X, Y, and Me when the hosts start talking about their worst breakup stories. Jackie makes a joke about COVID while Che says they was once dumped over FaceTime. Carrie then offers Big's death as the ultimate worst breakup, which not only kills the vibe, but it is completely incorrect.
This erases a cannon storyline from the original Sex and the City series: the Post-it breakup. This episode is not just one of the funniest of all time, it's one of the greatest television episodes period. Carrie had been dating fellow writer Berger from Season 5 until Season 6, and their relationship was almost as awful as their split. After staying over, Berger fled in the night leaving behind at Post-it for Carrie containing seven iconic words: "I'm sorry. I can't. Don't hate me."
This breakup was not just a milestone for the series, but it set a precedent as one of the worst television breakups of all time. Many women could relate to how Carrie reacted and it felt deeply personal.
As soon as I saw the And Just Like That scene, I sat there stunned. I understand why Carrie brought up Big but I cannot comprehend how Carrie's first thought would not be to drop in her hilarious Post-it story. Carrie loves a good story-topper, she's known for inserting witty zingers in conversations, and the Post-it breakup would have been the funniest response by far.
As if Carrie would talk about her worst breakup on the podcast and completely gloss over the post-it?! It's a much funnier story than her co-hosts'. This reboot continues to contradict/dismiss what fans know and love about the original series. #AndJustLikeThat pic.twitter.com/OuC2pRLwJ5

— Tara Watson (@tara_watson_) February 3, 2022
I understand that the finale was about Carrie finding closure a year on from Big's death, which is why he was mentioned early in the episode, but surely there was a way to just briefly mention the damn Post-it. Carrie's omission does a massive disservice to fans, who are the people the reboot was made for.
People have taken to Twitter to voice their frustration with Carrie's breakup story:
Carrie talking about the worst break ups and doesn't mention the post-it note? #AndJustLikeThat pic.twitter.com/wYmKDTmbY3

— Sally (@manicrose1984) February 3, 2022
Che: Carrie, worst breakup?
What the fans thought: The Post-it!
Carrie: mY hUsBaNd DiEd
Everyone: #AndJustLikeThat #AJLT pic.twitter.com/Png5UUNPK6

— Will you accept this 🌹 (@absolutely_ido) February 3, 2022
Carrie is talking about the worst break up ever and she doesn't even mention post it notes.

I couldn't help but wonder, have the writers of #AndJustLikeThat even watched #SexAndTheCity? pic.twitter.com/JJyRnyHWs4

— Josephine Graham 😷 (@iojosy) February 3, 2022
#AndJustLikeThat had the perfect opportunity to mention the post it breakup and missed it. How can you mess up your own Easter egg???

— Turn The Wigs Around 😀 (@BonitaNoBum) February 3, 2022
Are you fucking kidding me? They have a whole "worst breakup segment" and the writers don't even have Carrie BRING UP THE POST IT!?!!!!!

I will not take this disrespect anymore #AndJustLikeThat pic.twitter.com/dc6FWG2sPU

— puta (@biggirlshouse) February 3, 2022
OMG. Carrie saying her husband dying was the worst breakup ever was…stupid. Here was the moment for her post it note story. Unbelievable.#AndJustLikeThat

— Shirley Voted Early (@lacscully) February 3, 2022
And Just Like That made a lot of mistakes, but erasing the Post-it's legacy from the Sex and the City universe might just be it's most unforgivable.
This does make a lot of sense…
Completely explains why she didn't mention the Post-It note. #AndJustLikeThat pic.twitter.com/UTZw47B1NN

— Jess (@thejessicadabit) February 3, 2022