12 Aussie Icons People Born After '97 Missed Out On
The other day it came to my attention my coworkers didn't know who Holly Valance was.
I'm not here to shame anybody, but I was left rattled, questioning my friendships and wondering how anyone lived a life without the iconic 'Kiss Kiss' on replay. Is that even a life at all?
As I was left to ponder such questions, knitting in hand and a cup of herbal tea beside me because my young coworkers now thought I was a wise, old lady, I got thinking about other icons they missed out on in their youth.
So strap yourselves in for an education, sweeties.
1. Holly Valance
AUSSIE. ICON. Sure, she started on Neighbours but we don't care about that. We care about the absolute banger of a song 'Kiss Kiss' and the scandalous (well, back in the day anyway) music video that accompanied it.
Holly now has moved on from acting and singing, and settled for marrying a billionaire and just casually showing up at events like royal weddings.
---
2. Vanessa Amorosi
Not knowing 'Absolutely Everybody' is an actual crime and you should probably be jailed for it. Not knowing Vanessa Amorosi is also a crime and could get you 20-25 years behind bars.
Here are the cold, hard facts: Vanessa Amorosi has the voice of an angel and maybe should be our 2019 Eurovision performer. Make it happen.
---
3. Scott Cain
You're all across Lee Harding, I get it. But before Lee, there was Scott Cain of Popstars fame. And his lyrics may not have been 'Wasabi' level, but hey, it was back in the day where sk8r bois were in, and heartfelt lyrics like 'I'm movin' on, I'm feelin' strong' would've put back the pieces of your broken tween heart.
---
4. Scandal'Us
But alas, my friends, Scott Cain wasn't the most iconic thing to be produced by Popstars. I'm not talking Bardot, coz they never faded from our memory and Sophie Monk stayed strong in our hearts.
But the real thing Gen Z missed out on was the absolute banger that was 'Me, Myself & I' by Scandal'Us. ---
6. Bec Cartwright
Honestly, the early-00s was a TIME for Aussie soap stars to launch singing careers and the first one that truly pivoted this (minus icons like Kylie, duh) was Bec Cartwright with 'All Seats Taken'.
Sure her pop career was short-lived and she went on to become Bec Hewitt and read an incredible poem at her wedding, but those red pants and yellow top from the video clip are forever dancing in my mind.
---
7. Madison Avenue and their glass of water
While most of y'all were busy squeezing your way down the birth canal, Aussie duo Madison Avenue were busy too — performing at the 2000 ARIAs with a very special guest. A glass of water.
It's a mystery that has never really been solved. We can only assume lead singer, Cheyne, was a bit thirsty and then never found the time to take that desired sip of water for her parched throat during her dance routine. Devo. ---
8. Plucka Duck
Yep, this big, giant duck was a TV staple — he even got nominated for a Logie. The '90s truly were wild.
---
9. The Smiths chips Gobbledok
We all love chippies and the Gobbledok loves chippies more than most. In all honesty, the Gobbledok and I have a lot in common.
---
10. Huey
The best thing about Huey compared to his new celebrity chef counterparts is that he was just an every day Aussie bloke, keen to season with a little salt and pepper and call it a day. Forget Paleo Pete and George Calombaris jumping up and down on the soles of his feet… Huey was where it was at.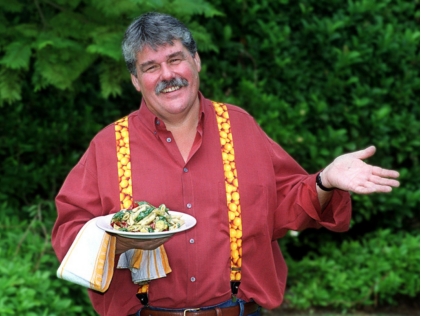 ---
11. Mike Whitney & Tania Zaetta from Who Dares Wins
Who Dares Wins was basically the precursor to shows like Fear Factor. An unsuspecting contestant would have to face a gnarly challenge of some sort, in return for a prize (usually money or a holiday). Honestly, I'm at the stage of my life I would eat some bugs for a free vacay, so bring it back.
---
12. Pia Miranda & Kick Gurry
Looking For Alibrandi is one of the most iconic Aussie films of all time, and I won't hear a bad word against it. And Pia Miranda & Kick Gurry were basically couple goals for everyone over the age of 10 in 2000.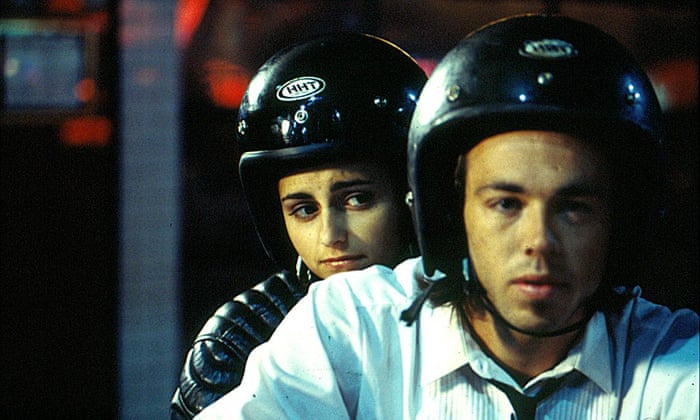 Josie & Jacob 4 lyf.