David On Winning 'Australian Survivor: All Stars' & Plans To Take On The US Series
He did it. He bloody did it. On last night's Australian Survivor: All Stars finale, David Genat granted all our prayers as he walked away with the title of sole survivor for 2020.
Fans of Australian Survivor will know too well that often the person we want to win, the person we root for all season, never even gets close to the prize (Luke Toki, anyone?), so this victory was particularly sweet.
In the end, it came down to Sharn Coombes and David delivering their pitches to the jury but it was obvious that David had a much better story. He was victorious, winning with an 8-1 majority, with only Moana voting for Sharn — her last act of revenge for David betraying their finale pact, perhaps? Petty AF and I'm here for it.
Following the finale, we chatted to the Golden God himself as he reflected on his time on the reality show.
We spoke to the winner of Australian Survivor: All Stars, David Genat, about the finale and his plans for the future:
On choosing Sharn for the final two:
"I felt like I could beat both of those guys [Sharn and Moana] at a final tribal and I was very close to them both personally but it came down to a purely strategic decision and I wanted to sweep the jury. I wanted 9-0 and I felt like Sharn gave me the best chance to win 9-0. I thought Mo might catch two maybe three votes, but with Sharn, I was pretty confident I could get all the votes — unfortunately it didn't work out that way, it was an 8-1 split but still a pretty good way to win."
Australia, your All Stars Sole Survivor, The Golden God 🔥 #SurvivorAU pic.twitter.com/X5I4LV0H1M

— Australian Survivor (@Survivor_AU) March 30, 2020
On fans criticising Sharn's gameplay:
"Sharn 100% deserved her place in the finals. The fandom is interesting because people are seeing what the story dictates but Sharn played a very good game. She's incredible socially, she's such a lovely, nice, relatable person. She's not going to be able to play the big, physical game I play. But Sharn has five individual immunity wins, I think six now from this season, so she has that ability to be a challenge beast. And she's great with strategy.
"People are like 'She lied to these guys and those guys', but that's the game. You lie to everyone. To make it to the finals twice is an astonishing accomplishment and I think she deserves way more credit than what she's getting."
"You're saying your biggest move in this game is a move you did NOTHING on?" Moana just summed up Sharn's entire gameplay lmao #survivorau pic.twitter.com/KJT5Ll0Dgj

— Bec 🌈 (@becasammut) March 30, 2020
On whether Moana has forgiven him for not picking her:
"Have I forgiven her for voting for Sharn? [Laughs] Nah, we're great. Mo's a beautiful person, I really respect Mo and respect her family. She knows why I made the decision. It wasn't anything personal. I completely separate gameplay from personal relationships in there.
"I don't think there's any bad blood but it's obviously very disappointing for her not to get a chance to do that pitch, but it would have been just as disappointing for her to lose at the final tribal council. In a way, it's a credit to her that I didn't take her because I realised she was getting some votes."
Mo throwing challenges out there like… 🤯 #SurvivorAU pic.twitter.com/G3sBOxmPJ2

— Australian Survivor (@Survivor_AU) March 30, 2020
On his iconic pitch to the jury:
"I was at a bit of an advantage because I won the challenge so Sharn had to speak first. Getting to see Sharn's pitch and the way people were responding, I could then shape mine a little bit better," he said.
"I tried to be even more relatable to the guys and just tried to be as different to Sharn as possible to separate our pitches. I've been on a jury before with some good players and having seen a final pitch before, I knew what that jury needed. There was stuff that I wanted when I was sitting on the jury. I wanted people to be like 'I did that move, but you also had a hand in the matter.'
"At the end of the day, there are 24 people there and it takes more than one person to get you to the end. You can't do it by yourself and I just wanted to give the guys that validation. Their games did matter. While I made it to the end — and I feel like I had a hand in some very definitive moves in the game — I also wanted to give credit where credit was due. Those guys all played brilliant, big games."
Well…looks like the rat's out of the bag 🐀 #SurvivorAU pic.twitter.com/dOTRKPyvda

— Australian Survivor (@Survivor_AU) March 30, 2020
On Brooke being a huge threat:
"I think Brooke was my biggest threat, that's why she needed to go. I think whoever won that fourth immunity challenge was going to win the game, and I knew that could have been Brooke.
"I think out of anyone, Brooke had the best chance to beat me, but I think I'd still get there. I would have still stood by my game but Brooke played a fantastic game and she was physically just so dominant."
On his surprising friendship with Zach:
"I was especially impressed with Zach this season. He didn't really get as much credit for the stuff he did that I thought he would. He was really instrumental to the Locky blindside and Harry's blindside. He was doing some double agent cover work with me, when we were trying to sell that we were flipping back to the Vakama alliance.
"I was just really impressed with him as a person, especially after seeing his first season and thinking 'Oop, this dude's a bit of a nutjob', but he was actually really good."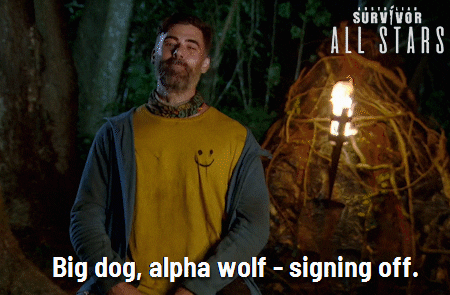 On not being voted out early in the season:
"I was so shocked. I was thinking I had the biggest target on my back, purely based off people having seen what I'd done last time. But to the credit of the guys, they wanted to play with the big players, they wanted to play with the targets. They wanted to make it the best season ever."
On doing Australian Survivor again or even Survivor US:
"Yeah 100%. I will definitely do US Survivor. I would be keen to do Australian Survivor again but I need a big break. When it comes to American Survivor, it's just a matter of when and not if at this point. I just need a bit of recovery time," David laughed.
–
We hope and pray that we will see David on our screens again in the not too distant future.