Let's Laugh About The Time 'Australia's Next Top Model' Announced The Wrong Winner
"I'm feeling sick about this. I'm so sorry, this was a complete accident." Those 13 words would go down in Aussie TV history as the moment in 2010 when Sarah Murdoch realised that she had announced the wrong winner of Australia's Next Top Model.
Ooft. The news quickly travelled around the world, and the cultural cringe factor was real.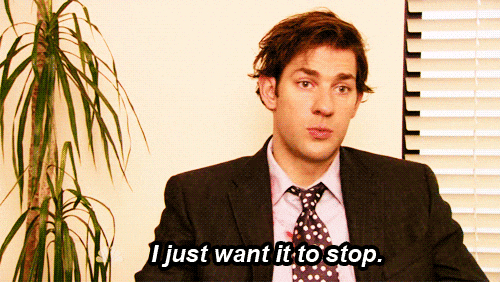 So how did it all begin? It initially seemed like any ol' finale as Sarah grew the suspense before confirming the winner was Kelsey Martinovich. The poor lass started giving an acceptance speech, before Amanda Ware (who thought she was runner-up), began saying some kind words about her supporters.
Then everything started to implode.
First, let's watch it in all its brutal glory. When it gets to the 1.38 point, oh boy, things take a turn:
You should look away but you just can't. It's like a car crash or a reality TV relationship.
As everyone starts to celebrate, all of a sudden Sarah looks like she's just been possessed by a demon. Her eyes widen. She puts her hand to her earpiece and starts shaking her head. "I'm so sorry. It was fed to me wrong. It's actually Amanda," she suddenly interjects. The crowd has no clue what is happening.
"How could this happen?" Sarah continues to spiral. "The lead kept changing. It was literally down to a couple of votes. It kept going back and forwards… and we ended up with Amanda as a winner," she says. Oh shit.
"This is what happens when you have live TV, folks," Sarah states, before adding, "This is insane, insane, insane." YEP.
"It's OK, it's an honest mistake," Kelsey sheepishly replies, as Amanda is crowned the actual winner of ANTM 2010. What. A. Mess.
It's now nearly been a massive ten years since that colossal fuck up aired on TV and I think it's time to finally say what most of us were thinking at the time…
That was pretty funny.
First and foremost, no one was to blame. You know, shit just happens.
This just happened to go down on live television and the stuff-up was revealed after Kelsey had already given her victory speech which is just SO AWKWARD. I hope the whole experience didn't scar anyone involved for life, but with some perspective and time, we've got to agree that really was a hilarious moment in Australian TV history.
It was just peak Straya. We were given an international TV franchise, one that the US had already completed 14 seasons of at that point without any issues, and then we – the people of Australia – announce the wrong winner.
Sorry 'bout it!!!
Add to that, the two contestants took it on the chin like it was no big deal. Both Kelsey and Amanda handled the news far too well, seemingly shrugging off the huge mistake.
This was five years before Steve Harvey announced the incorrect winner of Miss Universe, which was largely met with intense anger and outrage.
But in the end on ANTM, Kelsey got to share a part of the prize, being awarded AUS$25,000 and a free trip to the US by way of apology. Another part of the winner's package – a cover of Harper's Bazaar – was also shared, as the magazine decided to release two versions: one with Kelsey and one with Amanda. It actually warms the cockles of my heart.
They have both gone on to have successful modelling careers despite this extremely strange event that launched them.
By the end of it, it really was a perfect example of Aussie mateship. Oh, and did I mention it was bloody funny as well?