I Went To Bill's Dog Park & Waited For Bill To Come Date Me
There is one common thread holding the Bachelor In Paradise contestants together and that is who has or hasn't met Bill at the dog park.
We first heard about the infamous "dog park" on The Bachelorette, and on BIP Bill continues to refer to the place, which he simply labels the "dog park", like Melbourne has one single destination where all the canines come together for playtime communal.
Spoiler: we do not. Sounds dreamy tho.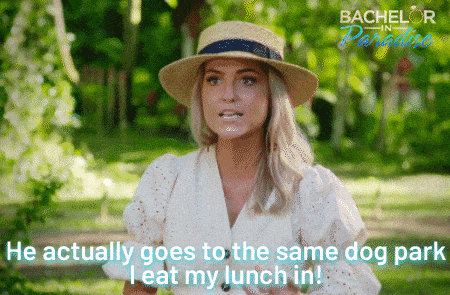 So far this season both Shannon and Florence have referred to meeting Bill at the "dog park", and let's not forget about Dog Park Amy from last year. So I decided I must hit it up and find Bill. It seemed so easy.
I was able to work out pretty quickly which park Bill regularly goes to via his Instagram stories.
With my destination awaiting, I headed off to Bill's dog park. It wasn't a particularly warm day in Melbourne but I figured dog's gotta walk, Bill's gotta find women to date.
I'm here Bill. I'm ready for you. Let's talk shit about Charlie! I'm game!
My first issue was that Bill's dog park is VERY big. It's actually huge and there are many different areas Bill could be inhabiting with his dog.
LOOK. AT. ALL. THE. OPTIONS.
"Where should I go first?" I asked a bin, panicking.
To calm myself, I sat down on a park bench, a typical 'meet cute' location perfect for Bill and me to start our fleeting romance.
I did meet one VERY good boy.
I played Destiny's Child's 'Bills, Bills, Bills' hoping he might recognise it as a mating call.
Is that Bill heading my way?!?
Nah, it was just a pile of dirty leaves floating in the breeze. Where is he?! It's DOG PARK TIME?!
I see a young woman! Walking her dog! Bill must be close, I assume he can sense when an attractive woman enters the dog park alone.
Spinning around the park (the dog park), there was still no sign of him."Bill? Bill? BILL?!" I shrieked at the wind.
I did follow this guy and his dog for a while. He eventually broke away from the path to get away from me. He clearly didn't come to the dog park to find love, like me.
Eventually I had to call it a day. No Bill. No potential romance. Don't believe what you see on TV, fam.
I suppose I can't say I met Bill at the dog park.
I'll just do it the old fashioned way by sliding into his DMs.