BATTLE OF THE BULLIES: One Villain Revealed His True Colours On Tonight's Bachy Ep
One of The Bachelorette's biggest bullies has finally come undone in tonight's cracker of an ep.
For better or worse, Blake and Sam have dominated the storyline over the past few weeks with their childish behaviour. They've been acting like general petulant knob heads.
After blatantly bullying Jarrod in last night's ep, the pair were finally pitted against each other tonight, and Sophie made them duel it out to stay in the competition. It was THE BEST DRAMA SO FAR.
But before we get the – let's just take a deep breath and enjoy this: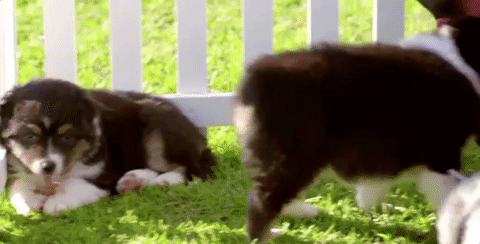 Lots more Apollo / Puppy love here
Let's continue…
Two-face Blake did have a winning edge. Following his shitty behaviour at the onesie party, we met a new Blake tonight, as he managed to charm Sophie. Was it all an act? Our guess is… yup yup.
He was sucking up big time, complimenting her 'Yellow Wiggle' skivvy and dishing out massages. It was kinda strange.
After Blake won some solo time with Sophie, he suddenly snapped into sensitive guy mode.
'I'm just a vulnerable guy looking for fame *cough* love.'
'Awwww Blake I'm seeing a brand new side of you. Your right side was shithouse.'
Blake was nice enough in this ep to fool Sophie temporarily.
Next up, Sam got the second date promised by his 'double delight' rose.Turns out, Sam is all kinds of into himself as he acted like a general tool.
Turns out, Sam is all kinds of into himself, acting like a tool every possible chance he got.
'So I don't really look for work. But I'm a singer, an actor, a voice-over artist and I also invented the wheel.'
'Btw, here's my 20 point plan for your next career move, which will include setting me up with a record deal. You are welcome, kiddo.'
'Ummmmm….?'
'I'm Australia's greatest treasure. Who the fuck is this guy?!'
It was so fucking awkward.
'Yeahhhhhh, you're never seeing a rose again.'
He only got more self-obsessed later into their date.
'So my exes were all bad people and I fixed them by covering them in my magic dust. Because – this just in – I am the human equivalent of pure excellence and talent.'
'Right right, can you use that magic dust to disappear m8?'
Then in an INTENSE rose ceremony, our gurl Soph made all the blokes that had roses leave the room. Blake and Sam would duel it out alone. (Oh, and AJ left. Poor AJ. But yolo)
Sophie went in for the kill. She quizzed the boys over their intentions with her.
The besties – who earlier had agreed to be Sophie's top two – were shook. Us viewers were frothing in delight.
BLOOD BLOOD BLOOD!
In the end, the lesser of two evils aka Blake snared a rose.
While Sam, you know the guy that "gets roses", as "that's what I do," was left roseless.
ALL HAIL SOPHIE.
Bachy kween and repeller of bachy bully fuckbois.
Get Punkee's Bachelor Recap Alerts!