The Best Christmas TV Episodes To Get You In A Holly, Jolly Mood
Get ready for the most wonderful time of year with the best Christmas episodes!
Considering 2020 was one of the worst years ever, we're pretty eager to enter the Christmas spirit in full swing. How do we do this? Well, that's easy, through Christmas entertainment of course. And so, to help you with your selection, we've gone and sourced the best Christmas episodes of all your favourite tv shows. Let's dive in.
Here Are The Best Christmas Episodes:
Friends – The One with Phoebe's Dad (Episode 9, Season 2)
While Friends seem to have prioritised the Thanksgiving episode more than anything else, the sitcom still has a solid batch of Christmas episodes. But, for our list, we want to shed light on the first time the Friends cast celebrate Christmas.
In this Season 2 episode, Monica and Rachel attempt to save a bit of money by tipping people with cookies, Phoebe tracks down her birth father, and Joey and Chandler source their presents in a petrol station. Classic Friends antics, really!
The Office – Christmas Party (Episode 10, Season 2)
If you've ever considered 'bad Santa' as a secret Santa alternative, make sure you watch this episode first. When Michael Scott receives a $3000 bonus from work, he buys an iPod Video for the office secret Santa party (which, side note, has a $20 limit). But, when he receives a homemade gift and hates it, he prompts the office to pivot the game to 'Yankee swap' and – as you can imagine – chaos ensues.
Arrested Development – Afternoon Delight (Episode 6, Season 2)
Directed by Jason Bateman, this Season 2 episode is a clear highlight for the entire series.
Similar to The Office episode we just mentioned, this Arrested Development Christmas special also takes place at a work Christmas party. However, here, Gob (who has recently been promoted to CEO) fires the entire staff for participating in the company roast. As a result, Michael tries his best to rehire them.
Community – Abed's Uncontrollable Christmas (Episode 11, Season 2)

There's something so special about Christmas episodes. Usually, they involve the entire ensemble, usually, they're super heartwarming, and usually, they're a space where reflection takes place.
For Community, Christmas is a time of pushing the boundaries. That's why, in the 11th episode of the second season, the cast of Community evolve from being humans to being stop-motion animated figurines. It's truly an amazing sight to see.
Brooklyn Nine-Nine – Christmas (Episode 11, Season 1)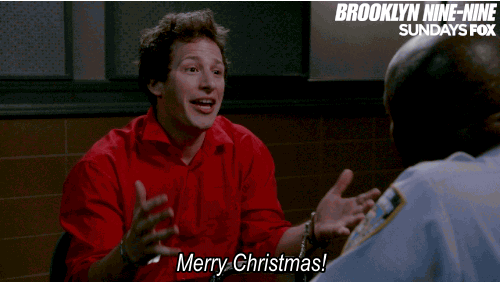 It's hard for sitcoms to nail episodes in their first season, but Brooklyn Nine-Nine did just that. In this season 1 episode, Holt receives death threats and, in following protocol, Peralta is assigned as his guardian. Safe to say, Peralta has a wonderful time.
Overall, this is just a pretty solid episode, which resulted in Braugher (who plays Holt) being nominated for an Emmy Award for best-supporting actor.
Glee – A Very Glee Christmas (Episode 10, Season 2)
From high-schoolers still believing in Santa to the rigging of Secret Santa, this Glee episode honestly has every X-mas trope you could possibly think of.
There are breakups and make-ups but most importantly, there are immaculate covers of your favourite Christmas carols. A special shout out must be given to Chris Colfer and Darren Criss for giving us the queer version of 'Baby It's Cold Outside' we didn't know we needed.