Beyoncé Just Dropped New Holiday Merch And It Is Everything
Nothing says happy holidays like a whole bunch of Beyoncé merchandise that is so beyond extra it's absolutely perfect. We need it all and we need it now.
Without any warning (classic Yoncé) the festive merchandise just came out of nowhere and shook up our Christmas lists completely. Beyoncé has given new meaning to the holiday season. Literally.
Beyoncé invented Christmas

— simple and clean (ray of hope mix) [official audio (@kinksamer) November 22, 2017
Oath.
The collection includes ornaments, wrapping paper, shirts, sweaters and onesies, and we want it all. Basically, anything and everything Beyoncé is trying to sell everybody is lining up to buy.
"how many items are you buying off the @beyonce holiday collection?"
me: pic.twitter.com/UvWp7mPTC9

— ✨✨✨✨✨✨✨✨ (@merelynora) November 23, 2017
The merch is a good example of how Beyoncé can get away with anything because if Yoncé says it's cool then that's the final word. Even if the holiday products are reaching wonderfully bizarre levels of extra, we are all here for it.
Beyoncé's holiday collection is absolute nonsense I love it I need it pic.twitter.com/fDtFng2Jsr

— Meena Alexander (@meenalexander) November 23, 2017
Some of the highlights include the T-shirts ft. the slogan "Beyoncé holiday sweater". Actually perfect for Aussie christmas weather it's almost like she was thinking specifically of us southern hemisphere folk with this cracker piece of merch.
"Beyoncé holiday sweater" on a t-shirt. A TEE SHIRT.

— je suis (@_bland) November 23, 2017
Also, the "Have a Thicc Holiday" sweater. Hell yea OK I've gotta get my hands on that bad boy and embrace the festive season thiccness.
When you're up making extra dressing and macaroni n cheese cuz Beyoncé said to "Have a Thicc Holiday" pic.twitter.com/SU0qMD5ROc

— Tora Shae Today (@BlackMajiik) November 23, 2017
The Christmas tree ornaments are too perfect they will be the Beyoncé of your decorations. Especially the red satin bauble with lemons on it that says "Slay Bells". I'm dead.
Convincing my household to get a Christmas tree this year so I can put Beyonce ornaments on it pic.twitter.com/Ktkq6hourM

— Ashley K. (@AshleyKSmalls) November 22, 2017
This Yoncé merch is just screaming out to treat yo self these holidays.
Beyoncé subliminally told me not to get anyone anything for Christmas and spend it on myself . #holidayonce pic.twitter.com/5rw8JU6khs

— Deion Jordan (@DinoLondyn) November 22, 2017
You can check out the full range of Beyoncé's holiday merch here and get geared up for the festive season. Thank you Qween.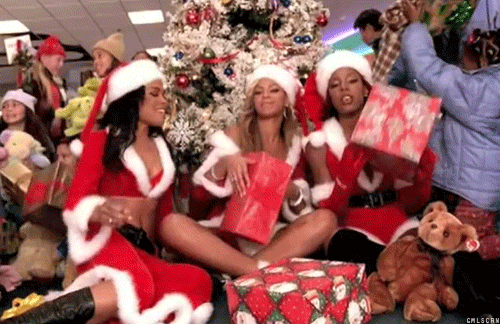 Get Punkee's Bachelor Recap Alerts!