We Asked Angela To Spill The Tea On All The 'Big Brother' Housemates
Big Brother lost a legend of the game last night, as Angela became the latest housemate to be evicted.
Angela was embraced by viewers for many reasons, but one of her most memorable traits was her obsession with tea. It turns out that being so vocal about English Breakfast has paid off. "I've got some tea coming in the mail actually," she told us. "I think I'm going to be well equipped for the rest of the year."
Our tea queen will never go without again.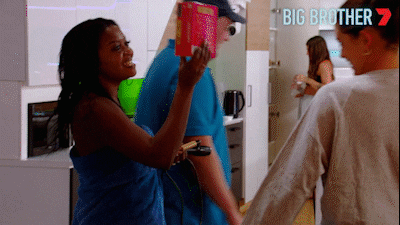 While Angela was voted out of the house last night, the drama between her and the housemates doesn't seem to have stopped, as an alleged screenshot from the cast's group chat has been leaked which shows Garth calling Angela a "nasty bitch" among other things. Ooft.
We spoke to Angela to get to the bottom of the drama and get the downlow on all the housemates.
We asked Angela to spill all the tea on her Big Brother housemates.
---
On unleashing on Casey last night and throwing shade at her tanning:
"I said she wasn't playing the game. We are very different personalities, I'm always on the go, I'm always bubbling with something. All I wanted everyone else to have was the same desire burning in their belly, like I did. But that was her gameplay and I respect it now, but at the time I was on the firing line and I had to speak my peace," she said.
"Everyone brings something to the house and I said she was a very good tanner. Everyone has a speciality and her specialty was tanning and she did a great job. It wasn't an attack, it was actually a compliment."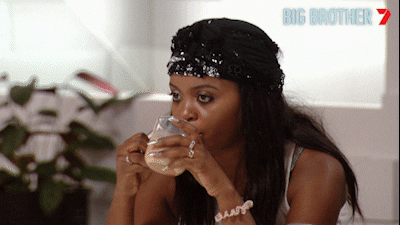 On her bestie Marissa voting for her last night:
"Marissa is my friend on-screen and off-screen. She had to do what she had to do; she had to protect herself as well. That's what I wanted. Everyone should play an individual game and when it came down to it her best friend was on the line and I was going to go home anyway. She acted smart, if she didn't vote for me she would be on the chopping block the next day.
"Marissa doesn't hold back, she says it like it is, she will tell you the truth. I gravitated towards her from day one and we just clicked. That's why she can't do anything wrong in my eyes. We finished each other sentences while we were in the house, we were like the two village gossipers. I love her."
On Kieran being targeted:
"He was on the firing line and I'm hoping that people will look at their own game and stop targeting the same person because it was just getting monotonous with everyone was targeting Kieran. I'm hoping we are going to see more personalities come out tonight, I want Kieran to stir the pot. It's going to very interesting moving forward."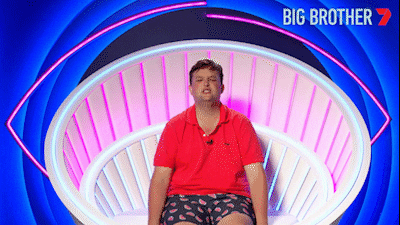 On Mat and Daniel's gameplay:
"They don't deserve to go [to the finals] with the game they're playing. I want people to go all the way not as an alliance but as an individual. But what they did, that was very smart. They took the biggest player out [by targeting herself] and I respect that. That was gameplay."
On Chad and Sophie's relationship:
"They don't kiss, they just cuddle. There is no hanky panky. That is just a beautiful friendship. We saw it blossom but there's nothing romantic. Maybe something will happen outside the house, but in the house that was just a friendship. We all knew they were very good friends. If you're waiting to see any hanky panky, this is the wrong show."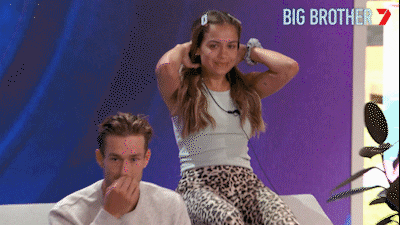 On her friendship with Talia:
"I talk to Talia all the time. I just executed my move at the right time and it wasn't personal. It was about the game and nothing personal, so of course I want to catch up with Talia. I can't wait to see everyone at the reunion."
On her rumoured feud with Garth:
"We were friends. I'm just hearing about this. I got him out so of course he's going to feel some way towards me but it's not that deep. There was a group chat, but it's not that deep. I don't do low blows, I'm too busy, I've got kids and I don't have time to group chat and sit on my phone all day.
"What I don't know won't hurt me and I have no hatred towards Garth as I haven't seen what he's written…he needs to tell it to my face. But I think people [the media] are trying to fabricate things that aren't really there."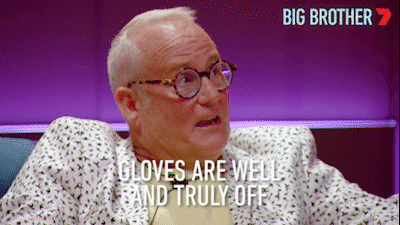 On whether she would have stayed on the show if the public voted:
"Everyone is different and everyone has their supporters. Casey has her supporters, Garth has his supporters, I have my supporters, but it would have been interesting to see how I would have gone if the public had voted. But I have a sneaking suspicion that I would have still been in the house. I think I would have stayed a bit longer if it were up to the public."
DAMN STRAIGHT.