Every Season Of 'Big Brother Australia', Ranked
Big Brother Australia was reality TV in its purest form and there hasn't been a show quite like it since it ended back in 2014.
Whether the series' stars won Big Brother or not, the lives of the contestants were changed forever. The show had its fair share of controversies across the eleven years it was on air and there was no shortage of iconic housemates, from Chrissie Swan to Ryan Fitzgerald and Tully Smyth.
However looking back, not all Big Brother seasons were created equally. Some seasons just completely lacked chemistry, along with memorable housemates and moments, while other seasons made for absolutely enthralling viewing, could be hilariously entertaining and hosted important conversations and debates.
We decided someone needed to rank all of the Big Brother seasons and as a superfan of the show, I volunteered as tribute.
Every Big Brother Australia season ranked from worst to the greatest:
#11. Season 8, 2008
Winner: Terri Munro
This is the most forgettable season in the history of Big Brother. There was no competition. Not one housemate made a lasting impression. It's no coincidence that 2008 was the season Kyle Sandilands and Jackie O replaced Gretel Killeen as hosts. I'm not saying that's what ruined the season (and the show) but I'm not not saying that, you know. Even chucking in Corey Worthington as an intruder couldn't save it.
---
#10. Season 7, 2007
Winner: Aleisha Cowcher
Speaking of forgetful, I have totally erased this season from my memory. After some research, oh my…what a mess. This was the season where Emma's father died and she was not notified until after her eviction. Ooft.
This was also the first ever season where an intruder (Zach) made it to the finals which demonstrates just how dull the originals housemates were. Thankfully, eventual winner Aleisha was hilarious and loveable and there to save the season.
---
#9. Season 11, 2014
Winner: Ryan Ginns
This was the final season of Big Brother Australia, and I can see why. It was all extremely meh and the constant twists felt contrived. The housemates just lacked chemistry. In the end, Ryan took the crown just for being nice and normal. That is NOT what BB is about. Looking back, the only standout housemate was Skye tbh.
---
#8. Season 3, 2003
Winner: Reggie Bird
This was the most experimental season yet, with the house being split in two but overall the season was not an enjoyable season to watch. In 2003, Big Brother Australia lost its groove.
The bullying exhibited by Ben was disgusting and then there was #Belindagate which made the show awkward and unwatchable. Thank the lord for Reggie and Chrissie, two of the greatest housemates in history.
---
#7. Season 5, 2005
Winner: Logan Greg
This was a pretty epic season. Firstly, there was 'the shearer' Glenn, who tried to play besties Kate and Michelle against each other. Then there was the bonkers "Logan twins" fiasco, where they swapped brothers Greg and David around sporadically without the housemates even noticing.
Hotdogs and Vesna were the least functional couple the series has ever seen, while the hilarious antics of Christie and Tim, two of the most iconic housemates of all time IMHO, kept us entertained.
---
#6. Season 10, 2013
Winner: Tim Dormer
This was a sensational season, mostly because Tim was made for this show and caused nonstop chaos. I'll still never forget him choosing to eat Ben and Jerry's ice cream night after night instead of returning the women's hair products. Or the time he tricked the whole house into celebrating his birthday.
Ed and Jade made the hottest couple on this earth, while Tully cheating on her then-girlfriend Tahlia with housemate Drew made national headlines. Ngl, Drew is still literally the biggest babe on this earth.
---
#5. Season 2, 2002
Winner: Peter Corbett
This season was extremely wholesome compared to all the years to come. We had the most epic love story Aussie TV had ever seen, as viewers watched love blossom between Marty and Jess. Three amigos Nathan, Alex and Sahra made BFF goals and were just hilarious every damn day, while actual goddess Mirabai broke hearts across the nation.
---
#4. Season 6, 2006
Winner: Jamie Brooksby
This season was wild. 2006 saw the renaming of Big Brother Uncut to Big Brother: Adults Only and for good reason. IT WAS VERY NSFW. You had that bathtub session between Krystal and Gaelan, and who can forget the Turkey Slap incident which even caused our Prime Minister at the time to demand the show be axed.
The season saw the first mum/daughter duo entered the house along with my personal hero, Anna, shooting to stardom with those three simple words: Game. On. Moles. Pot-stirrer Michael was the worst while Jamie and Katie were total couple goals. Oh, and farmer David came out to the house and the Australian public. It was all iconic.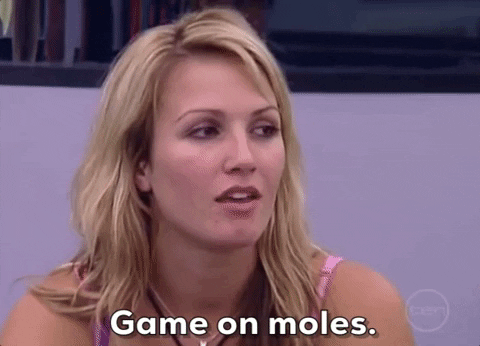 ---
#3. Season 9, 2012
Winner: Benjamin Norris
After three years of no Big Brother Australia (the horror!) Channel Nine brought the show back to life and now looking back at all the seasons, the reboot was actually phenomenal. It had everything, like love stories between Laylah and Sam, along with Josh and Ava.
Estelle was unlike any housemate we've seen and her legion of stans was huge. Stacey, Michael and Ben kept the constant laughs coming. And let's not forget, Stacey carrying around a cutout of Ryan Gosling everywhere she went will never be anything less than iconic.
---
#2. Season 1, 2001
Winner: Ben Williams
We've got to pay respects to where it all began. The first season really was reality TV gold and had thousands across Australian addicted. Sara-Marie and Chrissie's friendship was so pure. Blair was the hottest thing on earth. Jemma and her bloody lipgloss obsession was extremely relatable. Peter and Chrissie's dancing doona corrupted our nation's youth. I still remember Johnny and Sara-Marie bum-dancing in the dark. So many memories.
---
#1. Season 4, 2004
Winner: Trevor Butler
Best. Season. Ever. Don't get it twisted, this season had it all. Merlin's silent protest after being evicted. Bree being prematurely evicted then reentering the house. Paul and Merlin's war of words over Australian citizenship. Trevor and Fitzy's bromance was perfection. We had our teen heartthrob in Wesley. It was all topped off by legend Trevor taking the crown and proposing on stage to his girlfriend Breea.
–
Don't agree with me? Tell us your ranking of the Big Brother Australia seasons in the Facebook comments!