Hilarious Tweets From Americans Who Have No Idea WTF Boxing Day Is About
Shopping in Australia on Boxing Day means taking punches from angry shoppers. At least, that's what I thought it was?
As Aussies prep to get into their shopping frenzy on the 26 December, Americans are hella confused as to what exactly the day after Christmas is about.
We all know Boxing Day is that day when literally everything goes on sale. You fight the crowds, and attempt to snag yourself the best possible deal on a cute asf New Year's Eve outfit. But some Americans think that Boxing Day has nothing to do with shopping and something to do with…boxing?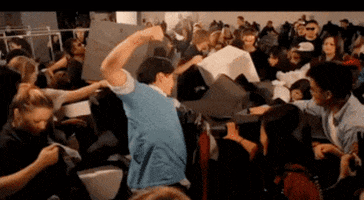 Weird.
Americans have taken to Twitter to rant about just how cooked our Aussie continent is, but this time tbh, they're not ENTIRELY off.
Americans are really confused as to why we call the day after Christmas 'Boxing Day':
Hi, confused American here, what do you mean Boxing Day isn't when you get to fight everyone who wronged you during the year????

— Seasonal But Slutty 1984's George Whorewell (@EwdatsGROSS) December 26, 2018
HELLO IM AN AMERICAN i know we dont have boxing day and i now know what it is but why the FUCK is it called BOXING DAY

— charles 🍒 20🍒LIKA DAY (@1electriclemon) November 29, 2019
what is boxing day and why are so many australians tweeting about it?!?????

— Virginia (@virtuallyvivi) December 26, 2013
Ati why is it called Boxing Day if they don't box. I'm in tears 😭

— sumaya (@summaiyah__) December 19, 2019
@OliverPhelps why is it called boxing day? I'm American, so I've always called it "the day after Christmas". 🙂

— Christina Grotts (@christigrotts) December 26, 2011
Bart just explained that it's "Boxing Day," the traditional day when kids duct tape their father into the smallest remaining gift box.

— Homer J. Simpson (@HomerJSimpson) December 26, 2013
Some Aussies are over it:
Eventually I'm going to realize that saying "Boxing Day" and expecting an American chosen at random to have any idea what the fuck I'm talking about is a losing game

— mockeye ✌️bread✌️ ghost 🏹🍞👻 (@RunnerD3x) December 18, 2019
eff it, I'm throwing a boxing day party this year. (plot twist it's just going to be what an American thinks the holiday would consist of (i.e. cardboard boxes and fighting))

— kam (@KamrynBeth) December 18, 2019
While other Aussies are equally just as confused:
I will never look up what exactly boxing day is. Don't explain it to me. it might be boxing up the presents you want to return or it might be something else. I refuse to find out.

— tyler's account (@godlikemind) December 26, 2018
Why Australians call December 26th Boxing Day is beyond me…considering that it's CRICKET that is usually played and watched today. #WTF

— Hans Lee 李天翰 (@ThatHansLee) December 26, 2014
I'm too old to still be confused by "boxing day," and yet here we are.

— Alexei (@heyalexei) November 19, 2019
Christmas Eve Eve… !! So is Christmas Day now Boxing Day Eve? Confused much.

— Chrissy (@bucksgirl60) December 23, 2018
And if you've always wanted to know the real reason as to why the day after Christmas Day is called 'Boxing Day', here's the tea…
According to The Spruce, the name is a reference to holiday gifts aka, the 'Christmas Box'. Boxing Day was traditionally the day off for servants, where they would take 'Christmas Boxes' gifted to them by their employers and distribute them to their families. If that's not the last thing you thought it would be than idk what is.
All in all, enjoy this Boxing Day. Bank on those sales, fight off those crowds, and have a safe and Happy New Year.