10 'Bridgerton' Clues That Pointed To The Identity Of Lady Whistledown
Netflix phenomenon Bridgerton exploded in popularity over the holiday break, coming at the perfect time to provide an escape from *gestures wildly* everything going on around us.
The Shonda Rhimes series is set during the 1813 social season in London and focuses on two families: the Bridgertons and the Featheringtons. The families attend balls and social gatherings, as the mothers try to find potential husbands for their daughters. Things get interesting when the families' secrets are exposed in a regular newsletter written by a mysterious author, known only by the name Lady Whistledown.
It's basically like if Gossip Girl was set inside a Jane Austen novel. The identity of Lady Whistledown is a guarded secret, one which we find out at the end of the season. But thankfully, unlike Gossip Girl, the final reveal actually made sense.
Warning: This post obviously contains major series spoilers.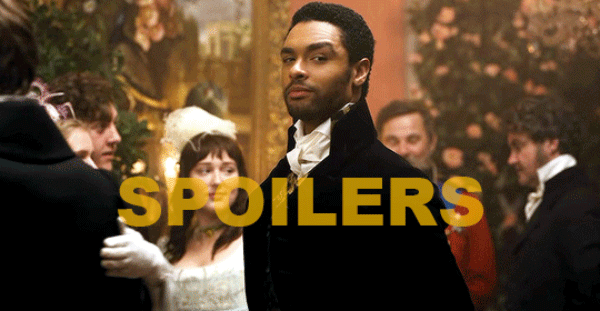 Towards the end of the series, Eloise Bridgerton suspects that dressmaker Genevieve Delacroix is the village gossip, but in the final minutes we find out this wasn't the case. Lady Whistledown tells viewers,"Perhaps I will come forward one day. Though, you must know, dear reader, that decision shall be left entirely up to me. Yours truly, Lady Whistledown," before the camera pans up to finally reveal her identity: Penelope Featherington.
It was the youngest Featherington sister all along, and once the news set in, it actually makes perfect sense. Penelope was constantly in the background of all the action, often going unnoticed but ready to relay the gossip.
I rewatched the season to look out for all the clues that viewers may have missed.
10 Bridgerton Clues That Pointed To The Identity Of Lady Whistledown:
---
1. The first scene that the newsletter appears has a telling clue.
After we hear about Lady Whistledown's Society Page in the first episode, and we see Eloise reading the salacious pages, I noticed upon rewatching that as she reads the newsletter, the first thing Eloise said was: "I should need to go and visit with Penelope." It's a subtle nod to the letter's secret author, and I doubt it's a happy coincidence.
2. Penelope's nickname is literally 'Pen'.
Y'all aren't subtle, huh.
3. Penelope tries to distract Eloise from discovering Lady Whistledown's true identity.
As Eloise tries to dig up as much info as she can find about Lady Whistledown's identity, Penelope often doesn't help matters. She is more likely to change the subject, or just agree with every bonkers theory Eloise presents.
When Eloise gets too close to unmasking Lady Whistledown, telling Penelope that she thinks the person has to be someone who is "invited to all the parties" and "able to hear things unnoticed by others", Penelope screams at Eloise and their friendship hits a roadblock.
4. Penelope matches Eloise's description of Lady Whistledown.
As mentioned above, Penelope matches the profile that Eloise creates for the mystery writer. While she isn't a widow, she is single and comes from money — well, before her dad lost it all in gambling debts. As Penelope sat out for the social season, she had plenty of free time for writing, while still attending all the balls and parties to stay across all the gossip.
5. Marina's pregnancy is exposed straight after she beefs with Penelope.
Marina's secret pregnancy being revealed just before she was about to elope with Colin is one of the more obvious clues. While Penelope initially told Marina that she would never "bring scandal on her family" and expose her for lying to Colin, her attitude changed after she told Marina that the father of her child, Sir George, did not breakup with her and in fact has been sending her letters.
Marina's reaction is unexpected: she burns the love letters, says she will still marry Colin and after realising that Penelope loves Colin, she cruelly tells her that her feelings are never going to be reciprocated. Then like clockwork in the following Lady Whistledown newsletter, Marina's pregnancy is revealed and in turn, her engagement is called off.
6. Then there are scenes like this, which looking back were a huge red flag.
Rewatching the series reveals quite a few moments that make the identity of Lady Whistledown glaringly obvious. And Penelope's reaction to Eloise complaining about the town's gossip column says a lot, considering that by Marina's pregnancy being revealed, the Featherington family became social pariahs. Despite this and the fact her family's reputation was in tatters, Penelope did not say a bad word against Lady Whistledown during their conversation.
7. Penelope accidentally reveals that she is a low-key savage.
While she plays the sweet and demure role well, there's one scene where Penelope drops her guard and proves that she has a sharp tongue and quick wit — just like Lady Whistledown. At Lady Trowbridge's party, Colin and Penelope are joking about Lady Trowbridge's two-year-old son and Penelope questions the son's legitimacy, commenting that the heir looks a lot like Lady Trowbridge's footman. Colin is shocked by Penelope's savage reply, telling her, "Penelope! What a barb!" It's a blink-and-you'll-miss-it moment, but reveals that Penelope has a keen eye for uncovering salacious secrets that many wouldn't dare touch.
8. Penelope is seen reading throughout the season.
Unlike Eloise, Penelope says that she wants to marry but her actions tell a different story. In several scenes Penelope is seen reading, which is in contrast to her sisters who are more focused on finding a husband. At one point Lady Featherington finds Penelope reading a book and tells her to stop as reading could "confuse her thoughts." She is clearly far more educated than she pretends to be, and therefore is more than capable of writing her own gossip column.
9. Lady Whistledown stops writing just as the Featheringtons are no longer included in social events.
After the family is shunned by high society, the gossip column appears more infrequently as Penelope isn't able to get access to any events. At one point Lady Whistledown writes, "As the season continues, the biggest gamblers are yet to truly show their hand which leaves gossip in short supply in recent days. In fact, this author can think of no other event that merits a mention." She, pointedly, omits the Queen's luncheon, as the Featheringtons were thrown out of the event.
10. Penelope is spotted watching every event that ends up in Lady Whistledown's newsletter.
When it comes to all the gossip that Lady Whistledown relays, Penelope is always in the mix. Through Eloise, Penelope has access to the Bridgertons and therefore can find out about all of their gossip. In episode one she is in the background when Daphne Bridgerton is referred to as "flawless" by the Queen, which is then highlighted in the newsletter. In episode three, she writes that Daphne showed very little interest in the Prince Frederick of Prussia, after Penelope is seen listening in while Daphne and The Duke joke about his arrival.
We see you, Penelope. Fingers crossed for a Season 2, so that we can see what Lady Whistledown will do next.