I'm A Grown-Ass Adult And This Is Why I Stan BTS
BTS – a seven-member K-Pop group consisting of rappers RM, Suga and J-Hope, and vocalists Jin, Jimin, V and Jungkook – are one of the biggest musical acts in the world right now. They're dominating charts globally, winning awards, breaking records, and accomplishing historic firsts.
They just wrapped up a sold-out stadium tour of America and Europe, and they're reportedly worth more than $6 billion AUD to the economy of their home country of South Korea. Thanks to their long list of achievements and their incredibly passionate fandom – known as ARMY – they frequently draw comparisons to the Beatles, something which they humbly demur.
"It's a great honour to be called 'the Beatles of the 21st century.' At the same time, it's a bit pressuring to be called that," Suga said recently ahead of the groups' performance at Wembley Stadium in London. "We are BTS. We want to be the BTS of the 21st century."

So who are the BTS of the 21st century? What is it that makes them so special? Let me take you down the rabbit hole…
---
"Do you know BTS?"
I have to admit, until two months ago, I only had a vague awareness of BTS myself. I knew they existed, sure, and that they were a K-Pop group – and that, wow, did they look pretty at the Grammys – but, uh, that's about it.
I'm a casual music fan at the best of times – movies and TV are more my pop culture jam – and the last time I was really into a band was when I was 11 and convinced I was going to grow up to marry Zac Hanson.
Which is why I'm more surprised than anyone to find myself in fully-fledged stan territory over BTS.
It started off innocently enough. I read a news article about BTS breaking a record – releasing the fastest video to reach 100 million views on YouTube – and was curious to see what all the fuss was about.
I hit play on that music video – the title track "Boy With Luv" (a collaboration with Halsey) off their latest album Map of the Soul: Persona – and I was INSTANTLY hooked. The bright colours, the incredible, perfectly-synchronised dance moves, the catchy AF song and the way the group just seemed to be having the best damn time all added up to exactly what I needed to see at that moment in time. Pure joy.
There's a saying in the BTS fandom – "I just wanted to learn their names" – because it's the place so many people seem to start. You see one video or performance, you're intrigued and you do a quick Google search to figure out who the hell these boys with the rainbow hair and the killer skills are.
Before you know it, it's 2am and you find yourself watching the group going grocery shopping on a video streaming app you hadn't heard of before that day. You start laughing at how sulkily competitive Taehyung (aka V) is, or at the terrible dad jokes told by Seokjin (Jin) which get somewhat lost in translation, but you still find them hilarious mostly because of his endearingly dorky enthusiasm in telling them.
What? I swear, it's not just me.
---
It's BTS' world and we're just living in it
The thing about BTS is that there's low-key something for everyone. There are the members themselves, of course, each with their own distinct personality, style and skill set that wonderfully complements the rest. There might be one or two members you're more drawn to (ie your "bias"), but they're all so charming and charismatic it's hard to resist loving them all. Their bond with one another and strength as a team is one of their most appealing aspects.
Importantly, there's the music, which spans genres from hip hop to pop and even occasional rock. The band is prolific, and in the six years since their debut, they've notched up six EPs and six studio albums (three in Korean and three in Japanese). There are also solo projects from most of the members, including mixtapes from each of the three rappers (RM, Suga and J-Hope). There's a really good chance you'll find something in their diverse output that will get under your skin.
Accompanying the songs are dazzling music videos and spectacular performances, which will make you question whether BTS actually sing live because they sound that damn good while dancing that damn well. (The answer is yes, they do sing live, btw.)
And then there's everything else. And by "everything else" I mean HOLY CRAP SO MUCH CONTENT YOU WILL LITERALLY NEVER BE ABLE TO GET THROUGH IT ALL.
Forget interviews and TV appearances, BTS have multiple shows of their own, including variety show Run BTS, travel diary BTS: Bon Voyage, and docu-series (and related movie) Burn the Stage.
The group are also incredibly active on social media, releasing daily content across YouTube, Twitter and live streaming app VLive. It's all very fun, or moving, and frequently both. And that's just barely scratching the surface.
---
K-Pop is that deep
What really sets BTS apart is what they stand for, and the depth they add to their work. Their lyrics – often composed by the members themselves, particularly the group's rappers – centre around themes of social justice, generational malaise, mental health and radical self-love. They're influenced by philosophy, psychology, art and literature, with their latest release Map of the Soul: Persona directly inspired by Carl Jung's theories on ego and the psyche.
These influences can also be seen across BTS' music videos and live performances, which are rife with symbolism. Indeed, there's a whole series of them, starting with 2015's "I Need U", that when pieced together tell an intertwining fictional narrative – dubbed Bangtan Universe – which delves into subjects like domestic violence, poverty, mental illness, addiction and grief. Fan theories abound about the characters (the seven members playing fictional versions of themselves), their relationships with each other, and what exactly is happening in the storyline – some of which have been confirmed by complementary webtoon Save Me.
Even more powerful than the fictional universe, though, is BTS themselves. They're all very different, but collectively they embody a kind of non-toxic masculinity that is refreshing and vital. I'm not just talking about the way they unashamedly wear makeup and the colour pink and carry around sparkly microphones – although those things are all wonderful.
What's really extraordinary is the way each member repeatedly demonstrates a level of thoughtfulness and emotional intelligence that's all-too-rare in the pop culture landscape, especially from men. They cry, they comfort each other, they resolve conflict in proactive and healthy ways, and they talk openly and eloquently about their struggles and their mental health.
They do all this while dominating the world – right down to the impossible-to-crack US market – in their own language, with their own style and their own culture. They stay true to themselves, and they encourage their fans to do the same.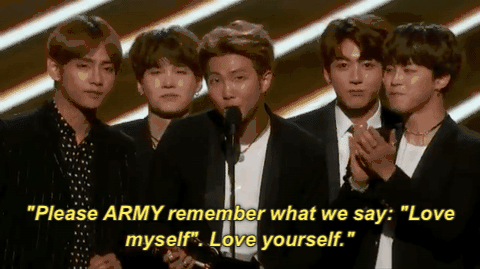 BTS offers a glimpse of hope and a whole lot of joy in an increasingly uncertain world. It's exactly the kind of pop culture presence the 21st century needs. And it's why I, for one, have decided to stan forever.