It's Time To Revisit The 2002 Season Of 'Celebrity Big Brother' Because It Was Bonkers
With all the buzz surrounding the upcoming Big Brother VIP season, some might assume this is the first celebrity version of the reality show — but they'd be dead wrong. Let's talk about Australia's first and only season of Celebrity Big Brother.
While Celebrity Big Brother in the UK has blessed us with many, many, many iconic moments that I still cherish to this day, our Australian version has largely been forgotten. It's as if the entire season has been erased from the nation's collective consciousness.
If you cast your minds back to 2002, fresh off the first Australian Big Brother season becoming a national phenomenon in 2001, a celebrity season was commissioned. Celebrities would live together for 24 days, competing in daily tasks and nominating each other — all in an effort to raise money for their respective charities.
The cast of celebrities were: Dylan Lewis, Kyle Sandilands, Jay Laga'aia, Sara-Marie Fedele, Gabby Millgate, Kimberley Cooper, Adriana Xenides, Warwick Capper, Imogen Bailey, Anthony Mundine, Vanessa Wagner, and Red Symons. If you only recognise about five of those names, I'm right there with you.
Unlike Big Brother VIP, the cast of celebs were mostly locally famous but that doesn't mean they didn't bring drama. In fact, this season was one of the most bonkers seasons in Big Brother in history.
Let's revisit the 2002 season of Celebrity Big Brother:
---
Warwick Capper was kicked out of the house.
Making history in 2002, footballer Warwick Capper was the first housemate to ever be ejected from the Big Brother house in Australia. Warwick entered the house on day 11, but he was ejected on day 13 for flashing his penis at Home and Away's Kimberley Cooper, and Big Brother's Sara-Marie Fedele.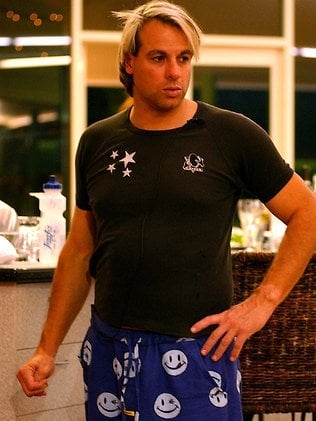 "I'm having a real problem with Warwick. He just dropped his pants and flashed Sara-Marie and I his penis," Cooper told Big Brother in the diary room. "I'm pretty sure that is inappropriate behaviour for this house. Nobody appreciates it and nobody thought it was funny." Warwick was hated by the housemates and kicked out by Big Brother after the incident. "I want you to go back into the bedroom and pack all your bags. It's time for Warwick Capper to leave the house," Big Brother told him in the early hours of the morning.
During his time in the house, Warwick also made several derogatory and fatphobic comments about women and slapped Sara-Marie on the bottom. Yiiiiikes.
Red Symons voluntarily left the house via a hole he found in the wall.
On day 7, Red Symons entered the house to judge the celebrities' paintings. That night, Red started exhibiting some bizarre behaviour where he wandered around the trying to open exit doors and find any escape route. Red entered the diary room to tell Big Brother, "I'm getting tired Big Brother. I want to go to sleep and you're bugging me. I don't have to go up on the roof, I can go through the door."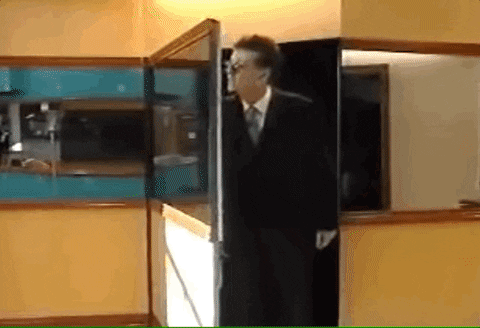 The next day, after taking part in a performance for an ad, Red was not impressed by everyone's efforts. Red mumbled to himself, "Is that as good as it gets?" before cracking open the side of the wall, saying "Cya!" and exiting the house via the secret door.
"He just disappeared into the wall!" Kyle told the rest of the housemates… who tbh didn't seem all that fazed. What a show.
Kyle Sandilands was an absolute nightmare… literally and metaphorically.
I have this very specific memory of Kyle Sandiland's arrival and as someone easily spooked, I found it terrifying. Kyle was wheeled into the premiere as Hannibal Lecter, even wearing the creepy mask. This was to represent that Kyle was one of the most unfiltered radio jocks at the time, who had a tendency to inflict pain with the words that came out of his mouth. Real subtle.
While Kyle made it all the way to the top three on the show, he revealed in recent years that he got special privileges. He was allowed to keep working on his radio show throughout his time on Big Brother. "I broadcast from the pantry every night," Kyle told news.com.au. "There was a Big Brother producer listening to the radio show because I wasn't allowed to hear any news or topical events in between the songs. There were a few times we got yelled at by one of the Big Brother producers, even when we were live on air."
He was also afforded time to go and smoke cigarettes, despite cigarettes being banned on Big Brother. "I said I'm not doing it unless I can smoke ciggies," he said. "They built a false wall in the backyard that looked like it was part of the house… You could get one human body behind it so I'd be back there smoking behind the wall."
When Kyle was evicted, he refused to leave. He shouted "How are you going to get me out of the house?" as a countdown ticked for him to go to the eviction door. Eventually, security were called and they escorted Kyle from the house.
Sara-Marie Fedele was asked to kiss weatherman Tim Bailey to win money.
In a TV concept that would never get past the cutting room floor today, Sara-Marie Fedele was presented with a 'Pash for Cash' challenge from weatherman Tim Bailey. She was asked to kiss Tim to win $7,000 for the charities that celebrities were representing. And no, the remaining male contestants were not asked to kiss Tim as well… only Sara-Marie.
Sara-Marie agreed to cuddle Tim for 10-minutes and to a one-minute makeout sesh. The other housemates cheered on, Dylan played the bongos, Kyle counted down, and this truly was the darkest timeline.
No words.
Dylan Lewis won Celebrity Big Brother.
Quirky Recovery and Video Hits host Dylan Lewis won the season, with Play School's Jay Laga'aia placing second despite entering late on day 16. Kyle came third, and Sara-Marie placed fourth which is still an absolute travesty.
What else happened?
Other season highlights included the celebrities fostering two baby goats, and a magician performing a trick which made Neighbours star Carla Bonner disappear — and she never came back. One morning, the housemates were woken up by The Wiggles, who helped them compose a children's song.
Everyone also competed in the Common Games, a basic version of the Commonwealth Games. TV legend Bert Newton and Rove Live's Pete Helliar also visited the house for a limited time. Towards the end of their stint in the Big Brother house, the celebrities were given a video camera to create a short film, but instead they used it to film their escape up to the roof.
–
This season was one for the ages, take me back!