CHIMICHANGA: Deadpool Is Getting Its Own Cartoon Series With Donald Glover
Off the back of the uber success of Ryan Reynold's 'Deadpool', 'maximum effort' is being applied to cash in on the film and now there's an animated version heading to TV.
The series will be screened on US network FXX and will feature Donald Glover (AKA Childish Gambino) alongside his bro Stephen Glover, who will serve as showrunners, executive producers, and writers of the series. It's the bloody collab of dreams!
Variety reports that the currently untitled show has been given a straight-to-series order, and will crank out a 10-episode first season to debut in 2018.
Alongside the Glover brothers, Marvel's Jeph Loeb and Jim Chory will also executive produce.
"How much more fun could this be? Deadpool, Donald and FX – the perfect fit for the Merc with the Mouth," Loeb told Variety. "We're thrilled that our relationship with FX that started with 'Legion' continues with what is sure to be a groundbreaking show in adult animation."
So far Reynolds hasn't mentioned the TV remake, and is assumed to not be affiliated with the FXX series.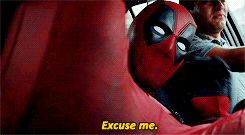 Get Punkee's Bachelorette Recap Alerts!