I Tried Jeffree Star & Shane Dawson's Conspiracy Palette So You Don't Have To
Combined they have 39 million YouTube followers so it's no surprise that Jeffree Star and Shane Dawson's first makeup collab has almost broken the internet.
The collection was revealed via Shane's latest YouTube documentary and viewers got to see the entire process as the Conspiracy Palette was first conceived, the colours were picked and the shades were named.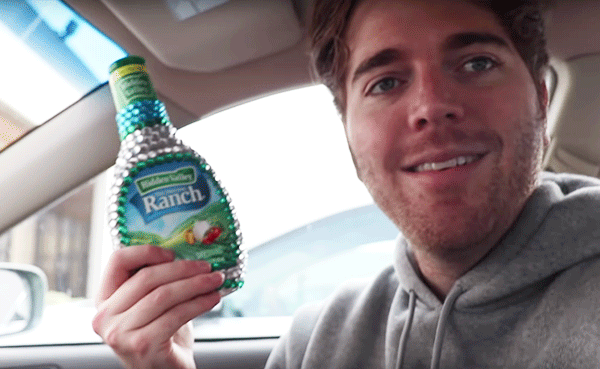 Since dropping over the weekend, the Conspiracy Palette has already sold out worldwide and is predicted to generate $17.5 million through in-store revenue sales along with another $17.5 million from Jeffree's website alone.
Luckily, I was one of the first in the world to buy the palette from the new Morphe store in Melbourne on Friday, so if you missed the chance to get your hands on it then here's all you need to know.
Here's my review of Jeffree Star & Shane Dawson's Conspiracy Palette:
First up, it comes in this box. It's nothing special, looks a bit cheap tbh. I wasn't thrilled…yet.
But that was just to protect this bloody masterpiece. I actually screamed when I saw the palette. It's surprisingly heavy, it feels more like the weight of a jewellery box.
The detail is super impressive and all up, it just looks expen$ive. It's different to any palette I've ever seen and I can't wait to display it.
Once I opened it, at first I wasn't that thrilled. The top row seems to be very dull compared to the other two rows, but then again I could use the first six shades for everyday looks, with the others for more of a glam beat.
It's actually super smart for Jeffree, who mostly makes bold and bright palettes.
But you never know what the colour is like until you do a proper swatch. LET'S DO IT!
I'm no expert but I gave swatching my best go, as you see my skin tone is pale on the side of blue veiny chic.
Next, I had to see how the eyeshadow actually applies. Here's a pretty dramatic look but as you can see the colours blended together beautifully.
(FYI, this was not done by me, lol I'm nowhere near as talented with a makeup brush as MU artist David K Davey.)
My assessment of the quality of the different colours:
The Best
Not A Fact: This is hands-down the best shadow in the palette and probz one of the best I've ever tried. It is insanely pigmented, so blendable and glides on like a dream.
Trisha: The colour is so lush, it has the prettiest shine and is super pigmented.
Just A Theory: Just the perfect wearable shade for everyday use.
Spiralling: This colour is a dream and has a beautiful shimmer.
Pig-ment: I didn't expect to love this but it goes on beautifully and is the perfect shade for blending.
Liked But Didn't Love
Food Videos: This was not as pigmented as expected but the colour is super unique so gets a pass.
Tanacon: This tone is just not rocking my world, although it's great for everyday makeup.
Diet Cola: At first swatch, I was underwhelmed but it works well as a topper to add shimmer.
My Ride's Here: It's just a bit basic, sure it's a good quality black shadow but I was waiting for some twist on the blacks we've seen before.
The Worst
What's The Tea: This is really the only flaw in the entire palette. This colour is lacking pigment and doesn't apply as easily as the others.
---
Verdict?
This palette is fucking incredible. The colour combo is so unique, at first glance it seems a bit all over the place, but it's actually a super nuanced colour story while staying true to its inspiration: Shane Dawson.
While the palette is priced at $80, it should be noted that the eyeshadow pans are huge so it's actually not bad value, and there's a good mix of wearable and high glam colours so you'll get your money's worth.
In short: I love this palette. Jeffree and Shane should be beyond proud.