WAAAH: Davina Turned Down 'Love Island' For Her New Boyfie & We're Devo
Our thirsty hopes and dreams for Love Island Australia have been shattered! It turns out Davina from Married at First Sight won't be joining the dating series after all because… she's bagged herself a boyfriend (and isn't looking for a partner swap).
Davina revealed that she was asked to be on the series but was already dating someone else. Rumours were circulating that she had signed on for Nine's new show – but it now turns out our excitement was all for nothing. We were soo close, fam. Soooo close.
"I did get asked to go on Love Island … and I did think about it," she told Confidential.

"But now we are in a relationship, I wouldn't risk it for anything."
Davina is dating longtime m8 and handsome fella Jaxon Manuel. Here's the two together on a cute date:
Davina told the mag that she's been friends with Jaxon for five years and reckons he didn't even see her husband-stealing activities on MAFS.
"He didn't watch much of the show," she said.

"He's been my friend forever, so it was really nice to form something with someone who already knows me, and not what they've seen on TV."
Tbh, we don't quite believe he didn't catch a single ep. While we're happy for Davina, we can't say we're not devo that the drama-magnet won't be appearing on Love Island, which is about to begin filming in Spain.
Sure, she was shitty at TV marriage but we have a feeling she would have slayed the single dating scene in Es Spanol.
Next year????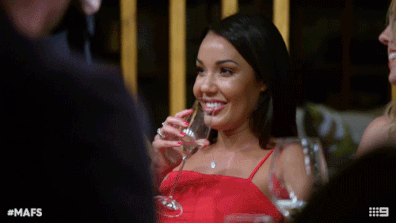 Get Punkee's Bachelorette Recap Alerts!