The Cast For 'Farmer Wants A Wife' Has Been Revealed & We're Ready To Go Bush
The farmers looking for a city-slickin' bride on the rebooted The Farmer Wants a Wife have been revealed today, in case you've been thinking about escaping your manic city lifestyle to find true love.
Presumably they all look like this: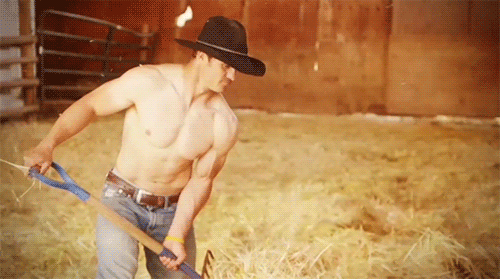 There's three blokes in their late 20s, Alex, Harry, Jack and Sam, and two 40-somethings, Neil and Nick, from all over the east coast.
The show has kindly provided us with a Q&A with every one of the probably ripped country boys, so here's some key takeaways.
Jack is a 27-year-old wool farmer in Harrow, Victoria, who likes debating and the band Foals.
Sam is a 27-year-old fruit farmer in Innisfail, Queensland. He's Sicilian and loves food and quad bikes and cars and country music.
Alex is a 28-year-old sheep and cattle farmer in Cunnamulla, Queensland. He likes Fight Club, the Foo Fighters and Splendour in the Grass.
Harry is a 28-year-old grape, cotton and sheep farmer in Goolgowi, NSW, who's into farming, fishing and travel.
Neil is a 42-year-old sheep farmer in Crookwell, NSW, who knows all the words to Dirty Dancing and cooks a mean lasagna.
Nick is a 44-year-old man with a vineyard (YES!) in Deviot, Tasmania. He drank whiskey with Hunter S Thompson a few times and knows where the best tacos are.
The revival of The Farmer Wants a Wife was announced back in October, and is set to screen on Channel Seven in 2020. Filming is expected to take place from mid-January to early March.
The show originally aired from 2007 to 2012 on Channel Nine, and was then brought back in 2016.
Applications are still open for anyone else who is totally over trying to find love through a screen. Why not find it while milking cows/shearing sheep/riding tractors/etcetera?