The Latest Ep Of Game Of Thrones Has The Internet Losing Its Shit
Brought to you by Foxtel
Only Foxtel brings you best choice of live sport, new movies, new shows and complete seasons from Australia and around the world, for everyone.
ONLY ONE EPISODE LEFT…
I still can't believe that the seventh season of Game of Thrones is almost coming to an end. But luckily the latest instalment gave us enough action to get us through the rest of the year.
~~~ OBVIOUS SPOILERS AHEAD ~~~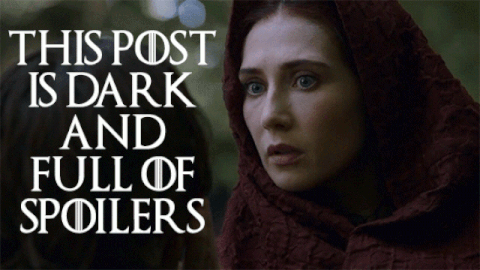 What. An. Episode. We thought 'The Spoils of War' was a series high but ep 6 was just insane.
We saw Jon Snow and his A-Team, which included The Hound, Tormund and Gendry attempt to take on a stampede of White Walkers, to try and grab one to take home as proof of their existence. This idea was very bad.
The one person who feels good about that last #GameOfThrones episode: pic.twitter.com/ditkUDLz7M

— Mike T (@majtague) August 21, 2017
It all ended in Daenerys having to rescue them but in the process one of her dragons was shot out of the sky. Safe to say, it was a roller-coaster of emotions.
Here's what Twitter was saying about S7 ep 6:
Most viewers are just absolutely devastated that one of Daenerys' dragons was killed by the Night King.
I watched this 3 kids grow up and become adults. Tonight we lost one and the night is dark and full of terrors ☹️ #GameofThrones pic.twitter.com/9CtHAhdV7k

— Berman (@bergonzalez9) August 21, 2017
Why do I feel more emotionally attached to that dragon who died that I seen like twice than people living in the world #GameOfThrones

— Bindas Ladki (@bindasladki) August 21, 2017
I didn't realize how attached I was to that dragon whose name I didn't know ???? ???? #GameOfThrones

— Smriti Lama (@SmritiLama) August 21, 2017
It actually felt like a punch straight in the heart.
My heart hurts from this #GameOfThrones pic.twitter.com/wHVYaOssu6

— Jaclyn & Marcella (@cityofthefeels) August 21, 2017
Kill my favorite characters. Fine I'll deal.
Kill a dragon. I hate you.#GameOfThrones #ThronesYall pic.twitter.com/I4lNWCkxSO

— what what (@lookingforlids) August 21, 2017
A walker for a dragon? This has been the worst trade deal in the history of trade deals, maybe ever. #GameOfThrones

— Tyler (@tyreyes32) August 21, 2017
It hurts all over.
This episode has me depleted. Emotionally. Physically. Grammatically. Mentally. #GameOfThrones #ThronesYall pic.twitter.com/Kr7VS06L3K

— Despacito Papi (@FZCLARKE) August 21, 2017
Why isn't therapy included in my hbo subscription? #GameOfThrones

— Briana Hunt (@brianahunt123) August 21, 2017
Me trying to find a way to blame tonight's events on Bran #GameOfThrones pic.twitter.com/DAaB7ZvdrN

— Matt Sanin (@The_Sanintizer) August 21, 2017
And that ending…
#GameOfThrones
Me: This can't get any worse
… ice dragon…
Me: pic.twitter.com/cMQar8gywC

— Nicole Nina Deshaies (@nicoledeshaies) August 21, 2017
The pain is real.
Me trying to figure out how to live my life without GoT after next week #GameOfThrones pic.twitter.com/deSoyx87B5

— Aleksandra Sowa (@awkward_aleks) August 21, 2017
The struggle for the Iron Throne continues only on Foxtel every Monday. Try Foxtel Now for 2 weeks for free – sign up here.
Get Punkee's Bachelorette Recap Alerts!