Adam & Symon From 'Gogglebox' On Their Favourite Shows, Weirdest Fan Encounters & DM Slides
Gogglebox Australia is about to enter season nine and mates Adam and Symon have been there from the very beginning.
The loveable larrikins have now been doing the show for five years, commentating on everything from The Bachelor to gardening shows, and they're back again for season 9 in what they've called "their longest-running job."
We chatted to the boys ahead of the season premiere to find out all the behind-the-scenes Gogglebox goss.
On the TV shows they always get excited to watch for the show and the ones they don't: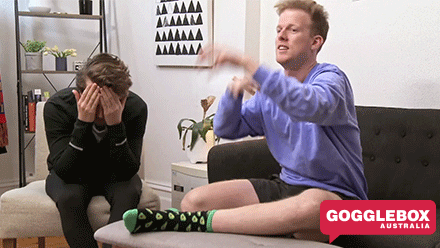 "Anything Bachelor related. We are big Bach fans. I really hope they can bounce back from Ali and Honey Badger's season.
Not even low-key, high-key hate watching period dramas, Downton Abbey and stuff — the show's just not pitched at us, it isn't marketed at us, it's just not for us. They do a very good job at making us not enjoy it, so that's good!"
On the Gogglebox filming procedure: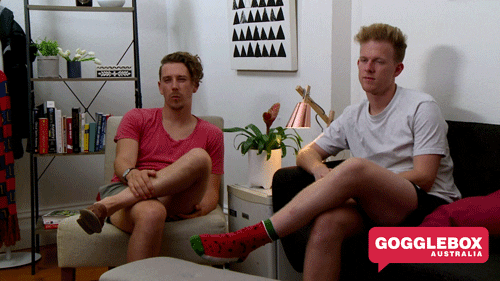 "We're so deep in our couch grooves that we can't escape. But we do a couple of big binge sessions a week, about four hours at a time, and then we just settle in and let the good times roll!"
On being recognised, weird fan stories and DM slides:
"There was a guy, and this was actually back in Season 1 and this guy tweeted at us and I remember his handle, it was @mrfunbubbles and he tweeted 'oh look, how cute, it's gay brothers dating each other.' But that's about the worst vitriol we've ever copped, everyone's really lovely. It's mostly when they've had a couple of beers and we're out together and we'll just get some confusion about where people know us from.
We do get [DM slides] every now and then like, 'my friend loves the show, can you send them a birthday video?' and that's mostly it. People are like, 'I don't want the show, never seen an episode but my friend loves it!'"
On which TV show they'd choose to be on, other than Gogglebox: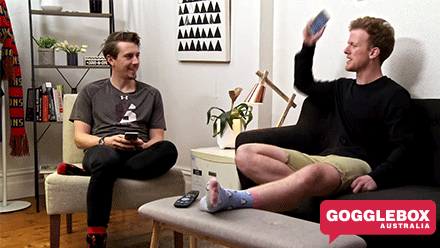 "Symon would like to say The Block because he reckons we'd do really well on The Block, he'd do all the designing and I'd do all the logistics. But I reckon, bring back The Amazing Race, we'll give that a run for its money."
On what shows they enjoy when they're not being filmed: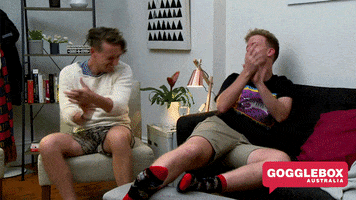 "We're both big sport guys, so there's a fairly big rotation of ESPN and Fox footy. Dr. Pimple Popper (Sandra Lee) has her own show now and it is GLORIOUS. After this interview hop onto her Instagram, whet your appetite a little, and go home and watch her show."
On whether they watch themselves back on Gogglebox:
"Mostly just to make sure we don't say anything that we'd then have to explain to our mums. Sometimes you'll get a text like, 'Symon, why do I have to explain this to people at work?' So it'll be to watch it for that, and now, it's a bit bizarre but now I'm kind of hooked! I just want to see what Anastasia says all the time."
Gogglebox returns tonight on Lifestyle at 7:30 pm and tomorrow night on Channel 10 at 8:30 pm.