Helena Said Jackson Garlick Was On Her 'Bachelor In Paradise' List & Damn Did We Just Miss Out On A Love Story?
Helena Sauzier was left roseless after last night's Bachelor In Paradise episode but she wasn't shocked whatsoever.
Not one to be shy about voicing her opinions on talking about feelings (or lack thereof), it was a much more relaxed Helena that we saw in Paradise, given that one of the last times we saw her on our TV screens she tried to walk out of hometown dates in Matt Agnew's season of The Bachelor.
"I way preferred Bachelor In Paradise," Helena told Punkee. "The Bachelor was way more intense and BIP is such a chilled vibe. Like, there are cameras but they're kind of hiding behind the bush which sounds creepy but it's just a lot more natural."
We had a chat to Helena about who was on her paradise list, the truth about her and Glenn, and what the Bula Banquets are really like.
On talking about her feelings:
"I was struggling to convey my feelings because I didn't have feelings for anyone. I can't lie to anyone, sure I can stay for screentime but I can't bring myself to do that," she said. "But it was easier to open up in a way [in paradise], it's much more relaxed."
On Glenn and the friendzone: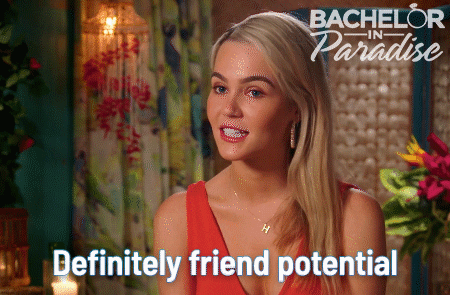 "Alisha and Glenn played out really organically. We had already decided before Alisha walked in that it was a friendship, there wasn't a spark between us. It wasn't a shock, I adore Glenn he's such a nice human. I am genuinely happy for them."
On Alex's entrance:
"Unfortunately Alex had to do that three times. I can't remember, Timm kept doing something wrong. He was so exhausted!"
"Alex and I were basically a friend thing immediately. As mean as this might sound, he genuinely is about two heads shorter than me. I was like, God, this is guy is the most attractive human ever, but it was still just a friend's vibe. And Keira snatched him up pretty fast I'd say — but I don't think I was getting in the way of that, let's be honest!"
On watching the show back and if it's true to what happened IRL:
"When I was watching it back, I was like, yep this is how it happened, this is exactly how it went down. These are people's characters. You're not watching the show like this is extremely inaccurate, everything is definitely how you see it."
On the Bula Banquets being "intense":
"The Bula Banquets were intense, but obviously they cut the bits out when we're laughing and having a good time, so the drama was more spaced out. But they were super dramatic, let's be honest. With Keira and Alisha, I was sitting there like 'I physically can't watch this happen', it was making my blood boil, so I had to say something and Glenn stepped in as well, bless him, which was great."
On Jamie's feelings for her:
"I went to dinner with Jamie and Jackson the other day, so we all chat. He's great, Jamie never tries to talk about feelings with me or anything. I'd be like, Jamie, no!"
On who she wanted to see in Paradise:
"I did ask to see Jackson there, and he asked to see me there, so it was a bit of an 'oh shit we just missed each other.' But I hang out with Jackson outside of this, so we see each other anyway… but it was a bit of a shame, he's such a cool guy so I'm sad I missed him [on the show]. I think [my list] was literally just Jackson and Carlin. And we knew Carlin was with Angie. I was hoping for some internationals!"
On who's there for genuine reasons:
"Mary was definitely there for genuine reasons. She loves the drama, sure, but she was genuinely like 'I want to meet someone I can fall in love with.'"
On what she's learned from doing the Bachy shows:
"I think Paradise and The Bachelor has taught me to be super open. It's the weirdest thing, I've just come to the point where I have no filter when it comes to talking about things. I was a bit guarded before, but now my heart is so open to everything."