This Is The Definitive Ranking Of Australia's Hot Chips & You Won't Convince Us Otherwise
There is nothing that takes me back to my childhood like a bag or bucket of hot chips. Immediately my mind is flooded with memories of rushing over to Macca's after school. Those were simpler times before Uber Eats existed and options became endless.
We can all agree that hot chips (NOT FRIES!) are the best. I personally need no other love in this life than the dedicated relationship I have with a bowl of crunchy, salty chips.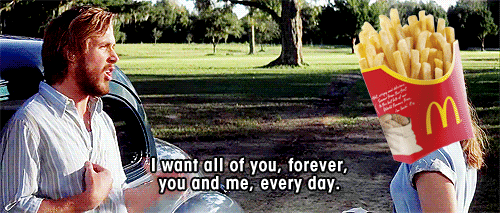 So we decided to put to the test all the affordable hot chips you'd find in every food court and rank accordingly.
These are the fast food chains we tested:
Red Rooster
Hungry Jack's
KFC
Macca's
Salsas
Grill'd
Schnitz
There were some important things to consider but I narrowed it down to three categories: flavour, crunch and value. You may not agree with my research but my self-made graphics do not lie.
I ate so many hot chips, I have now accepted my new form as a human-shaped potato.
Here's our definitive ranking of Australia's hot chips from worst to greatest:
#7. Macca's
Small fries: $2.15
Biggest pros: These are incredibly cheap chippies. One of the cheapest for sure. That's about it.
Biggest cons: This might shock McDonald's loyalists but Macca's chips suck. They are so damn thin that they barely resemble a potato. They just look like pale thin sticks. Even though they claim to be "fries", they are often soft and soggy.
My chips arrived cold, flavourless and every 10th chip was green and tasted foul. Not good at all.
---
#6. KFC
Regular chips: $2.95
Biggest pros: I will probz be crucified for putting KFC so low on the list but I have my reasons!!! Starting with positives, KFC has by far the most delicious seasoning. It's very chickeny and full-flavoured. It takes me back to getting chicken and chips after school at my local tuckshop.
Biggest cons: I think the reason KFC chips are no longer the best is because the other fast food joints have upped their game while KFC has stagnated. Most of the chips are cold, soggy and there is zero crunch factor.
Look at this smushy lump calling itself a chip:
Some also tasted like they were still hard from being kept in the freezer for too long. So you either had a soft gem of mashed potato or a hard potato lump. These are not the choices I desire.
---
#5. Salsas
Regular chips: $3.50
Biggest pros: That flavouring is poppin', fam. Salsas by far have the most flavourful seasoning on their trademark mexi-crinkle chips, while being crinkle cut means there's a lot of surface area for the chip and the seasoning can slide into the grooves.
Biggest cons: While you'd assume being crinkle cut would make these babies crunchy AF, some chips were on the soggy side. But no shade, others were crunchy and delicious.
Another factor to mention is that they're not the cheapest of chips and you don't always get a lot in the bag or bucket. Which is a bit stingy for my liking.
---
#4. Grill'd
Snack chips: $4.50
Biggest pros: Grill'd chips are great because they come with a sprinkling of herbs and salt which is incredibly yum. Even though they are the most expensive of the bunch, the portion sizes are massive so I'm not complaining tbh.
Biggest cons: Unlike Salsas, the flavouring doesn't always stay on the chips. While I started out with plenty of salt and herbs, by the end most of the flavouring was left in the bucket. For shame.
They also lacked consistent crunch but there were some crunchy moments. It was a mixed bag… only it wasn't 'cos it came in a bucket. 🙂
---
#3. Red Rooster
Regular chips: $3.30
Biggest pros: Controversial opinion: Red Rooster does KFC chips better than KFC. Sorry but it's true. The chips had that delicious chicken salt flavour but were also much hotter and crunchier than what I was served by Mr. Colonel.
Biggest cons: There are not a huge amount of negatives here, but they were a bit more expensive than some of the other fast food brands and the actual flavour of the potato tasted a bit reheated.
---
#2. Schnitz
Small chips: $4
Biggest pros: These chips are fucking unbelievable. Kill me now. The seasoning is amazing and the crunch is out of this world. Fuck. Me. Up. I'm in love.
Biggest cons: Noting negatives on these chips is going to break my heart but I guess they're a bit more expensive than some of the others. In the chips' defence, the quantity is very generous and the small size is more than enough.
---
#1. Hungry Jack's
Small chips: $1
Biggest pros: It was a tough call between Schnitz and Hungry Jack's because they're both the superstars of the chip world but what raised HJ's to winner status is that they're so ridiculously cheap. Like I could buy four HJ chips for the price of one Schnitz serve.
Aside from the value, these chips are near perfect. I don't know what HJ's is doing different but their chips have stepped up and they're everything you want in a stick of fried potato. Flavourful. Lightly salted. Fluffy inside. Crunchy outside.
Biggest cons: The flavour is slightly less yum than Schnitz but still far better than some of the above so I'm not splitting hairs here.
---
Final verdict?
Hungry Jack's reigns supreme but Schnitz and Red Rooster are also bloody good. Australia, go forth. The right chip is waiting for you.