Here Are All The Clues So Far For 2019's 'I'm A Celeb'
As the year draws to the end, we know one thing 2019 will certainly bring — and that's more beautiful reality TV.
With Married At First Sight confirmed to start in late-January, our sights have also turned to the hints being dropped as to who's going to pop up in the African jungle next year for I'm A Celebrity… Get Me Outta Here!
So while you lay in a food coma under the air con, let's take a look at what clues Channel 10 has been dropping for us.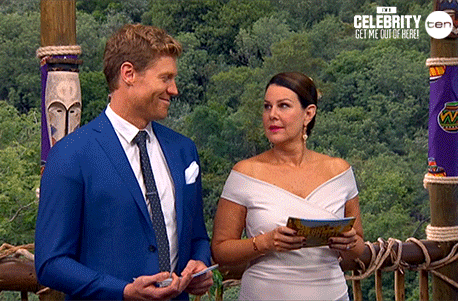 Clue #1: The Gossip Guru
The "red carpet regular" is getting their summer holiday cut short to experience the great outdoors.
Potential candidates: Angela Bishop, Richard Wilkins.
Clue #2: The Politicians
While at this stage we'd rather not hear any more from our politicians, it looks like two will be entering the jungle… and maybe they'll never return!
Potential candidates: Pauline Hanson, Mark Latham.
Clue #3: The Footy Legend
An AFL champion is making their way into the jungle and the biggest clue is, he's known for his "hair-raising" play.
Potential candidates: Warwick Capper? Wow, I do not watch this game, so you guys are gonna have to tell me.
Clue #4: The Famous Foodie
Dear God, I just wish it to be Pete Evans staring into the sun. But given MKR's filming schedule, unlikely.
Potential candidates: Any of the MasterChef judges.
Clue #5: The Comedian
The biggest clue dropped here is that it's a man who will miss his "fast food".
Potential candidates: Dave Hughes, some other generic male comedian name.
Clue #6: The TV presenter
This man is touted as a TV presenter, actor AND reality TV winner… what a triple threat indeed.
Potential candidates: Luke Jacobz seems to be a hot tip, (I took that from a fan page, apparently he won Dancing With The Stars).
Clue #7: The Controversial TV Host
The clues for this one are tricky, not much is given away. Seeing as we're pretty male-heavy so far, one could assume it may be a woman… but who knows.
Potential candidates: Joe Hildebrand, Andrew Bolt.
Either way, we don't have long to wait!
I'm A Celeb premieres on January 13. Who are your hot tips?