'MAFS' Icon Davina Just (Literally) Dropped Into 'I'm A Celebrity' But Not Everyone Is Thrilled
Following the arrival of British hunk Joey Essex, another iconic reality star has just dropped into the I'm A Celebrity jungle. That's right, Davina Rankin has arrived!
Married at First Sight fans will know Davina well, as the series' first fully-fledged villain. In Season 5 of the reality TV phenomenon, Davina and Dean Wells angered viewers across Australia for starting the show's first cheating scandal.
While it was relatively tame in comparison to the infidelity overload that unfolded in Season 6, it was still the first time partners had been unfaithful in the experiment. Back in 2018, it was a huge controversy and it truly gripped the nation.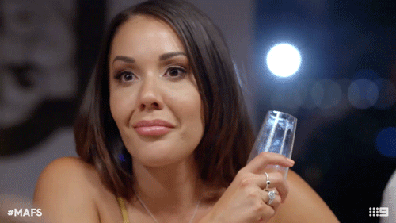 As is tradition with most reality shows, Davina bared the brunt of the criticism and while Dean and herself only went on one date, she had to endure constant trolling for her actions on MAFS.
Over three years have passed since she was last on our screens, and Davina has welcomed a daughter Mila-Mae with her fiancé Jaxon Manuel and authored a children's book. But now she's back on TV, literally dropping into I'm A Celebrity on last night's episode — as if we'd expect anything less from Davina.
Australia, welcome Davina Rankin to the jungle! #ImACelebrityAU pic.twitter.com/4LtYBDZyUy

— #ImACelebrityAU (@ImACelebrityAU) January 5, 2022
True to form, she's already involved in some drama. After being freed by Beau Ryan and Cal Wilson and brought to camp, she was meant to play it cool when she met David Subritzky, who is a normie masquerading as celebrity shoe designer called The David. However, Davina and David actually already know each other, so when she arrived he ran up and embraced her like they were besties, but she replied 'Nice to meet you.' Awks!
Thankfully for the pair, no one seemed to care too much about this massive blunder.
We just cringed into orbit. #ImACelebrityAU pic.twitter.com/FYfYUyKjDa

— #ImACelebrityAU (@ImACelebrityAU) January 5, 2022
Davina's arrival has triggered a variety of reactions: some are buzzed to see the iconic reality TV villain back, while others wish she would have stayed on Instagram.
Some have seen growth in Davina over the years and wonder if her stint on I'm A Celebrity could offer her a redemption arc.
look.. i know everyone dislikes Davina but honestly? you gotta admit she's kinda iconic. the MAFS cheating scandal pioneer, if you will #ImACelebrityAU

— alysha (@intosneedy) January 5, 2022
Maybe this is davinas "fev moment" where she shows that she actually is a good person #ImACelebrityAU

— tiffaneeee (@titfan) January 5, 2022
davina saying she's a d-lister and being self-aware

yeah, i stan her #ImACelebrityAU

— taryn ʕง•ᴥ•ʔง (@thereafter) January 5, 2022
But most viewers on Twitter are sceptical about Davina's inclusion in the cast.
can we stop putting irrelevant mafs constants on #ImACelebrityAU lol

— laura ✨ (@lpolkinghxrne) January 5, 2022
Oh Davina is here… #ImACelebrityAU pic.twitter.com/uu9N8HecCG

— Eloise Kennett (@EloiseKennett) January 5, 2022
The fact that Davina thought that that vile guy Dean was a bit of a catch should speak volumes about her.🥶#ImACelebrityAU

— robair (@robair20) January 5, 2022
But one thing is for sure, couldn't we have put Ryan Gallagher on this season (and not the 2020 season) so that he and his former MAFS wife could have duked it out for our entertainment?
Me just over here thinking about how good it would have been if Davina and Ryan were in the same season. #ImACelebrityAU pic.twitter.com/48sAyjvjuC

— sarah (@sarah_kle) January 5, 2022
Let us pray for another intruder to shake things up. I wonder if Dean's ex-MAFS wife Tracey Jewel is free.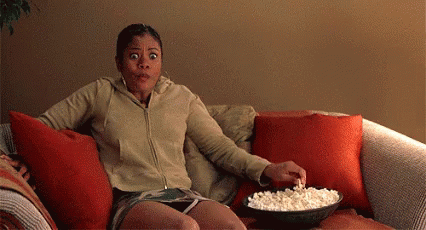 –
I'm a Celebrity returns tonight at 7:30pm on Channel 10 and 10Play.