YIKES: Kim Kardashian Contracted COVID Just Days After Her Controversial B'Day Vacay
In the latest episode of Keeping Up With The Kardashians, a rather cooked tidbit of information has come to light about Kim Kardashian.
Remember that controversial lavish trip the family took while the US — and the world — were in the grips of the pandemic last year? Well, when Kim returned, she later tested positive for COVID-19. Yah huh.
In the latest episode, we learnt that Kim contracted COVID last year in November, along with Saint, North and her entire immediate family, which is information that was not shared with the public. While Kim was still studying for the baby bar, her whole family went into quarantine and KUWTK halted filming.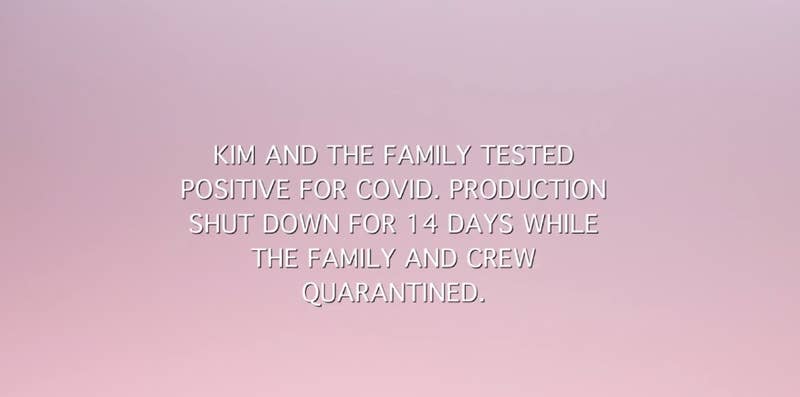 "I'm feeling pretty shitty," Kim said while filming herself in her own quarantine diary. "We're supposed to do 12-hour study sessions every day leading up to the test, but I've been feeling so awful with COVID that I can hardly get out of bed. I'm feeling extremely achy, I have the worst back pain, I'm so tired, I have a 104 fever."
The timing of her diagnosis is low-key suspicious, as it happened just after she took a group of her friends and family on a holiday to a private island in Tahiti for her 40th birthday. This trip received immediate backlash for not only being tone-deaf, but going against California's law at the time banning non-essential travel.
View this post on Instagram
So how close was this trip to her diagnosis? In a story published on BuzzFeed, the date Kim was diagnosed with COVID was compared to the rough dates that she was away for her 40th birthday vacay. Based on Kim's social media posts, BuzzFeed claims that Kim tested positive, "roughly 10 days after returning home from her private island birthday party."
Hmmm, much to think about.
View this post on Instagram
Kim has denied BuzzFeed's allegations connecting the vacation to her COVID diagnosis. She maintains that she caught the virus from her son Saint, who then passed it on to other members of her family.
False. Nobody caught Covid from the trip. Saint was the first to have it in our family and he caught it from school from another student who tested positive first. I then developed symptoms and got it a few days after he coughed on me while caring for him. https://t.co/hTWbB6JC25

— Kim Kardashian West (@KimKardashian) May 28, 2021
It's unlikely that we'll ever know for sure if any of Kim's holiday guests caught COVID. While the latest episode showed a few snippets of the vacay, it did not feature any of the backlash, so it's safe to assume the family are in damage control.