"If They Want To Lie, They Can": A Former 'Love Island' Contestant Just Did A Wild Tell-All Interview
Jessie Wynter was a favourite on the 2019 season of Love Island and she's not holding back on what really happened during her time on the show.
Back in Season 2 of the reality show, Jessie came across as a bubbly ray of sunshine and while she struggled to make a romantic connection for most of the season, things changed when Todd Elton arrived in the villa. The couple left the show together before breaking up in early 2020.
View this post on Instagram
Now that the dust has truly settled on her time on the 2019 season, Jessie is spilling all sorts of tea in a tell-all So Dramatic! interview. The reality star has shed light on what viewers don't see go down behind-the-scenes and what's become of her Love Island relationships since filming — including her friendship with former housemate Cartier Surjan. Jessie also expressed some thoughts on the current season and addressed a rumour she had previously dated 2021 contestant and former AFL player Mitch Hibberd.
Here are some of the biggest bombshells Jessie Wynter dropped about Love Island in her interview on the So Dramatic! podcast.
---
On the bullying she encountered while on the show:
"The whole environment, even the way the girls were treated in the villa — I know there was some bullying back then. I don't think I was a strong enough person back then to stick up for myself or the people around me. I think with the production crew, I thought they were nice but I was very naive. If there was an opportunity to make me look like an idiot, they would take it," she said.
"At the time, I wasn't able to process the bullying. Myself and Cynthia were excluded from certain things. I don't want to speak on behalf of anyone else but there were times when we were left out," Jessie said, later adding "I don't think what was shown to Australia was the vibe of the villa."
View this post on Instagram
On what happened to her relationship with Todd:
"We were pretty much joined at the hip after the show until January, or start of February [in 2020]. We had a lot of good fun. We went to the Gold Coast together, I stayed in Melbourne with him, he came to Sydney, but unfortunately it didn't work out," Jessie told host Megan Pustetto.
Jessie said she decided to end it after having a conversation with Cartier. "I personally was fine but Cartier was like 'Jessie, you are letting this guy walk all over you.' And she kind of just opened my eyes up a little, like he was going out for coffee with his ex and stuff, and I was like 'that's fine!' But then when another female gave me their perspective, it was very different. We just had a conversation and that was it — [the breakup was] very sudden."
On who from the 2019 cast she still speaks to:
"I'm really close to Phoebe, Cassie, I absolutely adore Cynthia, [and] Anna," she continued. "I went up to Goldy with Adzy [Adam]," and also listed among her friends from the cast as Isabelle, Blake, and Matt. "I'm close friends with Matt."
One obvious omission from Jessie's list of currents pals is Cartier, a costar who appeared all over Jessie's Instagram in the months following filming.
On what happened to her relationship with Cartier:
"I did move in with Cartier and we're still friends but just not as close. This is something I get asked about on social media every day — people hammering me about it. I just don't want to speak publicly about it because to be honest, she has hurt my feelings. And she has hurt the feelings of some of my other close friends. But that doesn't make her a bad person, and when someone is my friend, I will still have respect for them."
View this post on Instagram
On the audition and casting process:
"I rushed through it [the application] and probably made a million spelling mistakes, then got a email back asking for a video. From there they asked for a couple of surveys, it was gradual thing: fill out application and submit a video. They asked a bit about what your type is, lifestyle questions, then a live audition, before a psych test," she said, also noting that contestants "had to get a blood test to prove we didn't have any STIs."
Jessie was then cast on the show with only a week to arrive for filming. "Then I suddenly got a call and they were like, 'Can you go to Fiji next week?'"
On the packing guidelines the cast have to adhere to:
"They said pack 10 bikinis, 10 going-out outfits and 10 day outfits. But I had to send a heap of photos of what I was going to pack and they told me what to bring and what not to bring."
On what actually goes on in the private confessionals in the beach hut:
"When you go into the beach hut [for confessional], you aren't just speaking to the camera, you are actually speaking to someone who is prompting conversation. It's made to look like you're speaking directly to the camera and voicing your feelings, but it's almost like an interview. They ask you questions related to what they're going to air," Jessie revealed.
"There was like a PA system, there was two producers who would work in shifts." Jessie said that islanders had to go into the beach hut every night before bed and they were also called in there throughout the day. "There was a PA system in the whole villa and they would be like 'Jess, go to the beach hut.'"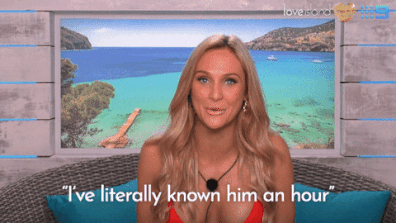 On whether producers manipulate the storylines:
"They make the relationships look so much better than they are," she said. "The producers know everything, they know that they're going to bring someone in that's someone else's exact type and they will turn their head."
On whether the popularity vote is actually legit:
"I feel like the producers at the end of the day can do whatever they like because it's their show. If they want to lie, they can," Jessie alleged.
On what's the deal with the islanders' phones:
"They are real phones but it was like when you went to school and you had the tablets and could only use the apps you used at school. There was no internet or anything, we just had the camera. Our wallpaper was a photo of our promos, which was so embarrassing," she said. "You can't text anyone, all you can do is receive a text and use the camera."
Jessie continued, "Sometimes when we got a text, we'd be like 'Ugh, I got a text', then we'd hear over the PA, 'Can you please do that again? Can we have some energy?'"
On whether the cast had days off:
"Usually there was a day on the weekend that we could go on a bus. On a day off, each group would go out with a producer, it was the girls and then the boys. We were split so that the relationships couldn't develop. The producers would try their hardest to break up discussions," she said.
"One of the main couples actually broke up on an off day — not breakup, but the reasoning for breaking up was unveiled on an off day — so then the producers had to scramble and put the pieces back together."
On whether free makeup/clothes are given to the women:
"On my season, we had to bring our own clothes and do our own makeup, except for the day we went in. On the day we went in, we were dressed by production and had our makeup done by makeup artists. I do know that Showpo are sponsoring the show this year, so they're getting all the Showpo clothes," she said.
"We ended up all just swapping wardrobes. And we had to do our own hair/makeup and that was a nightmare."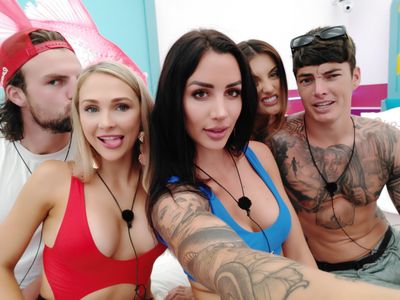 On what the cast got paid to be on Love Island:
"It's a set weekly amount, I'm not going to say the exact amount because I'm pretty sure we're not allowed — but it isn't much. For some people, it was costing them to be in the villa. I read the contract wrong, I thought we getting paid the amount per day but it was per week."
On whether alcohol consumption was restricted:
"I'm thankful we couldn't drink too much because that would have been a mess. But we got two wines per night, but it wasn't every night," she said. "It was a poured glass, it was allocated glasses for all of us. We were a little cheeky so if someone didn't want their wine one night, someone else would have it."
On giving consent for hookups:
"You have to give consent every time. So if you're like doing it [about to have sex], you have to look at the camera and say 'I give consent.' If you were starting to do something and hadn't said to the camera that you gave consent, over the PA someone would say 'Jessie, do you give consent?' and everyone else would start laughing."
On this season's controversial challenge which saw men picking the women's best body parts:
"Young me was OK with that but now I watch that and I'm like 'Oh my god, this is horrible!'," she said. "Before going into the villa I didn't classify myself as a feminist… but since going into the villa, I didn't realise how unequal it was."
On the current season keeping Courtney on the show:
"There will be a reason why Courtney is kept in. She might be lifting the vibe of the villa behind the scenes, they could be about to bring someone in for her who will cause drama — there will be intention behind it. The producers have a goal and that's to make good TV."
On rumours she previously dated Mitch from Love Island:
"He's actually a Tassie boy, he went to school in Tassie. We go way back and he was in Sydney earlier this year and we spent some time together. He did mention last year that he was interested in going on Love Island. Did I think that would happen? I didn't think he'd be the type. But yeah, we went to Byron Bay and the Gold Coast together earlier this year. He got a little soft launch on my social media. We weren't dating, we were good friends."
We've reached out to Channel 9 regarding Jessie's claims about Love Island.
–
There was plenty more juicy stuff that we couldn't fit in this post, you can listen to Jessie's full interview on So Dramatic! here.