Viewers Are Calling Out Love Island's Eden For Bullying & Slut-Shaming
After six weeks of petty drama on Love Island, one islander has finally come undone. This week it looks like we are seeing Eden's true colours and they aren't pretty.
In last night's episode, the islanders found themselves at a stalemate over who to sent home between Millie and Mark, and Mac and Teddy.
Loyal viewers noticed that Eden and Erin chose to vote for Mac and Teddy to stay even though they are just friends did seem to be both hypocritical and strategic.
We can't forget how Eden and Erin wanted to send Justin and Millie home early on in the series, based on their match being based merely on friendship. Millie and Mark at the very least occasionally kiss on the mouth.
Me realising Eden and Erin chose Jax over Justin because there was more chance of him finding love and it's not friend island.

But tonight Erin chose Mac because of their friendship?

#LoveIslandAU pic.twitter.com/svPQym7VUl

— LoveIslandAu Reactions (@LIslandau) July 2, 2018
As the second vote lingered closer, Eden warned Erin, Dom and Shelby "No one fucking dare backtrack!", which seemed all kinds of threatening.
The voting deliberation was tense. As Eden and Erin took on Grant and Tayla over who would be sent home, Eden snapped "Don't look at my Mrs like that 'cos I won't fucking tolerate it," at Grant.
This is far from the first time Eden has spoken to another islander in a threatening tone. We watched on as he victimised Teddy, leaving the poor guy in tears time and time again.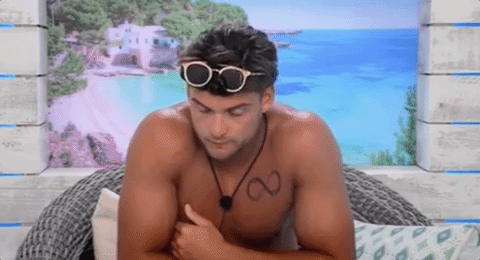 Then after Teddy chose Millie at a recoupling ceremony, for some illogical reason Eden changed his aim to Jaxon. We can only assume this was to protect Dom's ego, as he was previously coupled up with Millie.
In a fit of anger, Eden attempted to humiliate Jaxon in front of his match Shelby. This in turn ended their relationship.
This is school yard behaviour we can all recognise. Eden has long seen himself as the alpha dog of the villa, a breed of toxic masculinity that seeks to subjugate those around him that are deemed unworthy.
Eden is the human embodiment of why Sydney isn't allowed to have a nightlife anymore #LoveIslandAU

— Jonathan Sloan (@jonathanlsloan) July 1, 2018
top 15 list of shit cunts on australian television

15. you
14. really
13. can't
12. rank
11. them
10. because
9. they've
8. all
7. got
6. their
5. own
4. issues
3. and
2. baggage
1. Eden Dally #LoveIslandAU

— elise ✨ (@ellisemaree) July 1, 2018
While Eden acting like a bully is nothing particularly revelatory, the kind of slut-shaming language he used in last night's ep was truly revolting.
When Millie rightfully called out Eden and Erin for playing the game, Eden snapped back:
"Is this coming from someone that has had five different guys?"
We can only guess Eden is referring to Millie coupling up with several islanders. But his words are super confusing. Has he seen this show? His put-downs come as if the series wasn't literally based on dating multiple islanders until you find the right person.
It's important to note that while Eden was trying to tear down Millie, his mate Josh has partnered up with almost every girl in the villa.
It is time for Eden to be called out for his bullying behaviour and viewers ain't holding back.
-Erin absolutely overreacting to Eden touching Millie showing us how immature she really is.
-Use's personalised insults against Millie & claims she isn't threatened.
-Eden bullying and talking down Millie by slut-shaming her in front of a love interest. #LoveIslandAU 🚫🚫🚫🚫

— • Paige • (@Urban_Earthling) July 2, 2018
Eden slut-shaming Millie shows the exact revolting person he is and also don't forget Eden bullied Teddy and only wanted to keep him in to win. #LoveIslandAU

— Tara Watson (@tara_watson_) July 2, 2018
#LoveIslandAU Something has to be done about Eden. He's a dangerous bully.

— Matt Corcoran (@MattCorcoran6) July 2, 2018
Eden "and watch me win". He is such an arrogant pig. He continually tells his girlfriend to shut up and has a go at any Male in the house who does anything he doesn't like. He is everything wrong with society and if you vote for him you are too. #LoveIslandAU

— Molly (@Molly83373004) July 2, 2018
In a world full of Erin & Eden's be a Mac or Teddy #LoveIslandAU pic.twitter.com/VXgbvygrUh

— Weslee 💛🌴 (@WSpark98NZ) July 2, 2018
Following Eden's actions, some fans are campaigning for anyone but Eden and Erin to win.
Petition to NOT vote for Eden and Erin #LoveIslandAU pic.twitter.com/V1mEPBBsJo

— Tianna (@tiannacostello) July 2, 2018
Erin and eden are the epitome of fake aggressive bullies get them off the TV before people start to think thats how adults are meant to behave! They deserve nothing #LoveIslandAU

— Tia Milohis (@Tiakaye1) July 2, 2018
Eden and his macho arrogance is that confident HE (not he and Erin) will win #LoveIslandAU… pic.twitter.com/BKHKbtLmOt

— Jess Huddy (@jesshuddy_) July 2, 2018
#LoveIslandAU When Eden told Mac "and watch me win it" while STARING INTO THE CAMERA…

PLEASE DO NOT LET HIM & ERIN WIN, I CANNOT TAKE IT. pic.twitter.com/Kd3jEdM97c

— OLIVIA 🙂 (@LIVtheVIRGO) July 2, 2018
Who is still voting for Eden & Erin? They're SO AWFUL!!!! Eden is an arrogant bully who likes to intimidate people & Erin is a petty, jealous hypocrite who likes to body shame other women. All they want is the money. Teddy was my winner <3 #LoveIslandAU

— Sara Richards (@girlpunk) July 2, 2018
Here at Punkee we don't want to be too biased or anything. However…. JOSHIE BBY FOR THE WIN.
Is there an option to vote for just Josh to win all the money to himself ? No one else on this show deserves any money #LoveIslandAU

— Jessica Cook (@jess9989) July 1, 2018
So glad other people also see how fake and manipulative Eden and Erin are. Josh and Amelia for the win! #loveislandau

— Lisa Clark (@lebabiboo) June 25, 2018