'Love Island' Viewers Have Slammed Ryan For His "Disgusting" Treatment Of Lexy
Last night's Love Island should have come with a trigger warning for any woman who has been belittled and put down by a man… so well, every woman.
Fresh from ditching Lexy for Casa Amor intruder Tayla this week, Ryan was straight-up awful to his ex on last night's episode. In a challenge where islanders were confronted with nasty things other contestants had said about them, it was revealed that Ryan had previously said that Lexy "wasn't that good looking". This is the same guy who was coupled up with Lexy for several weeks and cried hysterically when she almost left in week two.
At this stage, Ryan could have apologised to diffuse the situation but instead he chuckled to himself that, "I said it as soon as she walked in," and added, "at least I'm honest."
If you thought (and prayed) that he was done, then nope! Ryan then doubled down on his offensive comments. "Your personality made you look good, so at least I'm not vain," he sneered with a grin on his face.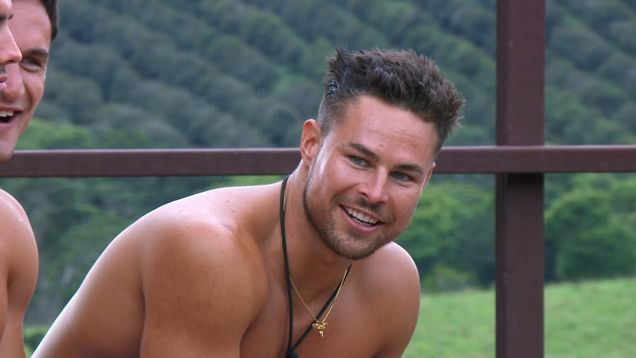 IN. THE. BIN.
Lexy was obviously very hurt, responding with, "Oh you're a real asshole," and asking the girls, "What did I do to him? Nothing." In her confessional, Lexy went on to say, "The way he tried to dig at my confidence during the challenge was so rude. I haven't done anything wrong to Ryan and it just feels that he's the one that keeps throwing punches. But after that, I don't want to be his friend." Amen sister.
It was simply a disgraceful display of bullying and viewers have slammed Ryan for his cruel words:
Ryan seriously stop, this is disgusting, you're literally bullying this girl on national tv and don't try to backtrack during your video diaries to make yourself look better #LoveIslandAU

— Zoe Marshall (@zelysia101) November 10, 2021
OMG poor Lexy that is so incredibly rude no one deserve to have someone attack them like that wtf is wrong with Ryan #LoveIslandAU

— not beyonce (@cherryclique) November 10, 2021
Just when I thought Ryan couldn't get any worse #LoveIslandAU

— dani L (@therealdhen) November 10, 2021
Ryan is actually very mean, I try not to make judgements about people's character pertaining to outside of the island, but Ryan was very rude for that comment. It was only a week ago when he was with Lexy and feeling great and now he's tearing her down for laughs #LoveIslandAU pic.twitter.com/NuAoWN2VB5

— fatima (@fatimadoesstuff) November 10, 2021
ryan peaked in high school but he doesn't realise it yet let's just say that #LoveIslandAU pic.twitter.com/uuQnEjrIg1

— addy (@ONLYONEOFADY) November 10, 2021
"i'm tryna be the bigger man" WHERE. LITERALLY WHERE?! #LoveIslandAU pic.twitter.com/6D2rFY9uwF

— lara (@larazlois) November 10, 2021
The entire scene was even more disturbing as none of the boys spoke up to tell Ryan to pull his head in. They laughed along as Ryan attacked and ridiculed Lexy's appearance like they were a bunch of high school bullies. The bro code is alive and well — and it's disgusting.
All the boys give me major red flag vibes now because nobody told Ryan to shut the fuck up #LoveIslandAU

— Jimmy's Butler (@melly300313) November 10, 2021
Ryan eventually apologised to Lexy but the damage was already done. He also ended their convo by rolling his eyes, ever the gentleman.
We're Zoe the silly salmon right now 🐟 #LoveIslandAU pic.twitter.com/ufyJJig1pD

— Love Island Australia (@LoveIslandAU) November 10, 2021
Along with looking like a knob to every viewer watching at home, Ryan's actions put him in a whole new light to Tayla. She pulled him aside after the challenge to tell him how terrible the way he spoke to Lexy was. "You sounded bad in the challenge. I didn't like it," she told Ryan.
There might be trouble in paradise, as Tayla earlier confided in Taku that she wasn't as invested in Ryan as he was in her. "Normally I'm obsessed with the guy when I'm with a guy… I'm not obsessed with him." She also revealed she didn't feel a huge sexual attraction to him.
Ryan could be getting dumped soon, and Ben already has his sights on pursuing Tayla. I'm manifesting that Lexy and Tayla team up to break up with Ryan together. A girl can dream.
Yasss Tayla gang up with Lexy #LoveIslandAU pic.twitter.com/MnFW93etbz

— Emily Brooke (@__emilybrooke) November 10, 2021
i just know tayla is gonna recouple with someone else and kick ryan out yup #loveislandau pic.twitter.com/y1WYdHjLfQ

— ؘ (@mirr0red_heart) November 10, 2021
If Tayla couples up with Ben and leaves Ryan tho #LoveIslandAU pic.twitter.com/IAznlNHTjA

— Ingrid (@ingridatkins) November 10, 2021
–
Love Island airs Monday to Thursday nights on Channel 9 and 9Now.