How to Not Look Like A Busted Bitch: Products That Will Hide A Hangover
It's about half an hour after you went to sleep, and you're already late to work. The hangover is real. We're getting older now, so we can't be that bish that hits the client function hard, then suddenly gets a mysterious overnight onslaught of food poisoning and doesn't show up to work the next day.
We're going in. We're doing this. Here's how.
Here Are Some Actual Tips & Products That Will Help You Get Through A Hangover On A Work Day
Trust us, your boss will be none the wiser.
---
1. Hydrate a bitch, I'm serious.
B-Hydra Intensive Hydration Serum by Drunk Elephant is no fucking joke. This serum is cool and refreshing on the skin and honestly feels like a second shower. Lock this in with Tatcha's Insta-famous Water Cream and we've got a base that doesn't look like it's been dragged through the VIP lounge at 3am.
2. Start lying to yourself before you lie to others.
Honey, I know you're hungover and you smell like whiskey-stained carpet, but you gotta work.
If you're going to go in there and lie to people, put in the effort to sell it all the way. Glowiness is the backbone to your lie. Cut your foundation with MAC's Strobe Cream and this will bring your face back to how it looked the night before. I recommend medium-to-full coverage for the days you feel like ass. Sure it's an extra step, but if you're going to vomit at work, look good doing it.
View this post on Instagram
NARS Sheer Glow Foundation won't do you dirty while a good primer to consider is the Too Faced Hangover Primer for extra hydration.
3. CONCEAL THOSE SECRETS.
This whole thing is a cover-up. A big fat lie. Sure you might feel better after a serious coffee coupled with a B&E, but your eye bags can't be cured with bacon. You need to haul in the big wigs of concealer, and I'm talking cult favourite Shape Tape by Tarte. That shit will hide a second family if you need it to.
View this post on Instagram
For those of us on the dryer side, I recommend Born This Way Concealer by Too Faced. Work that under your eyes and set it to death with your go-to setting powder: we can't be slippin'.
4. Create colour with cream.
We need to bring some life back into that blank canvas you're rocking. I'm not insane, contouring won't save you from your hangover but liquid bronzers can bring colour back into that ol' tired face. NARS Liquid Laguna Bronzer is an old beauty fave and I recommend cream products on days like this because your skin is a sad and dry place. Same goes with blush. A little can light you up and, again, we are avoiding any powder-based products. Whip on a liquid blush like the Nudestix Nudies. It's easy to smack on and blend out which we want and need – so fucking late for work right now.
5. Eyes, the window to last night's soul.
I'm not going to lie, we have worked hard and deserve a break. Here's where we can keep it simple, because you just need to look awake, that's it.
All we need to do is to smash some bronzer through the crease and Hoola by Benefit is great for this. Then apply a soft highlighter in the inner corners and all over the lid. BECCA's Opal Pressed Highlighter is subtle but illuminating enough to wake up the eyes.
View this post on Instagram
The last touch is the most important, Rimmel's Scandal'Eyes Eyeliner (in nude if you can get it) NEEDS to be in your waterline. When you see it, you'll swear you got eight hours and not two. No lie.
Mascara at your discretion.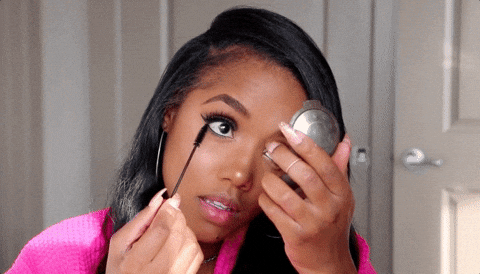 6. Lip saving.
If you've hit the reds, don't forget to lip scrub those stains away. I see you, red ring of death. But if we're good to go, a subtle nude will always even out your canvas but the key is to keep it hydrated.
View this post on Instagram
The shade is always going to be skin tone specific but stay the EFF away from mattes. They will dry you out like all hell and will give this whole thing away. I am a huge fan of the K.I.S.S.I.N.G line by Charlotte Tilbury: it's moisturising and very forgiving of a busted face.
Honourable mention: Holy Grail NARS Velvet Lipglide in Cozumel, as she always gets it done.
7. Set and forget your regret.
Let's melt this mess together and start this damn day! Tachta's Dewy Skin Mist will absolutely help peddle this lie for the rest of the day. This somewhat bourgeoisie product will tie in our dewy elements and leave you looking fresh and not fucked.
For our oily bitches, I see you. MAC's Fix Plus will do you a solid and keep this face on for the rest of the day – it may even outlast your hangover.
View this post on Instagram
Soon this hangover will be your past, so make sure it doesn't affect your future at work. These 7 steps should take no more than fifteen minutes and a few sponges to sort out. Text your boss, you're on your way!