Melissa From 'MAFS' On Her "Awful" Wedding & Her Reunion Predictions
It was a strong cocktail of relationship drama for 'nine-years-no-sex' Melissa Lucarelli on the infamous season six of Married At First Sight.
She and her TV hubby Dino Hira may have tied the knot on the silver screen, however, it was clear to anyone with a small dose of common sense they weren't quite 'the golden couple' of the season.
From Dino secretly recording Mel's phone conversation with her sister, to his memorable breakup poem that he unleashed during their final chat with the experts, Melissa and Dino had quite the rollercoaster ride on MAFS.
With the Married at First Sight reunion just around the corner, Mel shares with Punkee the good, the bad, and the ugly of starring in season six of Australia's most popular social experiment, as well as her predictions for the reunion, and her thoughts on the upcoming season.
Match Made In Hell
With their relationship being a complete disaster from day one (cue Dino upstaging the wedding trotting in on a horse – late), Dino never stood the chance to 'make love to her soul before they made love to each other'… in fact, neither of those happened.
"It's called Married at First Sight – it isn't Love Island where you're dating different people, so I did actually think it was more serious with experts matching people together and the huge process of interviews, castings, and questionnaires," Mel said.
Although the experts love to recycle the phrase 'opposites attract', the contrasting personalities between Mel and Dino were clearly just too far out. Mel was entertaining on the series with high energy and a big voice, and Dino was a zen, soft-spoken introvert, making it clear they were the joke couple of season six.
"They definitely found me the one… the one person I had nothing in common with," Mel laughed.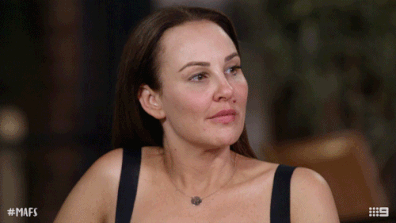 I Do (Not Want To Do This)
Mel confessed her wedding was almost as awful as the infamous phone recording incident. From producers hoodwinking her into thinking she was late for the ceremony, to Dino's lengthy vows (plagiarized from Joey's wedding speech for Monica and Chandler?), Mel's wedding day was anything but special.
The MAFS bride mentioned how Dino's showman presence was very much like he was auditioning for a talent show as opposed to being there to marry her and to get to know her. One of these talents included an inappropriate 'attempt' at playing the didgeridoo.
"At the wedding, Dino didn't ask me anything like 'tell me about yourself' or 'do you have any brothers or sisters', but instead he asked 'do you think our souls met in another life'… what?!"
Confession Cam
Mel explained how being on the show was surreal, or in other words: "It was just a fucking lot".
"With MAFS, your whole experience relies on who you're matched with. If you're lucky enough to get authentically matched, you're going to have a totally different experience to what I had with Dino."
The After-MAF
With season six currently airing in the UK, Mel said the initial consensus on most media sites was "this chick needs to be medicated and hospitalised immediately!".
"I've been 'diagnosed' with about 27 mental illnesses by sites and people on social media," she laughed. "People can be mean! I had heard about trolls but I wasn't really big on social media and you don't really realise much about it until it's on you. I was so unprepared for it!"
On the other hand, Mel still gets thousands of beautiful messages – even today – for being unapologetically herself. The UK audience is also spreading a lot of love right now with more than a few of the comments on her Instagram page being 'you're a funny bitch who needs her own show!'.
"What should we call it!?", she laughed.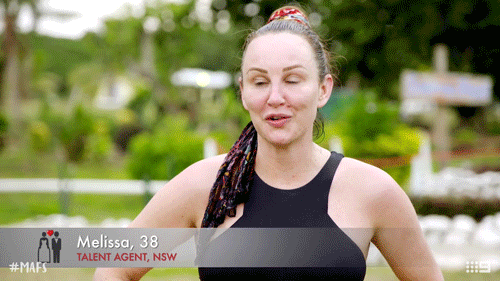 Romance in the air?
In terms of Mel's romantic prospects post-MAFS, her response is "zero".
"I was too busy living my best life and then Covid happened – I mean, with 1.5 metres social distancing, I'm not really reaching any penises (literally!). And the guys who DM me have Instagram handles like @Pussy_Garage…"
Reunion Predictions
With the two-parter reunion airing soon, featuring some of the cast members from seasons five and six, Mel spills the tea on what she thinks will go down.
"Overall, it'll be your standard dinner party – wine throwing and yelling!
"I think the cast from season five are probably going to be a little shocked with the season six cast. I feel like most of the reunion will be Cyrell vs. Jess. Ines will definitely come out with her one-liners ('I'm horny'). And I think everyone yells at Nasser…"
Thoughts On Season Eight Of Married At First Sight
Mel said she simply hopes they've matched the next 10 couples properly for the 2021 season.
It was revealed the network stated the 2021 cast are 'the most genuine' so far, and stated the participants are 'looking for love, not fame'.
"The thing is, you could have 20 people who are genuine (which definitely isn't always the case) but might not be matched genuinely, so then it's not going to really appear that way on-screen," Mel said. "Your experience in the experiment and your portrayal on TV, as well as your love life moving forward, all comes down to whether you were matched authentically or mismatched for their entertainment value."
–
Season 8 of Married At First Sight will premiere in February on Channel 9.