I've Ranked Iconic Mary-Kate & Ashley Movies & No One Can Tell Me I'm Wrong
Mary-Kate and Ashley Olsen — aka the Olsen twins — took the world by storm when they first broke onto our screens at only six months old, starring in the TV series Full House.
Not before too long, the twins became household names and, all through the '90s and early '00s, managed to define a generation as we grew up alongside them. More specifically, they defined the personality and life choices of one easily influenced individual: me.
Here's the deal: I've watched all of the Olsen twins' movies multiple times, I regularly sing the theme song to their (vastly underrated) TV show, So Little Time, and I still own and play their PS2 game Licensed to Drive.
Based on these qualifications, I have a licence to drive rank their 14 movies from worst to best, and no one can tell me I'm wrong. Let's begin.
14. How The West Was Fun
The twins accidentally get their dad fired. How? By asking for some time off. BRB, calling the Fair Work Commission.
The father's lack of job sees the family relocate to a ranch, and then a bad guy appears, and somehow the children are the ones who save the day… and physically injure an adult man???
It was filmed when MK&A were eight years old, so they do get points for cuteness. But this list is not about cuteness, dear friends.
13. Double, Double, Toil and Trouble
This one, once again, involves the twins' parents in financial hardship, which feels like a plotline used to keep production budgets low. But who's to know!
There's witches and spells and the ever-mysterious mirror, but not much else. Here's what I will say: it's not a Halloween movie you'd watch more than once.
12. Billboard Dad
The two sisters want to find their widowed dad a girlfriend, and decide to do this by… creating a billboard advertisement to showcase how dateable he is.
Somehow the billboard actually gets traction, but come on! If anyone saw a man advertised on a billboard, they would not call that number… right?
There's not a single MK&A movie rooted in realism, but I couldn't see past this one.
11. Our Lips Are Sealed
The twins witness a robbery and are placed in witness protection, but they keep being relocated after constantly revealing their identities. They're about 12, so yeah — fair. I still can't keep my mouth shut.
Eventually they get sent to Australia, and once again they manage to physically assault an adult man despite their young age. Not sure why this is the plothole hill I'm choosing to die on, but so be it.
10. Winning London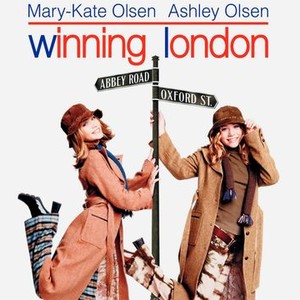 The twins go to London for a United Nations competition where somehow it was overlooked that the country they were representing (China) had already been taken by another team. This is not the UN contest I remember from high school, but sure.
At this point in the actresses' career trajectories, it became very obvious that every MK&A film was going to be about the twins chasing boys, but this one didn't do the love story very well. Soz.
9. To Grandmother's House We Go
This is a sweet, well-meaning Christmas movie, where the young twins decide to ride their bikes to their Grandma's house.
There's a whole lot of drama (obviously, this is two five-year-olds trying to take on a multiple-hour long journey by themselves), but the film ends with everyone having a Merry Christmas.
My review: it does what it said it would do on the packet. No more, no less.
8. Passport to Paris
This is another one where the twins are only interested in boys — even though they are going to Paris! When I went to Paris as a teenager, all I wanted was a croissant.
Despite this sole focus, the movie does end with the girls finally spending more time with their estranged Grandad, which is a nice and wholesome ending.
7. It Takes Two
The fact that this isn't closer to the top-rated film is probably going to earn me some enemies, but hey, you read my qualifications — I have a right to do this.
It Takes Two follows the twins meeting for the ~ first time ~ at summer camp because they had no idea about one another. They become friends, and try to trick their parental figures into falling in love with each other.
I'll be the one to say it: Lindsay Lohan did it better in The Parent Trap.
6. The Challenge
The Challenge is basically Survivor, but the twins don't know they've both applied. They each live with a divorced parent in different states, and never see one another, until they reunite for a reality series.
They're reluctant to bond at first but become supportive of one another by the end thanks to, dare I say it, the challenges they've faced.
The ONLY reason it doesn't make the top five is because of the ridiculous cameo at the end, where all the love interests from the sisters' previous films and TV shows suddenly appear. Skip that part for your own sanity.
5. When In Rome
I, too, would love to go to Rome for an internship with my twin sister, get fired for being so bad at said internship, and then meet a rich business man who hires us both on the basis of his goodwill. When in Rome indeed.
The movie ends with the love interest being turned down for a kiss, which is such a boss move, landing the film in the coveted fifth spot.
4. New York Minute
MK&A *once again* bring out the polar opposites trope in this film, but I'll make allowances for this, as the intro showcasing their differences is flawless. The movie sees the twins accidentally embroiled in a drama revolving around a microchip, a bad guy, and a dog (who swallows said chip. Cue: more drama).
I have nothing negative to say about the outfits, the idea of a 17-year-old delivering a mixtape to Simple Plan, or Eugene Levy's role. Pure cinematic gold.
3. Getting There
Picture this: you get your licence, your parents buy you a red convertible, and you and your best mates decide to drive to the Winter Olympics.
Obviously there's a bunch of mishaps along the way (stolen car, wrong flights, broken down truck, etc), but the film stays true to the plot of getting to the Olympics… even though the games are over by the time the teens make it there.
MK&A were teaching us that it's about the journey and not the destination, and they did it beautifully.
2. Switching Goals
The young'uns hatch a plan to swap soccer teams so that one sister can impress their dad and the other sister can learn how to be more 'girly', with the whole plot being very sweet, supportive, and educational.
Also "Cheese strings hanging from your chin? Not good!" is an important piece of dating advice that I have taken into my adult life, and you should too.
1. Holiday In The Sun
This movie has everything a movie should ever have, hence why it gets the very top spot. Beaches! Jet-skiing! A stolen artefact crime with a happy ending! Megan Fox being Megan Fox before she was Megan Fox!
Since I was four years old, I've wanted to go to The Bahamas — and yet, I knew absolutely nothing about said location except that MK&A went there to film this movie at the Atlantis resort. And what else is there to know?
This movie has had me in a chokehold since 2001. No questions.