Everyone Is Obsessed W/ Brendan & Reece's Wholesome Friendship On 'MasterChef'
This year's MasterChef has brought us nothing but pure joy. From Poh Ling Yeow's chaotic energy to Reynold Poernomo's dessert wizardry, but the breakout stars have to be Brendan Pang and Reece Hignell.
Both fellas met when they starred on season ten together, and their wholesome friendship on All-Stars has become one of the biggest talking points on Twitter in recent weeks. Brendan and Reece clearly come as a package deal and we love to see it.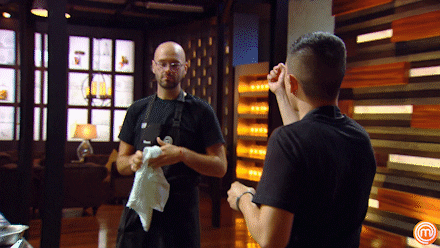 Since meeting on the 2018 season, Brendan and Reece have become inseparable — and along with other series fave Jess Liementara — frequently feature on each other's social media posts.
They are so close that Brendan revealed that Reece was one of the first people who he came out to, before he came out publicly last year. "I'd always kind of looked up to Reece as a role model. When I was eliminated we spent a bit of time together before I left to come home and I just opened up to him," Brendan said in a recent interview.
"You can imagine Reece's reaction…It was like his reaction when Katy Perry walked in [to the MasterChef kitchen]." For those who missed this momentous moment, it was a combination of manic enthusiasm and unbridled glee.
The two talented cooks have since forged a close bond, and while working alongside each other on this season of MasterChef are commonly seen treating each other like siblings, often bickering and taking the piss out of one another. Like in this hilarious scene:
Leave me alone @reece_hignell https://t.co/oiNYDp9VpH

— Brendan Pang (@brendan_pang) May 20, 2020
The boys are so funny and entertaining to watch, they are practically screaming out for their own cooking show. I, for one, would watch the shit out of it.
People on Twitter are obsessed with Brendan and Reece's wholesome friendship on MasterChef:
Please give Australia the Brendan and Reece Masterchef spin-off show #MasterChefAU

— Karmen (@karmenlamm) May 31, 2020
Just leave a camera on @reece_hignell & @brendan_pang bench..that's what we want to see #MasterChefAU

— Leane Nash (@leane13) May 27, 2020
Reece and Brendan in the MasterChef kitchen #MasterChefAU pic.twitter.com/FXdMQwj39r

— MasterChef Thai Fan Club (@MasterChefFC_TH) May 20, 2020
Reece bursting with happiness for Brendan's success is the BEST and I love this show #MasterChefAU

— Lan (@thatslantastic) May 26, 2020
i appreciate the producers for always making sure we have at least one reece/brendan interaction per episode #MasterChefAU

— Carmeli (@carrreli) May 31, 2020
okay but i don't see enough of y'all appreciating brendan and reece's friendship, brendan rlly spent more time talking about reece this episode than anything else #MasterchefAU

— Carmeli (@carrreli) May 17, 2020
Reece plucking tarragon with tweezers while Brendan has tools spilled on the floor is basically me and my BFF's dynamic #MasterChefAU pic.twitter.com/MQOoPPSJGY

— Fiza Zali (@fizawanders) May 31, 2020
My favourite thing to do while watching #MasterchefAU is seeing Reece and Brendan interact and comparing it to my friend and I. I'm Brendan, he's Reece.

— Blakey~ (@Tanglefrost101) May 31, 2020
I'm very serious when I say I would watch an entire episode dedicated to bloopers/bants with reece and brendan #MasterchefAU

— Isha Bassi (@Isha_Bassi) May 20, 2020
#MasterchefAU having a gay friendship/competitive story line between Reece and Brendan is giving me everything. 😍 pic.twitter.com/3U10GRI1wG

— domeanddodders (@domeanddodders) May 18, 2020
Get you a friendship like Reece and Brendan's #MasterChefAU

— weiyoonie (@weiyunhere) May 17, 2020
The winners out of this whole thing are us, because we get to see Brendan and Reece's beautiful friendship. #masterchefau

— Dean Nye (@Dean_Nye) May 31, 2020
I'm dreading the day when one of them gets eliminated. I don't think our hearts could take it. BREECE FOREVER.
–
MasterChef returns tonight at 7:30pm on Network 10.