This Styling Tool Claims To Give You Kim K Mermaid Waves So I Tested It Out
I'm not kidding when I say that keeping my hair looking good is the most important thing in my life and a new hair styling tool called Mermade Hair Waver could be a lifesaver.
The product promises to create the kind of mermaid waves that Kim Kardashian often rocks with her enviable long flowing extensions.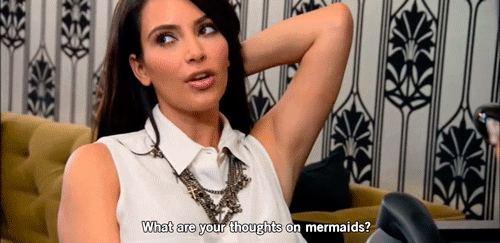 The new hair styling product officially launched in August and is created by beauty entrepreneur Tara Simich. At $89 it is damn good value.
While there are many different hair curlers that already exist, this product claims to create larger and softer waves so you don't end up looking like a crimped, frizzy mess.
"Like many girls, I have always struggled to curl my hair so the idea of a waver which instantly curls your hair was something I always wanted," said creator Tara.
"I tried other 3 barrel wavers but they all gave a crimped look or a tight wave. Mermade Hair has large 33mm barrels creating a big, instant wave, and it is so easy to use."
Here's what the Mermade Hair Waver looks like IRL:
Mermade Hair Waver, RRP $89
The iron itself is surprisingly large and heavy, and it comes with a glove to protect your hand while you're holding your hair between the clamps, which is helpful if you, you know, value your skin.
My expectations were sky high and with the box open, I gave it a whirl!
I began by sectioning my hair, starting underneath and working my way up. First up, I noticed you need to hold the clamp down for quite a while to get a decent wave. I found holding for 8-12 seconds was about right.
There's also a bit of an art to making sure the waves are consistent, as if you have long hair (like me) you have to clamp down a few times on each section. But once you get the hang of it, it's relatively easy.
The whole of my head took about 40 minutes to do, so it's not a quick process, but I have a lot of hair so I reckon the majority of people could get it done in 20.
The results?
Overall, the Mermade Hair Waver worked a treat. I've never seen my hair look like this before. I felt like I was about to step into the reunion special of Real Housewives of Beverly Hills and throw a drink in someone's face.
Here's my before/after hair from the front:
Here's my before/after from the back:
I was super impressed by the final look and the waves were all identical, it was bizarre. My hair honestly felt like a wig. Plus my hair became much more voluminous and I felt extremely extra. I was definitely vibing this whole transformation.
Verdict?
I loved it and felt very Ariel-esque with my perfectly formed mermaid waves. I was pleasantly surprised to see that my hair didn't look crimped which is what I feared the most.
I will say, however, that if you have naturally wavy hair you might not need such a tool. For the purpose of this experiment, I blow-dried my hair straight first, but I actually have a natural wave and often just plait the rest of my hair. This achieves a similar look, although the waves are not as uniformed.
But if you have dead straight hair and/or long for the perfect mermaid waves Kimmy K often reps then this tool could be a game-changer.