NO DIGGITY: 10 Things I Learned Going To RnB Fridays Live
Coming off the uber success of Fox FM's RnB Fridays, last week a concert of the same name had Aussies heading to their nearest stadium to relive their teen years.
As soon as I entered Hisense Arena, I had flashbacks to Rumba – yes, I'm that old. For those unfamiliar, Rumba was a music festival that brought a selection of international acts together for one night. The choice of artists was always pretty damn random. I remember seeing Abs from 5ive, Craig David and Bardot all at once. But at least I can live to say, I'd seen 'Poison' performed live.
But thankfully RnB Fridays had a theme, drawing together those responsible for some of R&B and Hip Hop's greatest anthems. The bill included rapper Nelly, TLC, Mýa, 112, Blackstreet, Montell Jordan, Blu Cantrell, Dante Thomas, Fatman Scoop, and Kevin Lyttle – all performing the late 90s/early noughties hits we know and love.
Each artist was also predictably promised a sizable pay packet, for simply performing a handful of songs. It's not a bad deal and part of the larger craze of nostalgia tours, taking hold over the past 3 years.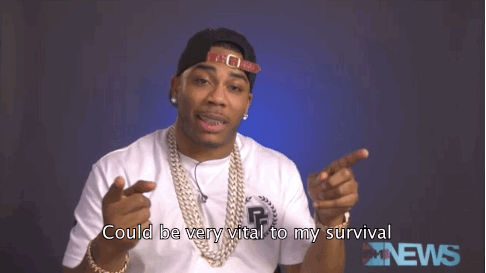 Short of Genuine's 'Pony', the show was basically a compilation of all the songs you would slut-drop and grind along to growing up in high school. When you thought you had the moves, but you really just looked like Julia Stiles stumbling through Save the Last Dance, wearing a burgundy two-piece.
But unlike Stiles in the ultimate dance flick, I was not the only white person in the room. In fact, the majority were white.
It was a weird AF experience, and these are the 10 things I learned:
1. Puffer jackets were the unofficial uniform
Approaching Hisense Arena, all my eyes could see was a sea of black puffer jackets. Every one was wearing them. Maybe to look extra hood. You know the ones. There was the highly coveted Helly Hansen jackets, but many others in the mix. Slide into a bubble jacket, and everyone reckons they're the next Notorious B.I.G.
2. They found the whitest dancers ever & then dressed them in Kmart clothes
Not so surprisingly, the acts' Aussie backing dancers were a team of white guys. Don't get me wrong, these dudes could dance. They were pretty fly…for a bunch of white guys. Just to add to the comedy, their dance seemed to be sponsored by Kmart – and they were all dressed in the budget retailers summer threads. #HoodLyfe
3. People like to film themselves dancing (badly) to 'No Scrubs'
TLC finally gave the crowd what it wanted, with those special words: 'A scrub is a guy that thinks he's fly, he's also known as a busta'. As 'No Scrubs' began, the crowd turned their backs on T-Boz and Chilli and towards their phones to start dancing and singing to their cameras with synchronicity.
4. Guys pushing 40 years old singing about cunninglingus is weird
Sure. 112's 'Peaches & Cream' was an ace song back in 2001. But now as the guys are all pushing on 40 years of aged, some of the lyrics they are singing are v creepy. Like pretty damn graphic. Need a refresher?
5. Fatman Scoop just sang the beginning of a bunch of songs
Unfamiliar with the artistry of Fatman Scoop? Just think, he's today's Pitbull but without the 'Mr Worldwide' and all the many 'Dales'. He introduces with his trademark: 'Fatman Scoop' and usually throws in a few 'Whatever I say, y'all gotta do'. That's all he does. He says those lines and his job is done.
As for actual complete songs, he doesn't do too much. So when it came to his setlist, he literally sang the intros to his most-loved cameos. I seemed to be the only one in the audience that found this funny AF.
6. Most of the female attendees dressed as members of TLC
When I wasn't seeing black puffer jackets, I saw girls doing their best impression of TLC's T-Boz, wearing Calvin Klein underwear, rocking overalls, and low hanging pants. Cultural appropriation has never been so on trend.
via Wheretoget
7. Blu Cantrell is still a goddess
Where the bloody hell has Blu Cantrell been all this time? She gifted the world with breakup anthem 'Hit 'Em Up Style', then did a brief stint with Sean Paul in 'Breathe', then that's it. She is a bloody goddess and needs to make a comeback asap.
8. 'Love Like This Before' by Crooklyn Clan had the crowd losing its shit
Wanna know what happens when no. 1 club banger 'Love Like This Before' is performed by Fatman Scoop to a crowd of over 10k? Well, the people tend to loose their minds. I personally have medium length hair, so I didn't know which category I belonged. But the energy was insane, making the rapper's trip Down-Under worth it.
9. Montell Jordan can sing 'This is how we do it' in a hundred different ways
Montell Jordan is known for one thing: he sings classic dance hit 'This is How We Do It'. That's his song, and he doesn't have many others that are noteworthy. Sticking with what he knows, he kinda just sang the same song over and over in different versions.
At one point I swear he was mixing his namesake with any song with the word 'This', 'is', 'how', 'we', 'do' and 'it' within the lyrics. He got skillz.
10. Mýa dared to only sing a few seconds of 'Ghetto Superstar'
WTAF, Mýa? All I wanted to hear, the entire night was 'Ghetto Superstar'. Yet, the singer barely even gave the song the chance to hit its groove. I was left standing there confused, while you sang the entirety of 'Woah' – you know that song, from a zillion years ago that goes along the lines of, 'My love is like…woah. My kiss is like…woah. My touch is like…woah'. My last nerve is like woah. Not okay.
Get Punkee's Bachelorette Recap Alerts!