An Ode To 'Elf': 11 Reasons Why It's The Best Christmas Movie Ever Made
Christmas is a wonderful time, almost entirely because it means it's time to watch Elf again.
To be honest, Elf is perfect for watching any time of the year. It's a surprise anyone ever chooses to watch anything else really when Elf is a perfectly viable option that's right there. And it's just that good.
Is Elf the best movie in the world? Yes. Of course, it is. Elf reigns over the Christmas movie genre and it is time to pay our respects.
To show our appreciation for the #1 Christmas hit, we're going deep into a breakdown of what makes Elf so absolutely perfect. Let's celebrate the making of a masterpiece and brace ourselves for an emotional rollercoaster.
1. Elf: Championing unbridled enthusiasm since 2003
Elf is the perfect clap back to the wave of ~too cool~ h8ers who decided that it's 'hip' to not like things. Let those fuckers marinate in their caves of disinterest and shitty attitudes while we take a page out of Buddy's book and embrace the HYPE.
Genuine enthusiasm is a damn beautiful thing and Buddy is king of it. No shame in feeling that Christmas spirit yo.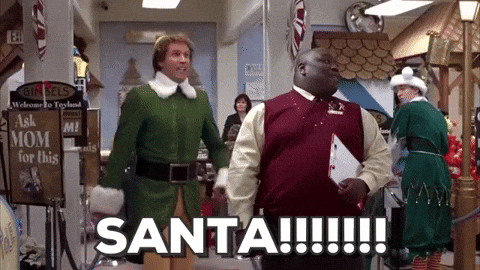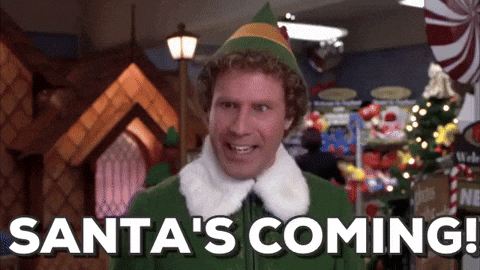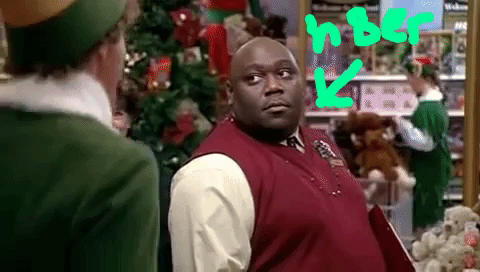 2. Elf is a lesson in the power of positive thinking.
Speaking of things we learn from Buddy, let's talk appreciation for the little things. Sometimes holding onto the little nuggets of positivity from your day is all you have, so make the most of that.
Distract yourself from the harsh reality that is this world by embracing the small wins like Buddy.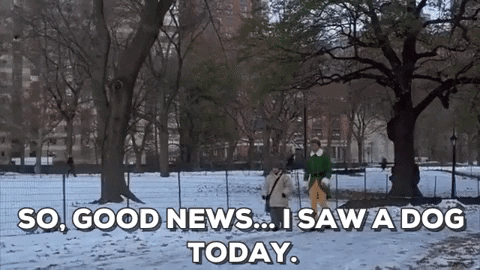 That's nice stuff.
3. Buddy backs himself. Be more like Buddy.
Sometimes when you feel something it's best to just let it out. Buddy's not afraid to tell people how he really feels.
If you haven't sing-shouted "I love you" à la Buddy meeting his dad for the first time, then you're either lying or ain't living life to its full potential.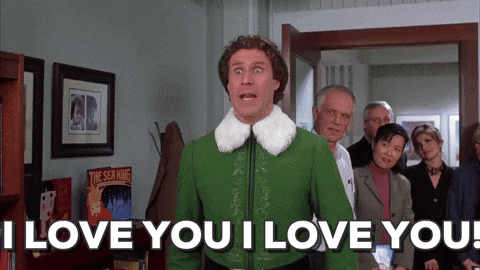 Also if you sense something's a bit off, follow Buddy's lead and call bullshit. If you're pretty sure 'Santa' is actually just some random dude in a costume lying to little kids, step up to the plate and sort. him. out.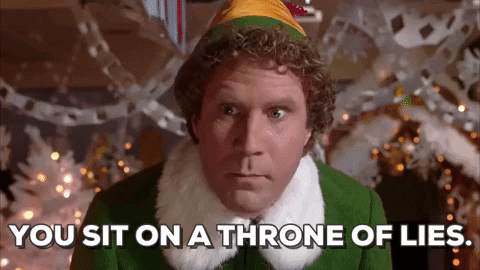 4. Buddy gives things a go. Seriously, be more like Buddy.
The only real failure in life is the failure to try.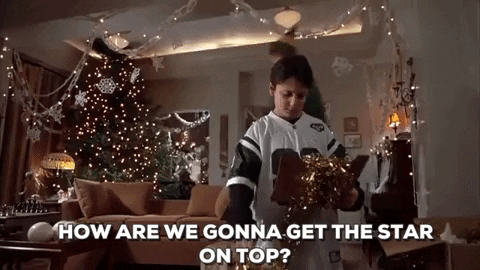 Just fake it til you make it – ammirite.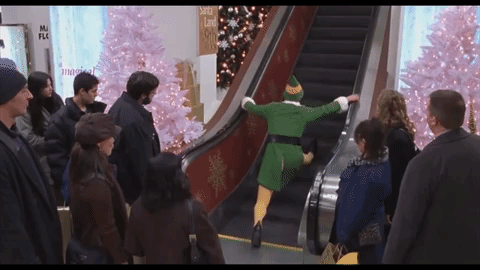 Buddy's choices might not always be wise but hey, he's out there giving things a go and if that isn't something to be god damn proud of then I don't know what is. Onya Buddy.
Sometimes you lose.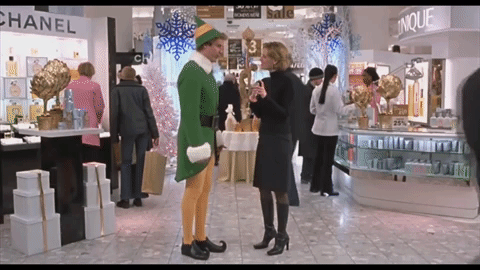 But sometimes you win.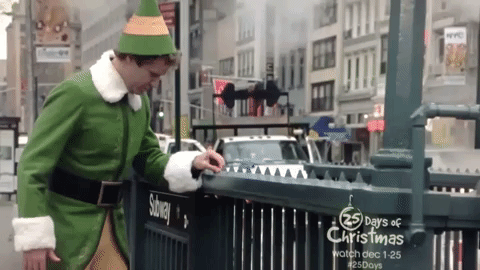 5. Elf reminds us that friends are never far away
You just need to be open to opportunities like our boy Buddy.
Buddy making a BFF in the mail room is legit all girls meeting for the first time in club bathrooms. Both are examples of how a little bit of kindness goes a long way.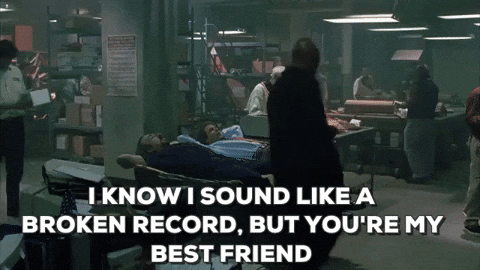 Both also exemplify that alcohol is a fast route to friendships and dancing on tables #beenthere.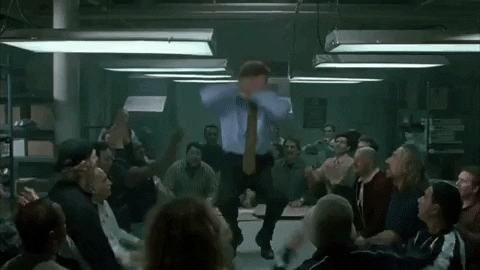 6. Zoey Deschanel. Need I say more.
Jovie's sass is too good.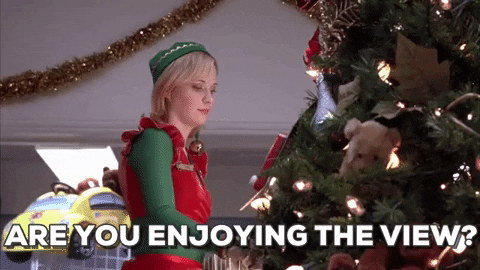 7. That VOICE.
I'm sorry but let's just take a moment to enjoy this scene. Zoey Deschanel's voice is too pure where is her Christmas album?? We have been waiting for 8 years – Zoey why r u playing.
8. Jovie gets shit done
Jovie is a strong empowered woman. She embraces her own sexual autonomy and she is an example to us all. Is Elf a pivotal piece of feminist content…I mean…there's a case for that 4 sure.
When Jovie wants to be kissed, she isn't about to wait around for Buddy to get on her level. You could literally waste away an entire lifetime waiting for dudes to get their shit together. Who has that kinda time? Not Jovie. She's forward and hot damn the girl's got moves. What an icon. What a line.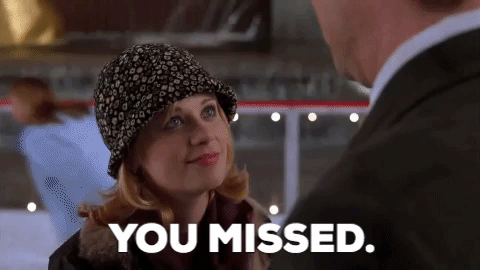 9. Watch and learn: Buddy shows us how to get women to like you.
Buddy is a smooth talker if I ever did see one.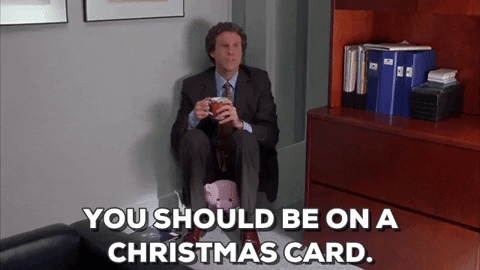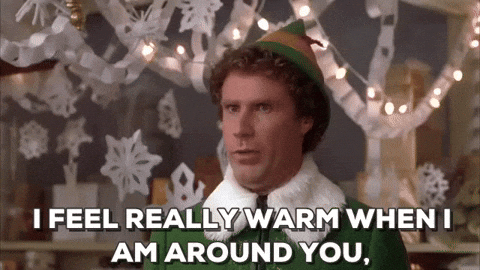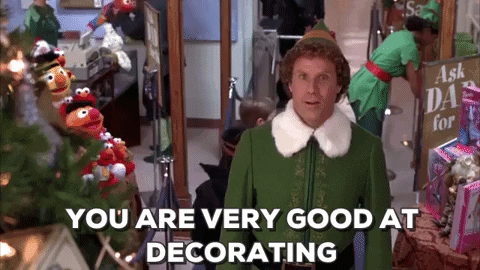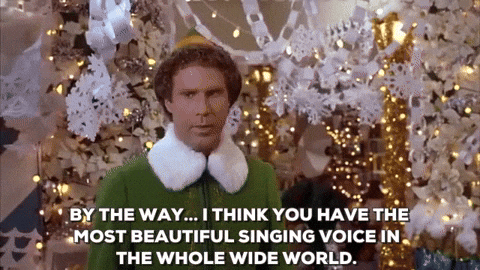 Like, the fact that Buddy could get a goddess like Zoey Deschanel to give him the time of day is a testament to his ability to sweet talk.
Boys are such freakin' weasels hey, they know the right things to say and we just play into their game and next thing you know BOOM. You've fallen into the trap and you're idolising Will Ferrell dressed up as a fucking elf haha wtf someone send help what is wrong with me.
10. Remember that time that Peter Dinklage's career peaked?
Same. Because I will never forget a single fucking thing about Elf it is perfection etched into my brain forever.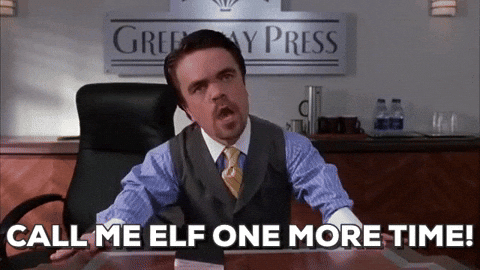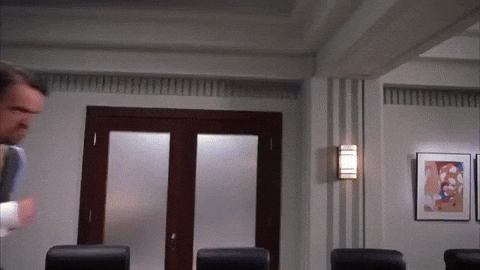 Sorry Game of Thrones but let the record show that this was the role that will define Peter Dinklage's entire career. It is the peak of any actor's career to have been in Elf. What a fucking privilege. There is nothing that can top this masterpiece.
11. Elf incontestably set the industry standard for animation.
This scene is one of the best scenes that has ever been a scene in anything ever in the history of film thank you and goodbye.
Merry Christmas everybody. Don't forget: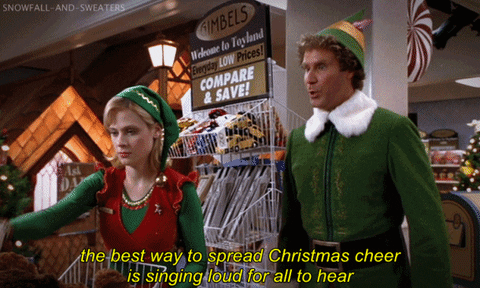 Buddy <3
Get Punkee's Bachelor Recap Alerts!