Are Olivia And Jessika From 'MAFS' Really In An OnlyFans Feud?
Married At First Sight's Olivia Frazer and Jessika Power are low-key beefing over who makes more on OnlyFans and can we just catch a break?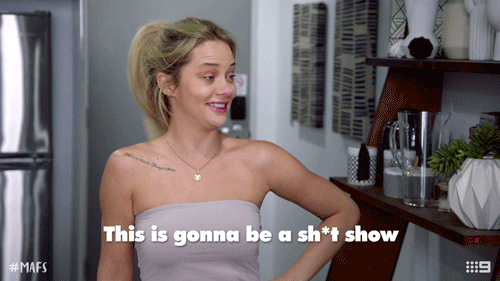 Daily Mail has already dubbed the feud an "OnlyFans war" which kicked off when Olivia made a bold claim about her success on the adult-content website.
Olivia told So Dramatic! in an interview that her first few weeks on the subscription platform have been a massive success. It was so successful that she even claimed that she made more money than MAFS bride from Season 6, Jessika.
View this post on Instagram
"I won't say a figure but I'll just say that I've already made more than Jess Power's best month," Olivia said told So Dramatic! Ouch.
Yahoo! reported in May that Jess made $50k on her first five days on OnlyFans. In her biggest month, the reality star claimed she raked in $200k.
Jess has since taken to her Instagram Stories to respond to the claims made by Olivia, and she threw a whole tree of shade. The ex-MAFS bride said that the Season 9 villain is "reaching" in her statements to So Dramatic!
"Like, are you comparing yourself because you wanna be better or are you comparing yourself because you look up to me?" Jess told her followers in an Instagram Story.
Jess closed her mini-yarn, saying "I don't really give a shit, I don't really have an opinion. I think, like who cares. And there's no competition, there's no war. There can't be competition if there's no competition, and there is no war when one side doesn't really care." Yikes!
Olivia has now replied, slamming the Daily Mail's coverage for trying to start beef between herself and Jess. She also called out So Dramatic! claiming the online publication had "twisted" her words in the website's original article.
"I was using Jess's [sic] success as a reference point because it's very well known that she is smashing it… Stop pitting women against each other. It's revolting and I'm sick of it," Olivia wrote.
The tea continues to be spilled, as Jess has now spoken with So Dramatic!, revealing what she thinks about the whole hot mess that has kicked off online and what Olivia has said about her.
"I don't even like talking about the money I've earned or to compare it to anybody else. It's just not what you do," Jess told So Dramatic! She also said that she's not surprised that Olivia has made a ton of money. "It's completely normal to earn a large amount of fast cash when starting OnlyFans… especially coming off of one of Australia's biggest reality TV shows," Jess said.
View this post on Instagram
The ball is now in Olivia's court. The pair previously had some beef before this OnlyFans saga, as the Big Brother VIP housemate had previously slammed Olivia in an interview with the Herald Sun, calling her actions toward Dom "disgusting". But they seemingly made up at Jess' wine event, where they were caught hugging in footage captured by The Wash.
View this post on Instagram
So far, nothing else has been said by either party but we're hoping to see an end to this extremely unnecessary reality TV feud. Byeee!